Virat Kohli reveals the best football player in the Indian side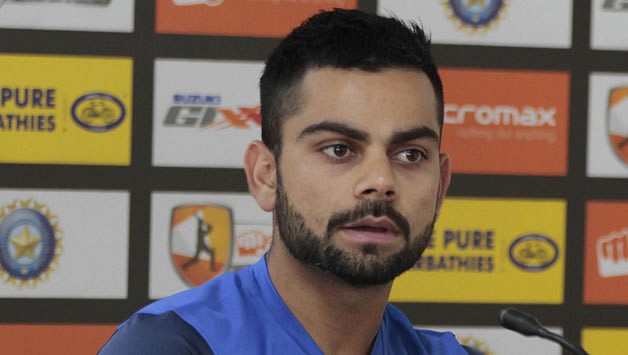 The Men in Blue has had enough time playing cricket and now there is a switch in sports as Virat Kohli-led side will play soccer.
Indian superstar Virat Kohli All Heart FC will go one on one with Bollywood Superstar Ranbir Kapoor-led All Stars FC on October 15.
This intriguing friendly match would not only promote the art of football but also act as a source of entertainment quotient for the fans as well.
The charity match will be played at Andheri Sports Complex in Mumbai with emphasis much more for a good cause.
In an exclusive interview with Star Sports, Virat Kohli shared some light moments on the game and went on to reveal the best footballer in the team.
Virat Kohli also confessed the fact that he is like a Christiano Ronaldo on the field when it comes to shooting skills as his both the feets are good.
"Someone asked me what would be my Fifa rating, I said 98. Not below that at all. I am good at shooting, my right foot is good, my left foot is good. As a footballer, I think I am a complete player. In my head I am Ronaldo"
Ahead of the match, Virat Kohli went on to reveal the roles of the players in the team. He revealed that the Indian middle-order batsman Manish Pandey is indeed the best footballer in the team.
MS Dhoni is pretty good at his favourite winger position and can play centre-forward as well for his sheer pace.
"I feel that the best part of my game is sprinting and passing the ball accurately to the guys who score goals.
MS (Dhoni) I think would be right winger because he is pretty quick, maybe he can be centre-forward as well. His positioning is very good and he reads passes very well.
Manish (Pandey) is the best footballer in the team. He is playing in the midfield position. Manoj was also good last season. I don't know whether he will make it this time.
If he doesn't turn up, I might play in the midfield along with Manish as you need guys who can run up and down.
Kedar is also good when it comes to playing as a forward. He has a strong foot and shoots well. Apart from him, MS, me and Manish shoot well," Kohli added.
All Heart FC:
Virat Kohli (C), MS Dhoni, Shikhar Dhawan, KL Rahul, PR Sreejesh, Shreyas Iyer, Manish Pandey, Rohan Bopanna, Anup Sridhar, Yuzvendra Chahal, B. Mangaldas, Anirudh Srikanth, Bhuvneshwar Kumar, Kedar Jadhav, S. Badrinath, Hardik Pandya, Ajinkya Rahane, Pawan Negi, Digvijay, Rohit Sharma, Zaheer Khan, Jasprit Bumrah, Ashish Nehra, Jonty Rhodes and Umesh Yadav.
---
Share this article