WATCH : Hasan Ali floors Sammy with a toe crushing yorker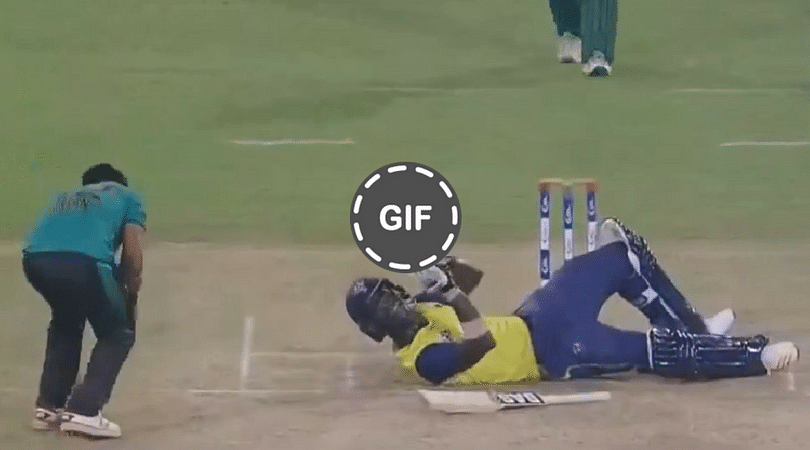 After a gap of nearly a decade, international cricketing stars toured Pakistan to play cricket in front of a packed house at the Gadaffi Stadium in Lahore.
The eyes of the cricketing world were fixed on Pakistan, as people wanted to see if cricketers can truly be safe in the country again. After a terror attack on the visiting Sri Lankan team some years ago, international cricket was suspended in Pakistan.
But the ICC felt that it was time to bring about a change, as a World XI side comprising of international stars came to Pakistan to play two T20 internationals against the host nation.
In one of the best moments of the match, young star Hasan Ali floored Darren Sammy with a toe crushing yorker. The West Indian went crashing to the ground, as Ali's yorker knocked the wind out of him.
Ali, who was part of the victorious Champions Trophy side a few month ago, was one of the many Pakistani cricketers who were playing for the first time in front of their own fans.
The huge crowd at the iconic Gaddafi stadium were boisterous and excited, as they were thrilled to have international cricket back in their country.
Clearly it was not lost on them that they had to give a good image of their nation in front of the watching world.
Eventually, Pakistan beat the World XI by 20 runs as they took a 1-0 lead in the series. With one more match to go, the World XI will have the chance to level things up and square the series.
But if the faces of the fans at the stadium were anything to go by, then we can safely say that cricket will be the true winner out of this.
---