WATCH : MS Dhoni advises Virat Kohli to change the field setting and bowlers!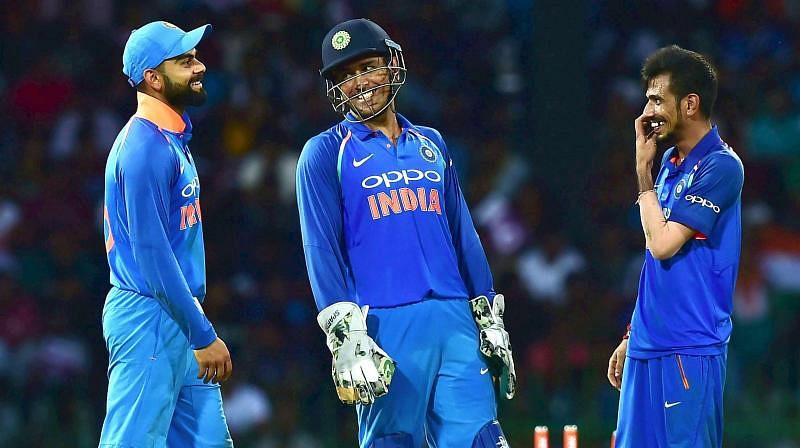 Former Indian captain MS Dhoni has been India's first-choice wicket-keeper for about a decade now. And over these years, Dhoni has been recognized as a livewire as the wicketkeeper, and his animated chats with the players behind the stumps have amazed fans on plenty of occasions.
Stump mic recordings of MS Dhoni have created a buzz on social media on numerous occasions, as the fans enjoy the tips he gives to the players. Even though MS Dhoni has handed over the captaincy to Virat Kohli a year ago, the veteran wicket-keeper is usually incharge of the field placements, even with VK as the skipper.
On many occasions, skipper Kohli went up to MS Dhoni whenever under pressure to seek his advice, and the 28-year-old himself has admitted that Dhoni will always be the captain of the team.
With the vast experience the 36-year-old possesses, it is a huge advantage for Kohli to seek advice from him at the starting of his captaincy tenure. India recently won the 2nd ODI against New Zealand in Pune by 6 wickets, after being defeated in Mumbai in the 1st ODI.
During India's bowling innings, Dhoni was heard consistently giving tips to his bowlers on where to bowl. Virat Kohli did not use the part-time off-spin of Kedar Jadhav in the 1st ODI, but went on to use him in the 2nd ODI, with Jadhav returning with economical figures of 0-31 in 8 overs.
The stump mic recordings clearly revealed how the Ranchi local was telling Kedhar to bowl in the good areas.
https://twitter.com/CricketKaVideos/status/923444395982053376
 "Bohot Badiya Kedu, Aisi Dalte Reh" (Good bowling Kedu, continue bowling like this), Dhoni was telling Kedar.
Apart from that, Dhoni also advised Kohli to add two or three men into the inner ring."Cheeku do tin jan ko idhar chod de".
Dhoni continued to encourage Jadhav, and when the 32-year-old delivered a full-length ball outside the off-stump, the wicket-keeper remarked that it was a brilliant option to bowl, and that Kedhar could use it as a change-up every 3rd delivery.
---