WATCH: Rohit Sharma admits wanting to hit six sixes off Mosaddek Hossain in Rajkot T20I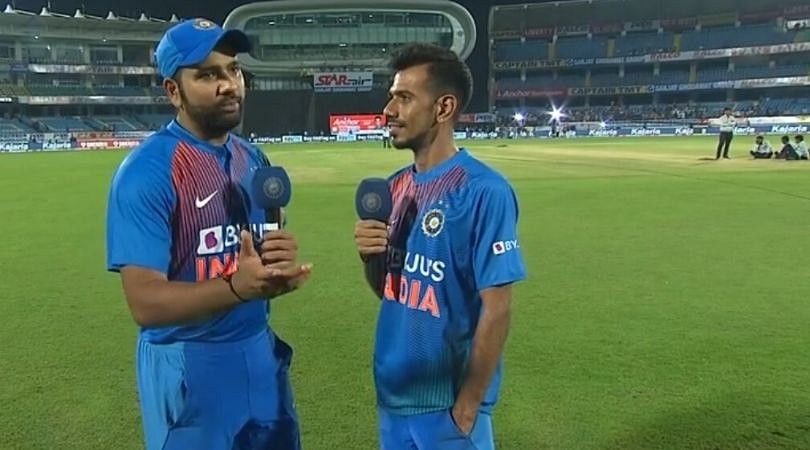 Rohit Sharma admits wanting to hit six sixes: The Indian captain had hit three consecutive sixes off the Bangladeshi all-rounder in Rajkot.
India captain Rohit Sharma disclosed that the team feared losing the series coming into the second T20I of the ongoing Bangladesh's tour of India in Rajkot last night. Having scored a match-winning 18th T20I half-century, Sharma expressed happiness at the overall performance of the team.
"From the team's perspective, a good start was vital. At least one of the batsmen had to play a long innings. A bit sad that I got out at the wrong time but nevertheless happy with the team's performance. We were under a bit of pressure. Having lost the first match [in Delhi], it was important to win the second match," Sharma was quoted as saying on Chahal TV hosted by India spinner Yuzvendra Chahal.
"I was surprised on how it was not out…"
Apart from Sharma's masterly innings, the second T20I will also be remembered for India wicket-keeper Rishabh Pant committing a blunder to give Bangladesh opening batsman a reprieve. Despite stumping the batsman, Pant was denied the dismissal for collecting the ball in front of the stumps.
When Pant stumped Bangladesh all-rounder Soumya Sarkar a few overs later, umpires decided to check for the same error again. It was an umpiring goof-up this time which left Sharma shocked and angry. Mistakenly, the third umpire had pressed "Not Out" in place of "Out".
ALSO WATCH: Rishabh Pant takes revenge on Liton Das with "astute" run-out
"I was surprised on how it was not out. Of what we had analyzed, Rishabh's [Pant] hand was behind the wickets during the second stumping chance," Sharma said.
Rohit Sharma admits wanting to hit six sixes off Mosaddek Hossain
Sharma, who scored 85 (43) with the help of six fours and six sixes, increased his tally of T20I sixes to 115 last night. It is worth mentioning that New Zealand opening batsman Martin Guptill (108) is giving tight competition to his Indian counterpart.
"You don't need big biceps to hit sixes. Even you [Yuzvendra Chahal] can hit sixes. But you already have big biceps [both laugh]. You don't necessarily need power to hit sixes. The ball should hit the middle of the bat in addition to your head bring still," Sharma opened up on hitting sixes at will.
During the knock, Sharma particularly attacked Bangladesh all-rounder Mosaddek Hossain in the 10th over when he hit him for three consecutive sixes on the first three balls that he bowled. With the first two deliveries being rank short, Sharma hit them on the leg-side.
In his rhythm, the 32-year old players also hit the following delivery for another six. With the helpless bowler on the other end, Sharma gave signs of piling on the agony but it wasn't to be.
"I wanted to [go for six sixes]. But when I missed the fourth ball, I though of dealing in singles on the remaining two balls. Because the off-spinner was bowling with a wet ball, I knew it wouldn't turn or grip. That's why I stood at the crease and hit and didn't step out," Sharma added. Watch the full video below:
— Utkarsh Bhatla (@UtkarshBhatla) November 8, 2019
For more cricket-related news, click here.
---