WATCH: Virat Kohli almost hits Samarawickrama in the head!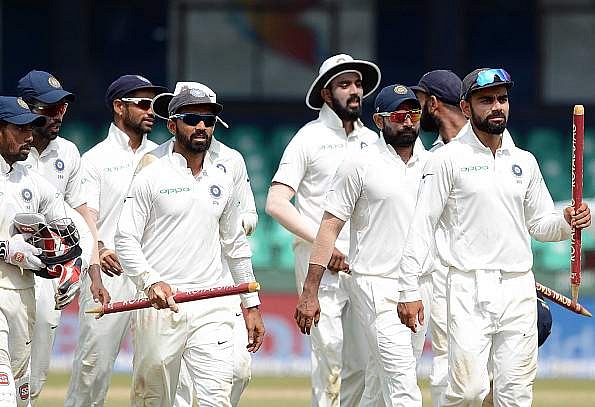 Sadeera Samarawickrama hasn't been having a very good test match, and that's not because he has been awful whilst his time on the field, but because he has been hit quite too often while fielding in this Test match.
Murali Vijay tried to work the ball onto the leg side during the 1st innings, and hit Samarawickrama right in the helmet, leaving him dazed for quite some time, after which he decided to go off the field and was then kept off the field due to a concussion.
Samarawickrama then couldn't open the batting because of the time he had spent off the field during India's innings.
He then came down the order, and would have been relishing the fact that he could no longer  be hit on any part of the body by the opposing team, but sometimes things don't go as planned.
And that is how it panned out for Samarawickrama, who was hit on his body by a Virat Kohli throw, whilst standing at the non striker's end.
The ball was punched down the ground(to mid off) by the Chandimal, and Virat Kohli attempted to throw the ball to the striker's end, taking a shy at the stumps, when he threw it a little flatter than he had expected.
Samarawickrama who had already been treated for concussion couldn't help but muster a smile with Virat Kohli also joining in, after having immediately put his hand up following the Sri Lankan's body blow
Check out the video here: Kohli hits Samarawickrama
Ashwin's trying spell has left the Sri Lankans searching for answers and with just one wicket left in the kitty, it seems like India would be going into the second innings with a lead in excess of 150.
---