West Indies vs South Africa 9th ODI- Preview and Moneyball9 Fantasy tips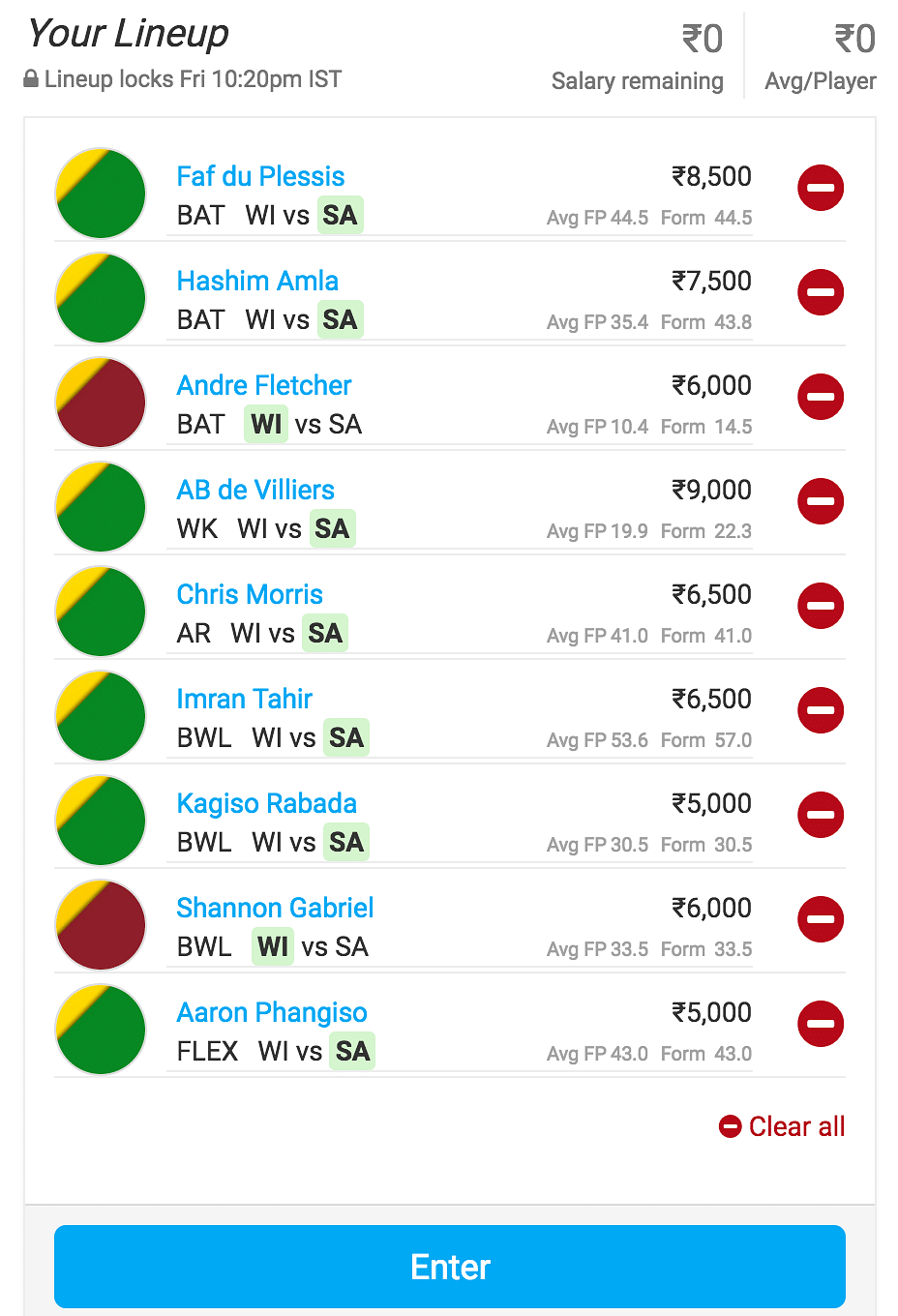 West Indies vs South Africa 9th ODI(Preview)
A lot of tri series end up being just a 'two horse race'. But this one has had entertainment galore, with all three teams playing a blend of delightful and obnoxious cricket.
The final game of the group stage is upon us and we still don't know what the billboard/poster for the final of the Carribean tri series will look like.
Australia progressed to the final with a thumping victory over the West Indies when they chased down a target of 283, with 8 balls to spare. Mitch Marsh and Glenn Maxwell showed why they are one of the most feared lower order batsmen by striking a wonderful 60 run partnership in end to finish off the game well before the scheduled number of overs.
Also Read: England vs Sri Lanka 2nd ODI- Preview and Moneyball9 Fantasy Tips
With this Australian win, the last game of the tri series between West Indies and South Africa becomes a knockout game, with the winning team progressing to the finals.
South Africa would be banking on the fact that they are better rested and have had much more time to prepare for this knockout game. West Indies on the other hand will be hoping that they could carry their batting form and momentum from the previous few games into this one.
Let's get to business now!
West Indies vs South Africa 9th ODI(Moneyball9 Fantasy tips)
Batsmen
Faf Du Plesis and Hashim Amla are going to be mainstays of my batting unit anytime South Africa play. They can accelerate, they can defend and they can improvise. Whatever be the conditions, they have the required ammunition and skill to deal with it and thus you can always count on them.
Andre Fletcher will be my third batsman for this game, primarily because he helps with the budget issues, as he is worth just Rs 6000 in the Moneyball9 Fantasy Game and also because he opens the batting and thus gets a lot of time to make significant impact.
Wicketkeeper
AB de Villiers– He has been a little off colour in this series but as when the big game arrives, the big players step up. Get him in!
Also Read: 6 Key Takeaways from Euro 2016 Group Stage
All Rounder
Between Chris Morris, Carlos Braithwaite and Keiron Pollard, I opt for Chris Morris.
Braithwaite hasn't done anything of note in the last few games, neither with the ball nor with the bat.
Pollard is way too expensive for what he brings to the table.
Morris, at Rs 6500 is a brilliant pick as he has performed in both the departments, whenever called upon.
Bowlers
Imran Tahir was amazing in the last game for the Proteas, picking 7 wickets and gifting the game to his side. Not going with him for this game would be foolish, get him in!
Kagiso Rabada gets to bowl at the death and comes in for just Rs 5000 in the Moneyball9 Fantasy game, which helps me with my budget issues.
The last bowler that I get in is Shannon Gabriel. He was very impressive in the last game, picking up a wicket and bowling a maiden. With his raw pace and fine death bowling, he can prove to be a menace for the South African batting unit.
Flexible Player
Now, I just have Rs 5000 left in my bank for my flexible player and thus it has to be one from Aaron Phangisio and Tabraiz Shamsi. Both these players were left out in the game against Australia but that could be due to the wet conditions.
Get in whoever plays from these two into your side
Happy team picking!
Do tune into the West Indies vs South Africa 9th ODI
---