When will India wear away jersey in Cricket World Cup 2019?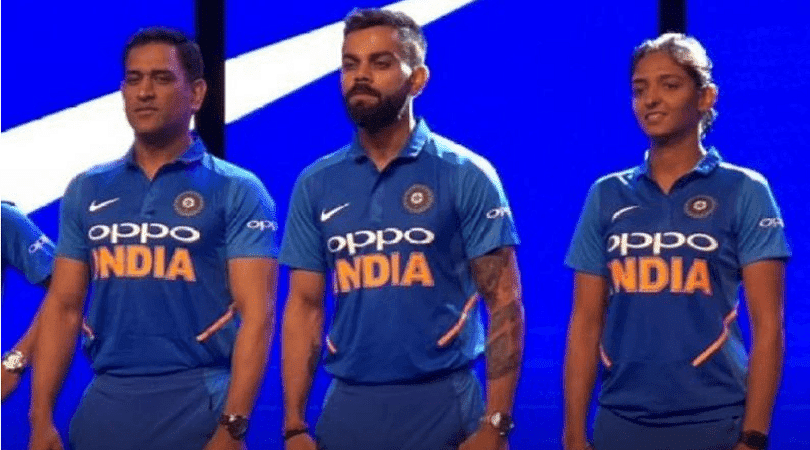 When will India wear away jersey during the ongoing ICC Cricket World Cup 2019, as prescribed by the International Cricket Council (ICC)
It is still not clear as to when will the Indian Cricket Team don their 'Away' jersey in the ongoing 2019 ICC Cricket World Cup. But, as per yet another recent report, it might make its debut during the India vs England which is set to be played on June 30, at Edgbaston in Birmingham.
ALSO READ: Top 10 cricketers and value of their most lavish houses
It is worth mentioning that ICC had, for the World Cup, opted for two different sets of kits or jerseys for as many as 5 teams, who don more or less similar coloured jerseys in the limited-overs format.
As per the reports, Indian Team's away jersey will be a darker shade of blue than the home shirt on the front. The sleeves, shoulders and back of the shirt will be bright orange coloured.
As per the reports prior to the recent one, the Indian Team players were supposed to don their 'Orange' jerseys in as many as 3 'Away' matches, of which the ones against Afghanistan and England were confirmed.
No response from Nike
Nike, which is the official kit sponsor of the Indian Cricket Team, has maintained its silence on the issue. But, the sources said that the team are likely to sport their new jersey only during the match against England, on June 30.
Also, a senior industry executive revealed that the Indian team players themselves had not seen the away jersey until a week ago.
"Till last week, the Indian players had not seen their new jerseys", a senior industry revealed, which apparently makes it clear that the jersey will be donned, at least for a match.
@BCCI When will u unveil the Away Jersey of Team India? Anxiously Waiting For Team Saffron 🙂

— Akash Sreesan (@Skysreesan) June 20, 2019
"There is still confusion among various stakeholders whether the team would actually need to don new colours. For instance, the Pakistan Team has been exempted from changing their familiar green although there are teams such as Bangladesh, which too, wear Green", he added.
All the other 4 teams, but India, have unveiled their away jerseys in the ongoing World Cup. South Africa came up with a nearly all-Yellow one with shades of light Green vertical lines in the front, at the backdrop. Bangladesh sported a red-dominated one as opposed to their traditional Green.
---