5 greatest upsets in the Australian Open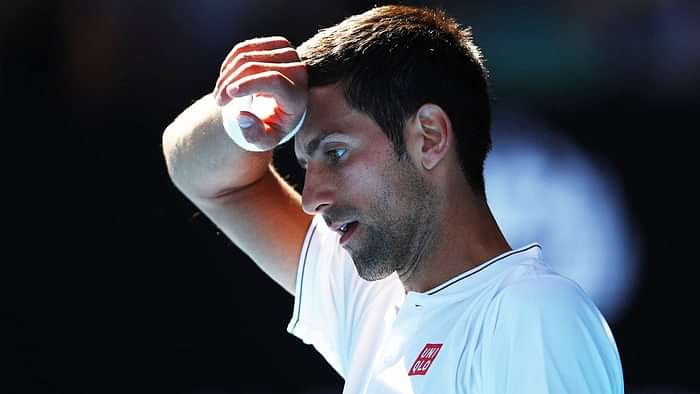 What a news tennis enthusiasts woke upto! Six time Australian open champion, Novak Djokovic is knocked out of the tournament which made him one of the greatest. He was defeated by World number 117, Denis Istomin 7-6, 5-7, 2-6, 7-6, 6-4. Along similar lines, The Sportsrush takes a look at the 5 greatest upsets in the Australian Open
1. Marat Safin vs Roger Federer, 2005 semifinals
Defending champion Roger Federer was on a roll in the early 2000s. Slowly moving towards another Grand Slam and unprecedented greatness, he was met with the firecracker named Marat Safin. Roger Federer had not dropped a set in this tournament and therefore, no one gave Safin a chance. However, the Russian had other ideas!
In this pulsating encounter, Safin came from a set down to match Roger point by point thereafter. The world number 4 survived match point and played some unbelievable tennis in the closing stages of the match. He would eventually prevail 5-7 6-4 5-7 7-6 9-7. Definitely one of the 5 greatest upsets in the Australian Open!

2. Mark Philippoussis vs Pete Sampras, 1996 3rd round
Much similar to the Federer dominance in the early 2000s, Pistol 'Pete' ruled the tennis world in the mid an late 1990s. Winning the last two slams, Pete Sampras was ready to pocket his third in a row and his overall 8th Grand Slam. Little did he know that the big serving Mark Philippoussis had other plans!
Pete Sampras and Mark Philippoussis met in the third round. Surprisingly, the Australian, a virtually unknown commodity matched the legend shot-by-shot or rather serve-by-serve. In this battle of the big servers, Mark Philippoussis fired down 30 aces to prevail in straight sets to shock the tennis world.

3. Carlos Moya vs Boris Becker, 1997 1st round
Defending champion Boris Becker arrived in Melbourne at 1997 with the intention to defend his cherished championship. However, he met the Spanish force of Carlos Moya in the opening round. This was also the tournament which marked the grand entry of the Spaniard into the world of tennis.
Also Read : Twitter Reacts to Djokovic's Shocking Exit from the Australian Open !
After Moya sent a shocked Becker packing with a score of 5-7 7-6 2-6 6-1 6-4, he went on to the finals. This would lead his path to an eventual numero uno position later on in his career. Hence, this definitely deserves a mention in the list of 5 greatest upsets in the Australian Open.

4. Helena Sukova vs Martina Navratilova, 1984 semifinals
Vying to win her staggering 75th consecutive match, Martina Navratilova was also well on course for a seventh successive Grand Slam title. She was up against the ninth seed Helena Sukova in the semifinals. However, what happened next was something no one could have thought of!
After Martina's regular dominance in the opening set, Helena Sukova picked up her game several notches. She picked up the victory with a score of 1-6 6-3 7-5, thus crashing Martina's dreams of a year Grand slam.

5. Jo-Wilfried Tsonga vs Rafael Nadal, 2008 Semifinals
Rafael Nadal was and still remains one of the fittest guys in the international tennis arena. So, when he faced Tsonga in the semifinals of the fabled 2008 edition of the Australian open, people predicted a cakewalk. Furthermore, he was also touted to win the tournament as he would face Novak Djokovic, a newbie himself in the finals.
However, things went downhill from the very outset. Rafa could not keep up with the spirited Frenchman's assault. Nadal hit hard but Tsonga just kept hitting back even harder. After being mauled 6-2,6-3,6-2, even Nadal admitted that his opponent was simply unstoppable that night.
---