Mother's Day Special: The Mothers behind the Tennis Superstars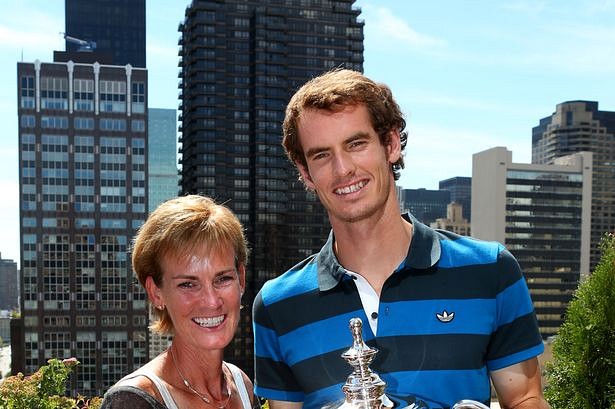 The hard work of the player and coaches are always lauded for their efforts on the occasions of their triumphs. What goes unnoticed is the efforts of the moms who played critical role in crafting the talents and providing the direction in an otherwise uncertain path. Prodigious performances are not necessarily the result of pure unadulterated talent. More often than not it is the unconditional cultic influence of the parents who provided them with preternatural certainty, confidence and self-belief. These influences at the young formative years are crucial as the players come back to them when they stand alone on-court and in doubt.
No praise would be loud enough to thank them for their love. On the occasions of mother's day, we present you with a list (not at all exhaustive) of mothers who did everything for their kids.
1) Oracene Price
Everyone knows the Williams sisters who transformed the world of tennis especially for women. But it wouldn't have been possible without the support and love from their mother, Oracene Price. Behind the curtains it is their mother always standing with her daughters every step of the way. She has always been part of the tours with her daughters and she has never let them feel alone. She was always seen cheering during the matches of both her daughters.
Also Read: Nadal's coach says that Nadal and Federer want the same things
In singles, Serena has 22 Grand Slams and Olympic Gold and Venus has 7 Grand Slams and 1 Olympic Gold and together 14 doubles Grand Slams along with 3 Olympic Gold and 1 silver. These wouldn't have been possible without their mother helping them stay focused and determined and pulling them out from when they were in dark places. She must have done something right to have two World No. 1 players as daughters.
2) Judy Murray
We have always seen Judy be there for her two sons, Andy and Jamie. She was their first coach. She is undoubtedly a great coach as she shaped the tennis style of the current World No. 1. She played a pivotal role in their careers. Andy became the first British player to win the Wimbledon since 1936, he went on to win two more Grand Slams and two Olympic Golds.
She might be known as a coach today but few people know that she was a great player herself. She had won 64 titles in Scotland during her junior and senior career, and she went on the professional tour in around 1976. Apart from coaching her own sons she has also coached other professional tennis players.
3) Melanie Molitor
Martina Hingis had a strong mother who was also her first coach. Melanie was an accomplished tennis professional herself, she was able to provide the technical and emotional support to her young marvel. Melanie was once ranked tenth among women in Czechoslovakia, and was determined to develop Hingis into a top player as early as possible. She gave Martina every kind of support she could wish for.
Also Read: 5 Potential coaches for Novak Djokovic
Martina has won 7 singles Grand Slams, 5 mixed doubles Grand Slams and astounding 12 doubles Grand Slams, achieving a Career Grand Slam in 1998. She is a wonder herself. The 36 year old Swiss spent 209 weeks as World No.1 and is currently ranked 4 in doubles ranking.
4) Rauza Islanova
Among the few instances where the mothers were the coaches for their children, Rauza was one of the few. She is a prominent Russian coach for professional players Marat Safin and Dinara Safina who both reached World No.1. I her time, Rauza reached rank 5 in Russia in tennis. Her tutelage was pivotal for the first and only brother-sister tandem to be world champions. She also coached Elena Dementieva, Anastasia Myskina, and Anna Kournikova during the very early years of their tennis careers.
Marat held the world's top spot for nine weeks in 2000 and won that year's U.S. Open men's title with a straight sets victory over Pete Sampras. Marat later won the 2005 Australian Open. While his sister remained on top spot for 22 consecutive weeks. She is also an Olympic silver medalist.
5) Gloria Connors
A well-known mother in the sports fraternity, she started coaching Jimmy, her eldest son at the age of 2. She remained his primary coach for much of his 21-year career, often with her mother Bertha Thompson by her side, whom Jimmy called Two Mom. There is no doubt that Jimmy is one of the greatest players of all times in tennis. He didn't manage it all alone. She was with him through his entire career. Jimmy credits his success to her and rightly so. Jimmy said, "All my life she taught me, she made me a world champion."
He held the top ranking for a then-record 160 consecutive weeks from July 29, 1974 to August 22, 1977 and an additional eight times during his career for a total of 268 weeks, thus becoming the first male player to be No.1 for more than 260 weeks, a record that has since been surpassed by Lendl (270 weeks), Sampras (286 weeks) and Federer (302 weeks). He won a total of 10 Grand Slams in his career.
6) Klaudia Istomina
It is rare to male players to be coached by female coaches, it even rarer that it is their mothers. Denis hasn't achieved as much as other players on the list but her mother has. It is common for players to go through rough patches and out of form times during their careers. Denis faced much more.
At the age of 14, he was involved in a car crash on his way to a tournament. He suffered serious injuries. Istomin did not pick up a racket for two years and was ready to give up the sport before his mum persuaded him to give it another try. Istomin said: "We have a good relationship and we understand each other very well. She always tries to help me with everything, not just tennis, normal life as well. She gives me good words to improve my tennis, my life, everything. I'm happy to be coached by my mum."
Denis currently holds one title to his name. He is credited for his mind-blowing and shocking victory over Novak Djokovic in the second round of Australian Open.
7) Irina Zverev
From family which runs on tennis, the brothers, Alexander Zverev Jr. and Mischa Zverev are making a mark on the tennis court. The family has always toured together. While Mischa started early, he had his ups and downs in his career. His mother shared the struggle and inspired her every step of the way. His younger brother who travelled with him and shared the knowledge and skills from their mother. Their mother taught them to be well grounded and humble in this very demanding sport. They are part of a close-knit family with strong family values.
"She basically taught me from a little age how to play this sport; what to do on the court, all the technique, and I want to say I have a pretty clean technique. That's all her," says Alexander Zverev Jr., three titles winner.
 8) Kathy Bryan
The greatest doubles team the world has ever seen, the twins were first coached by their mother, who is a four-time participant at Wimbledon. Ostensibly they might appear carefree on court, they are the most disciplined players on tour, a quality ingrained by their mother. Bob Bryan said "We've got a great mom… We were always bickering, yelling and throwing our racquets. We were always fighting with each other. She put up with us and gave us good strokes!" While Mike Bryan said "She taught us a good lesson to be good sportsmen on the court, be better people."
The Bryans' success on the court is staggering. They've been ranked the world's number one doubles team for longer than any other in history. They also 112 men's doubles titles, including 16 Grand Slam Men's Doubles together and an Olympic Gold in London.
---