5 popular outfield players who have played as a goalkeeper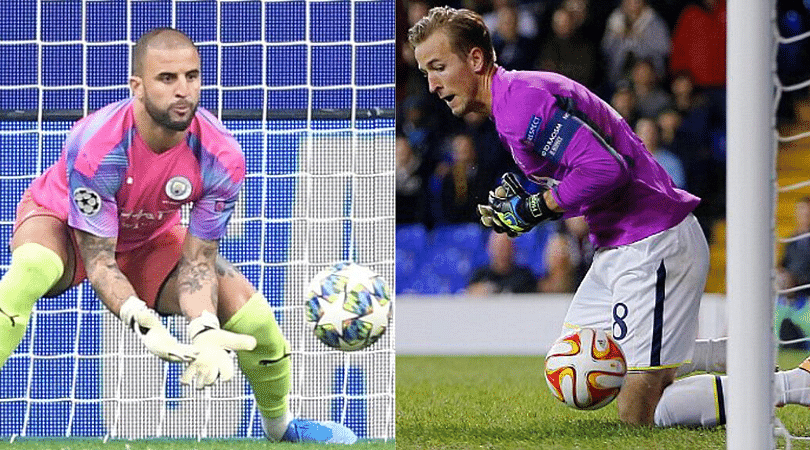 5 popular outfield players who have played as a goalkeeper due to unforeseen circumstances and how they fared between the sticks.
Last night in the Champions League, Manchester City found themselves short on keepers during the match. Ederson had been substituted earlier in the match over injury concerns while his replacement got himself ejected through a foul.
Also read: When are Manchester United's 9 injured players expected to return?
This left Manchester City with no other option but to bring in Kyle Walker as the goalkeeper. The England international normally plays as right back but accepted the challenge and took the challenge. The entire world guffawed as he fumbled while making a save. There was also another hilarious moment when he fell on the ball on Mendy's demand.
My highlight of the week Mendy reminding Kyle Walker goalkeepers fall on the ball after catching it to waste time 😂😂😂😂 pic.twitter.com/KBfAqOZaZx

— Jobe ◻️ (@cpha_cthole) November 6, 2019
It was exciting to see an outfield player don the gloves. However, this is not the first instance of such an occurrence. There have been instances of other famous outfield players taking on the thankless role. Let us take a look at 5 such popular outfield players who have played as a goalkeeper.
John Terry- Chelsea vs Reading (2006)
Chelsea captain John Terry was forced to don the gloves after both of Chelsea's keepers ended the match with injuries. Petr Cech was a victim of the games tense energy. He caught a right knee to his face in the first minute of the match.
Substitute goalkeeper Carlo Cudicini took over but found himself unconscious after a nasty collision. The Italian needed oxygen and lengthy treatment before being put in a neck brace and being stretchered off. John Terry was given the responsibility to guard the goal in a rare moment. However, his short tenure as goalkeeper was rather uneventful.
Dani Alves- Paris Saint-Germain (2006)
Having used all their substitutes, PSG were forced to field an outfield player as their goalkeeper after regular keeper Kevin Trapp was sent off in the 90th minute. The man chosen to take the responsibility was Thomas Meunier. However, poor communication saw Dani Alves take the job instead.
After the match, Meunier revealed that Alves had originally informed him of Unai Emery's decision to go in goal. However, because the message was parleyed in Spanish, Meunier failed to understand it. Eventually, Alves went to the goal instead. Unfortunately for the fans, they didn't get to enjoy the stint as Alves did nothing during his 30 second career as a goalkeeper.
Rio Ferdinand- Manchester United vs Portsmouth (2008)
Much like Manchester City's match yesterday, Manchester United replaced their number 1 keeper, Edwin Van der Sar at halftime through injury. His replacement Kuszczak was sent off in the 76th minute after committing a foul.
Portsmouth were given a penalty and Rio Ferdinand was handed the responsibility of protecting it. The centre back had no chance to save the shot but made an incredible attempt to stop it. Unfortunately, he failed to stop the shot. United ended up losing the match and were knocked out of the FA Cup.
Phil Jagielka- Sheffield United vs Arsenal (2006)
Phil Jagielka has made a name for himself as a quality centre back. However, on 30th December 2006, Jagielka earned plaudits for his role as a goalkeeper. Regular keeper, Kenny was forced off the pitch after pulling his muscle while taking a goal kick.
With no keeper on the bench, Jagielka took over as the goalkeeper. Arsenal's lacklustre performance on the night, saw them test Jagielka for the first time after 20 minutes. The close range effort from Robin van Persie saw Jagielka respond with a perfect reflex save tipping the ball over the crossbar. Jagielka and Sheffield United both saw the minutes through to give them a remarkable victory.
Harry Kane- Tottenham vs Asteras
This was a night Harry Kane will never forget. Both for the sheer brilliance he displayed in front of the opposition goal and the horror he demonstrated in front of his own. Harry Kane's eventful night saw him star with a hat-trick and flop as a keeper within 90 minutes.
With regular keeper Hugo Lloris sent off with a red card and all their substitutions used, Harry Kane took over the goalkeeping duties. His first assignment was a free kick. However, the striker made an embarrassing fumble as the tame attempt was allowed to squirm under his body and find the back of the net.
Click here for more football news
---