5 Reasons Why Arsenal will win the Treble !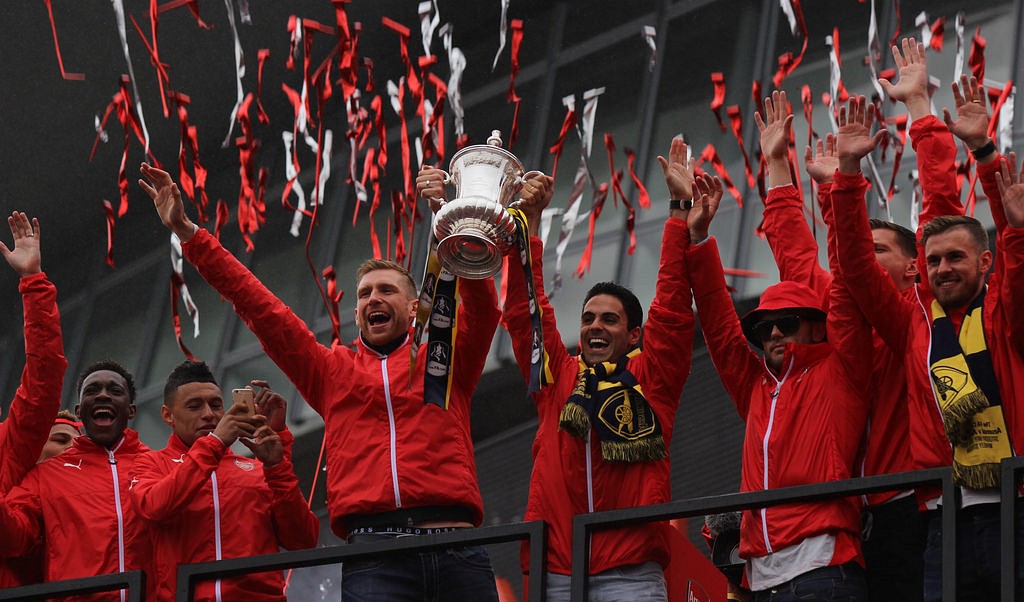 It is tough to be a football fan. But it is all the more tough when you are an Arsenal supporter. The constant highs and lows can be a little tough to take if you have seen enough of it. Arsenal always seem to raise your hopes and then crash them just when you put your faith in them.
But there are signs that this might be the year for them after all. So let us look at why the 2016-17 season will be a season to remember for the Gunners.
5) New Signings !
Well okay he is not really a Ibrahimovic or Pogba but Granit Xhaka is pretty good player.
He was voted the best deep lying midfielder in the Bundesliga along with Xabi Alonso and that is not a bad player to share an accolade with !
He was one of the best players in the recently concluded Euros in France and looks set to take the Premier League by storm.
A tough tackling leader from midfield is some one that Arsenal have needed for a very long time and in Xhaka they might have actually found one.
Plus, Rob Holding looks great too !
4) A New Wave of Exciting Young Talent !
Chuba Akpom has scored in all the pre season games for Arsenal so far which includes the winners against Man City and Chivas All Stars.
Rob Holding was voted Bolton's best player last season in the Championship and has not put a foot wrong all summer.
Serge Gnabry has been the MVP player of the Olympics with Germany in Rio so far.
And Alex Iwobi is going have his full season with Arsenal. If he improves on last season then you have a hell of a player on your hands.
The English trio of Walcott, Chamberlein and Wilshere are facing massive seasons ahead of them as well.
3) Ozil, Sanchez, Cazorla and Ramsey !
Alexis had a blinding first season at Arsenal but he failed he reproduce that form last year.
Cazorla has been the chief magician at The Emirates for a few seasons now and his injury last season might well have cost Arsenal the title.
Ramsey just had his best ever spell as a footballer when he rather than Gareth Bale was the chief protagonist in Wales' dream run in the Euros.
And Mesut Ozil has never played better !
If only all four of them could fire collectively this season for the Arsenal !
2) Wenger will beat Mourinho – Law of Averages !
Mourinho has never lost to Wenger in a competitive game.
That is a fact that has riled up the classy Frenchmen for years. He never beat a Jose team during his stint in England. Nor has he been able to beat him after Jose returned to England.
A community shield victory is all that Wenger has over Mourinho and he will want to change that.
Also, Law of Averages states that nothing will go for ever. Here's hoping Arsenal beat Man Utd this season !
1) Mustafi, Mahrez and …… Lewandowski ?
Mustafi is almost a done deal and should be unveiled as a Gunner in the next 48 hours.
All signs are pointing towards Riyad Mahrez coming to the Emirates. If it does happen then Arsenal would have one of the most potent attacking force in Europe.
And then there is Lewandowski.
Yeah I know, Wishful thinking !
---