The Young Bucks address rumors of a rift between AEW Executive Vice Presidents. The EVP's are reportedly not getting along with each other.
According to several reports, the Executive Vice Presidents of All Elite Wrestling are currently in a dysfunctional relationship with each other. They do not speak with each other and the only conversation they have is through emails where they constantly bicker.
Also read: Bayley opens up on being left out of Wrestlemania 37
Dave Meltzer however, says that the situation has been overblown. He saw the rumor discussed on the Wrestling Observer message boards and clarified that the people involved had differing philosophies but they all shared the same goal towards AEW and its growth.
"Anyway, nobody isn't talking to each other. It's impossible in wrestling to get everyone to agree on everything, especially when they are passionate about it.
"The Young Bucks & Omega are legit close personal friends. Cody is more of a business relationship with the other three but it's not an adversarial one in the least and all have the same end goals which is to build a company that sustains and grows. They have different philosophies, but everyone in wrestling does based on when you grew up, where you grew up, and your life experiences.
"But Tony runs the show and ultimately it's the Tony philosophy. All want a diversified approach and you can argue whether that's good or bad but that is what they all seem to agree on."
The Young Bucks address rumors of a rift between AEW Executive Vice Presidents
The Young Bucks decided to make light of the situation on their social media. They updated their twitter bio to address the rumors:
New bio!

— Young Bucks® (@youngbucks) May 15, 2021
"Currently not on speaking terms."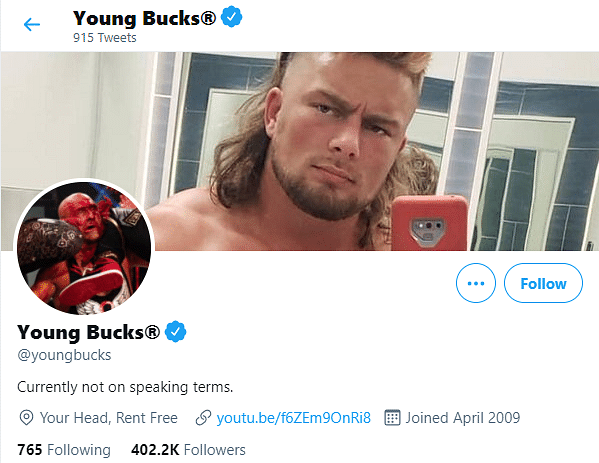 This however, does nothing to diffuse the situation that has certainly worried fans.  Apart from the fact that it can be problematic for the company, there are also reports of a 'difference maker' choosing not to go to AEW due to the issues within the management.
Click here for more Wrestling News