Arsenal: Probable signings and what will they bring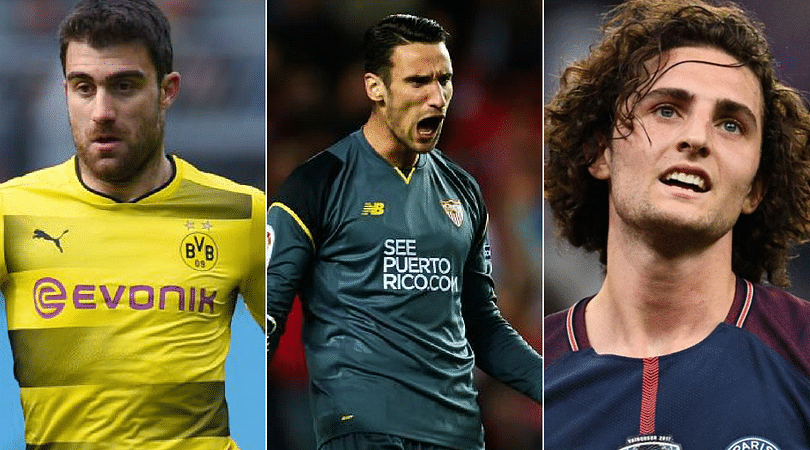 Arsenal are set for a big summer this season. Which players are most likely to arrive according to current transfer rumours, and what will they bring?
Arsenal has started making headlines in the transfer market as soon as Unai Emery's appointment was announced. The Spanish head coach has reportedly identified a list of players who can potentially join the club this summer. Arsenal didn't enjoy a successful league season in 2017-18, with the club finishing at a disappointing 6th. They also lost in the Europa League semifinal to Atletico Madrid.
With the departure of Arsene Wenger after 22 years in-charge, changes have also been made in the managerial staff. Arsenal look set for a proper club overhaul as Unai Emery intends to restore the club to its former glory.
The leagues are finished, and the world cup will begin soon. The transfer stories have gathered pace and Arsenal are linked with various players at different positions. theSportsRush looks at players who can potentially sign for Arsenal in this window, and what will they bring to the club.
Goalkeeper:
Petr Cech has been sloppy as the first-choice goalkeeper at the club. The former Czech player conceded 51 goals in the Premier League this season. While Arsenal has signed the 17-year old Karl Jakob Hein, the Gunners may require the services of a ready-made product who can instantly replace Petr Cech.
Sergio Rico
The goalkeeper has been a central figure for Sevilla ever since he made his debut in 2014. The goalkeeper has played under Unai Emery at Sevilla. Interestingly, the Arsenal boss gave Sergio Rico his first team debut in 2014. Rico impressed Emery and soon became first team regular for Sevilla.
The 24-year old has made 102 La Liga appearances for Sevilla since his debut.
Defence:
The Gunners have had issues with their defence for quite some time. The retirement of Per Mertesacker and a long-term injury to Laurent Koscielny has left the club without a consistent first-team starter. Hence, the need to bolster central defence has become Unai Emery's priority at the club.
 Sokratis Papastathopoulos
The Greek defender joined Borussia Dortmund in 2013, and has been a first-team regular at the German club. Papastathopoulos has shown his prowess in defence, and possesses an aggressive approach towards the game. He is also an excellent leader, and has captained Dortmund on various occasions. He is currently the vice-captain of the club.
The 29-year old is in the prime of his career, and can be an excellent signing for Arsenal. At Arsenal, he may become an able replacement for Laurent Koscielny as the Frenchman recovers from injury. At the same time, youngsters like Rob Holding and fellow Greek Konstantinos Mavropanos may get a lot to learn from the central defender.
Stephan Lichtsteiner
Reports suggest that Arsenal are close to signing the Swiss defender on a free transfer from Juventus. Lichtsteiner brings with him a vast array of experience, having played at Europe's top competition every year with the Italian club. Again, the absence of two senior defenders (Mertesacker and Koscielny) has left a huge void in Arsenal's defence, both in footballing terms and in the context of seniority.
Lichtsteiner may prove to be a decent option at RB for Arsenal. Hector Bellerin had a poor season with the Gunners, as his inconsistent performances led to Arsenal dropping points at crucial stages throughout the season. It is natural that at 34, Lichsteiner won't be a straight swap for Bellerin at the position, but he provides reliability. The Swiss star is a proven product who has played at the highest level for more than a decade now.
Caglar Soyuncu
The 22-year old defender has developed into Bundesliga's hottest property, after he started his career in the second-tier of Turkish league. Soyuncu is a fearless defender, possesses excellent positioning sense, and is a great tackler. He is also good in the air, which provides an extra edge. At 21, he established himself in the first team at SC Freiburg. The defender is in the Turkish squad for the world cup in Russia.
Soyuncu comes with a big price-tag (£35m), and will naturally be supposed to be the first-choice centre-back at the club. Arsenal have already invested a similar amount on Shkodran Mustafi two years ago, and the German has so far struggled with the pace of Premier League football.
However, the recent struggles with defence has forced Arsenal's hands into investing in defence.
Midfield:
Arsenal's midfield has lacked a proper defensive midfielder for quite some time. Granit Xhaka's performances in the role has been unsatisfactory so far, and Mohamed Elneny hasn't performed at the level which is required. Arsenal also lack a box-to-box midfielder, which goes back to the fact that Arsenal need someone to shield their defence. Wenger has been forced to play midfielders like Xhaka and Wilshere at CDM, which dried the creative aspects of their game.
Adrien Rabiot (CDM)
Unai Emery has been central to Rabiot's development as a defensive midfielder at Paris Saint Germain. Rabiot has already won four league titles with the club. While the midfielder is seemingly unhappy at the lack of game time (under Unai Emery at PSG), the midfielder still played over 3000 minutes over the course of the season, appearing in 43 games.
Rabiot's presence in the Arsenal side would ease the burden from players like Xhaka and Wilshere, who could then execute their skills with more freedom in the middle.
Jean Michael-Seri (BtB)
The midfielder has been linked with Arsenal for quite some time. According to reports from Sky, Arsenal are considering a 35m bid for the midfielder. The Ivory Coast midfielder has been influential to OGC Nice's season in 2016-17, which saw them finish a third and qualify for Champions League qualifying round.
Seri is a versatile midfielder. He passes long balls to formidable accuracy, and when he is not, his short passes shift the defenders out of their comfort zones.
As a box-to-box midfielder, he can prove to be an able partner to Granit Xhaka. His defensive strength, combined with his ability to break the defensive lines, while passing over the top with accuracy can bring a defining change to Arsenal's midfield.
Wing
Arsenal have struggled with the unavailability of natural wingers in their squad. Alex Iwobi has not fulfilled his potential, and Danny Welbeck's major claim to fame to this date is his nickname 'dat guy.' While Aubameyang has accommodated to wings to make place for Lacazette in the middle, the former Dortmund striker plays best at his natural position at the centre.
Emile Forsberg
Arsenal has been linked with RB Leipzig's winger Emile Forsberg for quite some time. The winger played a crucial role in RB Leipzing's season, in which they finished 6th. In the 2016-17 season, Forsberg topped the charts with a whopping 22 assists in 31 games, scoring 8 goals as well.
At Arsenal, the lack of proper utilisation of players, specifically in the midfield, has led to lack of creativity in the side. Forsberg instils pace, and is an incisive winger. He can add to the attacking options at Arsenal.
---