Bangladesh Premier League 2019 schedule and match time-table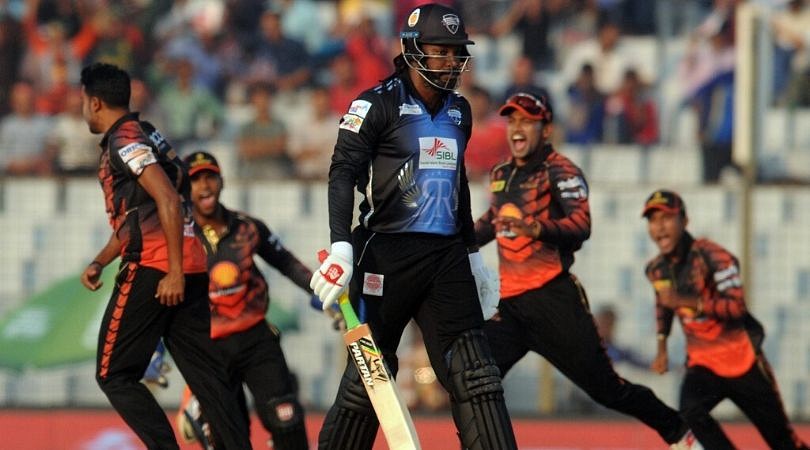 Bangladesh Premier League 2019 schedule and match time-table: The SportsRush present before you the full schedule of BPL 2019.
The seventh season of the Bangladesh Premier League will commence from December 11. The build-up to the tournament witnessed contrasting views regarding the format of the tournament from both the administration and the players.
Irrespective of whether the recommendations from the Bangladesh Cricket Board were justified or not, it was evident that the board was seeing this tournament as a preparation bout regarding the ICC T20 World Cup 2020. With this being the last season of the tournament before the World Cup in Australia, top-performers might just be fast-tracked into the national side.
The biggest change regarding the seven teams that will take part in the tournament is that Chittagong Vikings have been replaced by Chattogram Challengers.
.@khulnatitans have signed up Australian stalwart @ShaneRWatson33 for the 2019-20 Bangladesh Premier League. pic.twitter.com/9P8XFFQBfz

— Mohammad Isam (@Isam84) July 18, 2019
Other than that, the overall format of the tournament will remain in line to the prevailing trend of all teams playing each other at home and away and it being followed by first qualifier, eliminator, second qualifier and final.
Bangladesh Premier League 2019 schedule and match time-table
December 11 (1:00 PM IST): Chattogram Challengers vs Sylhet Thunder in Dhaka
December 11 (6:00 PM IST): Comilla Warriors vs Rangpur Rangers in Dhaka
December 12 (1:00 PM IST): Dhaka Platoons vs Rajshahi Royals in Dhaka
December 12 (6:00 PM IST): Chattogram Challengers vs Khulna Tigers in Dhaka
December 13 (1:30 PM IST): Rajshahi Royals vs Sylhet Thunder in Dhaka
December 13 (6:30 PM IST): Dhaka Platoons vs Comilla Warriors in Dhaka
December 14 (1:00 PM IST): Chattogram Challengers vs Rangpur Rangers in Dhaka
December 14 (6:00 PM IST): Dhaka Platoons vs Sylhet Thunder in Dhaka
December 17 (1:00 PM IST): Khulna Tigers vs Rajshahi Royals in Chattogram
December 17 (6:00 PM IST): Chattogram Challengers vs Sylhet Thunder in Chattogram
December 18 (1:00 PM IST): Comilla Warriors vs Rangpur Rangers in Chattogram
December 18 (6:00 PM IST): Chattogram Challengers vs Dhaka Platoons in Chattogram
December 20 (1:00 PM IST): Khulna Tigers vs Rangpur Rangers in Chattogram
December 20 (6:00 PM IST): Chattogram Challengers vs Comilla Warriors in Chattogram
December 21 (1:00 PM IST): Khulna Tigers vs Sylhet Thunder in Chattogram
December 21 (6:00 PM IST): Chattogram Challengers vs Rangpur Rangers in Chattogram
December 23 (1:00 PM IST): Comilla Warriors vs Dhaka Platoons in Chattogram
December 23 (6:00 PM IST): Khulna Tigers vs Rajshahi Royals in Chattogram
December 24 (1:00 PM IST): Dhaka Platoons vs Sylhet Thunder in Chattogram
December 24 (6:00 PM IST): Comilla Warriors vs Rajshahi Royals in Chattogram
December 27 (1:30 PM IST): Dhaka Platoons vs Chattogram Challengers in Dhaka
December 27 (6:30 PM IST): Khulna Tigers vs Rangpur Rangers in Dhaka
December 28 (1:00 PM IST): Comilla Warriors vs Rajshahi Royals in Dhaka
December 28 (6:00 PM IST): Khulna Tigers vs Sylhet Thunder in Dhaka
December 30 (1:00 PM IST): Rangpur Rangers vs Sylhet Thunder in Dhaka
December 30 (6:00 PM IST): Dhaka Platoons vs Rajshahi Royals in Dhaka
December 31 (1:00 PM IST): Chattogram Challengers vs Comilla Warriors in Dhaka
December 31 (6:00 PM IST): Rajshahi Royals vs Rangpur Rangers in Dhaka
January 2 (1:00 PM IST): Rajshahi Royals vs Rangpur Rangers in Sylhet
January 2 (6:00 PM IST): Sylhet Thunder vs Comilla Warriors in Sylhet
January 3 (1:30 PM IST): Dhaka Platoons vs Khulna Tigers in Sylhet
January 3 (6:30 PM IST): Sylhet Thunder vs Rangpur Rangers in Sylhet
January 4 (1:00 PM IST): Chattogram Challengers vs Khulna Tigers in Sylhet
January 4 (6:00 PM IST): Sylhet Thunder vs Rajshahi Royals in Sylhet
January 7 (1:00 PM IST): Comilla Warriors vs Sylhet Thunder in Dhaka
January 7 (6:00 PM IST): Chattogram Challengers vs Rajshahi Royals in Dhaka
January 8 (1:00 PM IST): Comilla Warriors vs Khulna Tigers in Dhaka
January 8 (6:00 PM IST): Dhaka Platoons vs Rangpur Rangers in Dhaka
January 10 (1:30 PM IST): Dhaka Platoons vs Rangpur Rangers in Dhaka
January 10 (6:30 PM IST): Comilla Warriors vs Khulna Tigers in Dhaka
January 11 (1:00 PM IST): Chattogram Challengers vs Rajshahi Royals in Dhaka
January 11 (6:00 PM IST): Dhaka Platoons vs Khulna Tigers in Dhaka
January 13 (1:00 PM IST): Eliminator in Dhaka
January 13 (6:00 PM IST): Qualifier 1 in Dhaka
January 15 (6:00 PM IST): Qualifier 2 in Dhaka
January 15 (6:00 PM IST): Final in Dhaka
---