BATE Borisov's players celebrate Arsenal win with Burger treat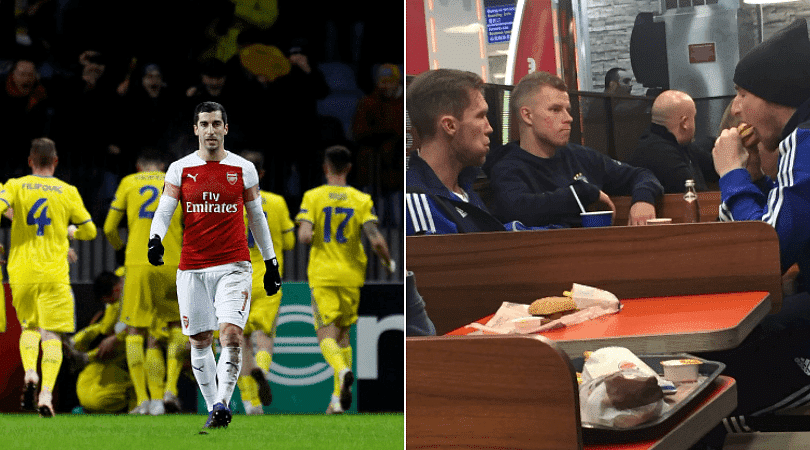 BATE Borisov defeated Arsenal 1-0 in the first leg of Europa League's round-of-32. Interestingly, they celebrated the win with a burger breakfast!
BATE Borisov beat Arsenal 1-0 in the round-of-32 of the Europa League last night. Stanislas Drahun scored the sole goal in the 45th minute of the game as Arsenal aim for a comeback in the second leg.
Unai Emery's side was criticised for a disappointing performance in the game. The decision to not play Mesut Ozil didn't go down well with the Gunners' fans again, and they've called for Emery to make peace with the midfielder.
This was BATE's first game in over two months as their league season ended in December. The club lifted the Belarusian Premier League title with 73 points in 30 games.
The players celebrated their shock victory over Arsenal in style.
Football London's journalist Chris Watts found the club's players, including Aleksander Hleb stuffing burgers at the Burger King at 8 AM.
Loading embed tweet https://twitter.com/charles_watts/status/1096275482964840448?ref_src=twsrc%5Etfw
Hleb has formerly played for Arsenal between 2005 and 2008. He appeared in 89 league games for the side, scoring seven goals. The attacking midfielder left the London club for Barcelona.
The Belarusian domestic season is yet to start, which means BATE Borisov's next competitive match will also be against Arsenal. The team will travel to London to defend their lead in the second leg.
Loading embed tweet https://twitter.com/MesutOzil1088/status/1096167160257351680?ref_src=twsrc%5Etfw
Loading embed tweet https://twitter.com/Cechque/status/1096120319973019648?ref_src=twsrc%5Etfw
Arsenal's goalkeeper Petr Cech stated after the game that the side wouldn't have scored even if they played for 'another couple of hours'.
"Yesterday it was one of those games where if we played for another couple of hours probably we wouldn't have scored.
But there are games in football like that. You try, you play, the goal does not arrive and you have to go home with the result you don't want but you have to pick yourself up and be ready for the second leg.
Loading embed tweet https://twitter.com/Lacompactdisc/status/1096137607103209472?ref_src=twsrc%5Etfw
Loading embed tweet https://twitter.com/JamesOlley/status/1096367957175865345?ref_src=twsrc%5Etfw
"This is the advantage of playing two-legged ties – when one game goes wrong you can always make up for it."
---