BR vs MCR Dream 11 Prediction : Best Dream11 team for today's Bangalore Rhinos Vs Mumbai Che Raje | Mysuru Game 14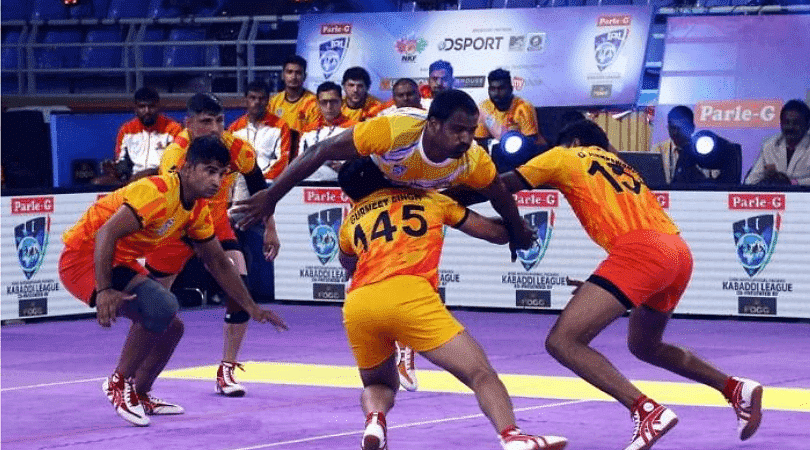 BR vs MCR Best Dream 11 Prediction : The Rhinos look to script an incredible turnaround as they go searching for their third straight win against Mumbai 
In what was a howler of a Zone A for them, inter zonal matches have turned out to be equally fortuitous for the Bangalore Rhinos. They pulled off the improbable against Diler Dilli, defeating a franchisee who have encapsulated pristine kabaddi throughout the season. The hard fought 48-45 win not only saw them make massive strides in Zone A but also for the first time this season saw them record two wins on the bounce.
Coming up against them will be the Mumbai Che Raje, a side who were scripting their own amazing overturn in fortunes before the Pune Pride put a halt to their spree. Facing their first defeat in 3 courtesy of a one sided result for Pune Pride who won 49-26, the Mumbai side were torn apart to spill water on all the hard work done by them.
Probable Winner
Both the sides have had to scour through the same path in their quest for a top 2 spot from their zone, seeing the same ups and equal lows in a season that just refuses to settle down for them. Perhaps the most equally contested match in the showpiece league till date, we are in for a real feast when these two sides square off against each come Tuesday.
Ultimately, we expect the Bangalore Rhinos to build on the immense momentum accorded to them and come out of this with a win. They are finally beginning to click as a side, complimenting each other across the two departments to intertwine an equation for exquisite success. Mumbai might push them right to the final minutes and make a win jittery for them but we see BR hanging on to the smallest of straws and winning this in the end.
This narrative is going to see the Bangalore Rhinos heavily dominate our side on the day. With 5 players from the franchisee in our Dream 11 side, we are going to bank in on the side to come in and amass for us as many points as possible.
Defenders for BR vs MCR Dream 11
Having given away just 268 points at the back, one of the main reasons for the Rhinos upturn in form has been their defensive aspect of the game showing fortitude in the face of adversary. What was the best thing to see from them in their last outing in the league was the way they refused to crumble under pressure, coming back from having squandered 29 points to Dilli to give away just 17 in the second half.
Responsible for their biggest win of the season, we will be picking Ambeswaran and Lakan Varkiya from the Rhinos. Lakhan has immerged as a real bet to put your money on this season, taking full incentive of the late opportunity granted to him to come out and make a name for himself in the league and alongside Ambeswaran, both will be at curtailing raiding attacks once again.
Despite conceding a calamitous 49 points against PNP, we will still repose our faith is Ravi Deshwal to come in and try and halt BR on the night.
All-Rounders for BR vs MCR Dream 11
Another important aspect of BR's resurgence has been their all-rounder Vishal. He gave us a huge 50 points the last time around and not picking him up once again would be futile on our part. He's the obvious pick from the Bangalore Rhinos.
Raiders for BR vs MCR Dream 11
Both of the Bangalore's Rhinos raiders are going to make ad advent into our side. One of the best attacking partnerships in the league, Arumugam with his Super 10s and Vipin Malik with his brilliant assists has crafted the fulcrum of their side's success. MCR have been beleaguered in defence and these two will find it easy to traverse past them construct a foundation for a win.
We will be going in with a pick from the Mumbai Che Raje as well with Kantha coming in solely on the basis of him being priced so cheaply.
Captain And Vice-Captain for BR vs MCR Dream 11
Both the picks are going to be from the Bangalore Rhinos for this crucial match with Vishal the captain on the night and Arumugam being given the status of vice-captain.
Probable Playing 7
Bangalore Rhinos
Defenders: G Ambeswaran, Lakhan Varkiya and Manoj
All Rounders: Vishal-I 
Raiders: Vipin Malik and Arumugam
Mumbai Che Raje
Defenders: R Deshwal and Vagare
All Rounders: Shashank Wankhede and Rashid Shaikh
Raiders: Kantha, Karambir Dhanda and Diljeet
Squads
Bangalore Rhinos: Arumugam, Vipin Malik, Manoj Kumar, G Ambeswaran, Narendra Kumar, Vishal, Pawan, Ishu Sharma, Vaibhav Shivaji Kadam, Gokul Krishnan R, Kuldeep, M Mathan Kumar, Gurmeet Singh, Sandeep Kumar, Lakan Varkiya, Chiranjeevi, Ravinder, Ajit Kumar PN
Mumbai Che Raje: Vijay Singh Savner, Mohit Narwal, Rashid Maula, A Arul, Manish, Surender, Saurabh Kumar, Kiran M, Rohit Kumar, Mahesh S Timmapur, Ravi, Maniveera Kantha, Karmbir Dhanda, R Nagaraju, Shashank Wankhede, Suhas Apposo Vagare, Yogesh Ramesh Navale, Diljeet Singh Chavan
Match Details
Indo International Premier Kabaddi League Match 34, Bangalore Rhinos Vs Mumbai Che Raje
Date And Time: 28th May, Tuesday- 9:00pm
Television: DD Sports
---