Pro Kabaddi 2019 Team Squads : PKL 2019 Squads and Player List for all Teams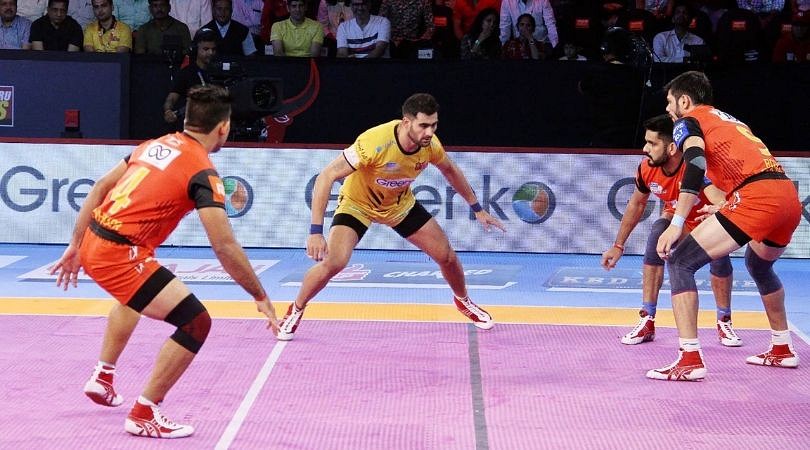 Pro Kabaddi League 2019 Complete Team Squads: Ahead of the premier kabaddi tournament, TSR takes a look at the complete squads of all the 12 teams, their prized players and auction buys 
When the Pro Kabaddi League was conceptualised, the idea behind the advent of the tournament was to become the biggest and grandest kabaddi league in the world and dish a riveting brand of hockey to ardent followers of the sport. And ever since then, the league has only gone onto grow massively, imbibing in it some of the most colossal names in the sport not only from India but the global stage as well.
And the impending season 7 of PKL is only set to break all expectations with teams emerging stronger than ever after a hectic auction process which saw sides spare no expense in brining into their fold a slew of myriad performers. With a transfer kitty of Rs.4.4 crore being accorded to each side to choose from the 388 Indian players and 53 international star performers at stake in the auctions, we saw some massive paydays being doled out by teams to rope in their players.
Among the notable buys were Siddharth Desai who earned the maximum amount as Telegu Titans paid Rs.1.45 crore to acquire his services. The other stalwarts to be picked up were Rs.1.2 crore for Nitin Tomar by Puneri Paltan, Rahul Chaudhari being bought by Tamil Thalaivas for Rs.94 lakh and U Mumba indulging in Sandeep Narwal for Rs.89 lakh.
Ahead of the commencement of the showpiece league from July 19 with the tournament reverting back to a July beginning for this season, we take a look at the complete squad of all the partaking teams along with the retained and purchased players by each side. A total of Rs.50 crore were spent at the two day auctions with only four teams opting to retain their quota of four elite players while Puneri Paltan decided to release their entire side.
Dabang Delhi KC Squad 2019
Elite Retained Players: Meraj Sheykh, Joginder Narwal
Players Bought At The Auction
Chandran Ranjit- Rs.70 lakh, Ravinder Pahal- Rs.61 lakh, Vijay Malik- Rs.41 lakh, Vishal Mane-Rs.28.5 lakh, Anil Kumar-Rs.20 lakh, Saeid Ghaffari- Rs. 16.5 lakh, Sombir- Rs.10 lakh ,Pratik- Rs.6 lakh, Neeraj Narwal- Rs.6 lakh, Satywan- Rs. 6 lakh
Gujarat Fortunegiants Squad 2019
Elite Retained Players: Sachin Tanwar, Sunil Kumar
Retained Young Players: Lalit Chaudhary, Rohit Gulia
Players Bought At The Auction
Parvesh Bhainswal- Rs.75 lakh, Rituraj Koravi- Rs.30.5 lakh, Vinod Kumar- Rs.26 lakh, GB More- Rs.21.50 lakh, Amit Kharb- Rs.17.25 lakh, Abolfazl Maghsoudloumahali- Rs.15.75 lakh ,Mohammad Shazid Hossain- Rs.10 lakh, Pankaj- Rs.10 lakh, Gurvinder Singh- Rs.10 lakh, Sonu- Rs. 10 lakh, Abhishek- Rs. 8 lakh, Sonu Gahlawat- Rs. 6 lakh
Haryana Steelers Squad 2019 
Elite Retained Players: Kuldeep Singh, Vikash Khandola
New Young Players: Vinay
Players Bought At The Auction
Prashanth Kumar Rai-Rs.77 lakh, Dharmaraj Cheralathan- Rs.38.5 lakh, Vikas Kale- Rs.34.25 lakh, Naveen- Rs.33.5 lakh, Ravi Kumar- Rs.20 lakh, K Selvamani- Rs.16.5 lakh, Amir Mohammad Maleki- Rs.12.5 lakh, Tim Phonchoo- Rs.10 lakh, Vikram Khandola- Rs.10 lakh, Subhash Narwal- Rs.6 lakh
नवीन ने मचाया था धमाल, जब पिछले सीज़न में किया था रेड और टैकल प्वाइंट्स की बरसात। 🌨

Naveen won an outstanding 15 raid points and also grabbed 2 tackle points in the match against the Panthers last season! 🤩#DhaakadBoys #HaryanaSteelers #ShaanSeSteelers pic.twitter.com/8HCOOr443L

— Haryana Steelers (@HaryanaSteelers) July 9, 2019
Jaipur Pink Panthers Team Players 2019
Elite Retained Players: Deepak Niwas Hooda, Sandeep Kumar Dhull
Retained Young Players: Ajinkya Pawar, Lokesh Kaushik
New Young Players: Pavan TR, Sachin Narwal, Sushil
Players Bought At The Auction
Amit Hooda- Rs.53 lakh, Deepak Narwal- Rs.30.5 lakh, Nilesh- Rs. 23.5 lakh, Vishal- Rs. 25.5 lakh, Sunil Siddhgawali- Rs. 20 lakh, Dong Gyu Kim-Rs.10 lakh, Malinda- Rs.10 lakh, Karamvir- Rs.6 lakh
Patna Pirates Squad 2019
Elite Retained Players- Pardeep Narwal, Vikas Jaglan, Jawahar Dagar
New Young Player- Mohit
Players Bought At The Auction
Surender Nada- Rs.77 lakh, Neeraj Kumar- Rs.44.75 lakh, Jang Kun Lee- Rs.40 lakh, Mohammad Maghsoudlou- Rs.35 lakh, Jaideep-  Rs.35 lakh, Hadi Oshtorak- Rs. 16lakh, Ravinder- Rs. 10 lakh, Ashish- Rs. 6 lakh, Mahendra Choudhary- Rs.6 lakh
जितनी पास सीज़न 7⃣ आएगा, उतना ही वर्कआउट बढ़ता चला जाएगा। 💪😎#PirateHamla pic.twitter.com/9Gp1QQLKFk

— Patna Pirates (@PatnaPirates) July 9, 2019
Puneri Paltan Team Players 2019
Retained players: None
Players Bought At The Auction
Nitin Tomar- Rs.1.20 crore, Manjeet- Rs.63 lakh, Surjeet Singh- Rs.56 lakh, Girish Maruti Ernak- Rs.33 lakh, Darshan Kadian- Rs 20 lakh, Pawan Kumar Kadian- Rs. 20 lakh, Satpal- Rs. 20 lakh, Amit Kumar- Rs.12 lakh, Emad Sedaghat- Rs.11.25 lakh, Jadhav- Rs.10.25 lakh, Hadi- Rs.10 lakh, Deepak Yadav- Rs.10 lakh, Sagar B Krishna- Rs.10 lakh
Tamil Thalaivas Squad 2019
Elite Retained Players: Ajay Thakur, Manjeet Chhillar, Victor Onyango Obiero
New Young Players: Himanshu, M. Abhishek
Players Bought At The Auction
Rahul Chaudhari- Rs.94 lakh, Ran Singh- Rs.55 lakh, Mohit Chhillar- Rs.45 lakh, Ajeet- Rs.32 lakh, Milad Sheibak- Rs.10 lakh, Shabeer Bapu- Rs.10 lakh, Yashwant Bishnoi- Rs.10 lakh, Vineet Sharma- Rs.10 lakh
Telugu Titans Squad 2019
Elite Retained Players: Armaan, Farhad Rahimi Milaghardan, Krushna Madane
New Young Players: Manish, Akash Choudhary
Players Bought At The Auction
Siddharth Desai- Rs.1.45 crore, Abozar Mighani- Rs. 75 lakh, Vishal- Rs. 60 lakh, Duet Jennings- Rs.10 lakh, Amit Kumar- Rs. 10 lakh, C Arun- Rs.10 lakh, Suraj Desai- Rs.10 lakh, Suraj Kumar- Rs.10 lakh, Sombir- Rs.10 lakh, Mula Siva Ganesh Reddy- Rs.6 lakh, Rakesh Gowda- Rs.6 lakh
U Mumba Squad 2019
Elite Retained Players: Fazel Atrachali, Rajaguru Subramanian, Arjun Deshwal
Retained Young Players: Anil, Gaurav Kumar, Mohit Balyan, Surender Singh
Players Bought At The Auction 
Sandeep Narwal- Rs.89 lakh, Rohit Baliyan- Rs.35 lakh, Dong Geon Lee- Rs.25 lakh, Athul MS- Rs.20 lakh, Ajinkya Rohidas Kapre- Rs.10.25 lakh, Young Chang Ko- Rs.10 lakh, Abhishek Singh- Rs.10 lakh, Vinoth Kumar- Rs.10 lakh, Harsh Vardhan- Rs. 10 lakh, Harendra Kumar- Rs.10 lakh
Our #Mumboy is pushing hard to get stronger and better every day.#UMumba #MeMumba #HowsTheJosh pic.twitter.com/O9wtuZffdp

— U Mumba (@U_Mumba) July 9, 2019
Bengal Warriors Squad 2019
Elite Retained Players: Baldev Singh, Maninder Singh
Retained Young Players: Adarsh, Ravindra Kumawat
New Young Player: Sahil
Players Bought At The Auction
Mohammad Nabibakhsh- Rs.77.75 lakh, K Prapanjan- Rs.55.5 lakh, Jeeva Kumar- Rs.31 lakh, Rinku Narwal- Rs.20 lakh, Sukesh Hedgde- Rs.20 lakh, Amit Kumar- Rs.17.5 lakh, Rakesh Narwal- Rs.16.25 lakh, Mohammad Taghi- Rs.15.5 lakh, Amir- Rs.15.5 lakh, AR Avinash- Rs.10 lakh, Vijin Thangadurai- Rs.10 lakh, Bhuvneshwar- Rs.10 lakh, Viraj Vishnu Landge- Rs.10 lakh, Dharmendra Singh- Rs.10 lakh
Bengaluru Bulls Squad 2019
Elite Retained Players: Rohit Kumar, Pawan Kumar Sehrawat, Ashish Kumar
Retained Young Players: Amit Sheoran, Sumit Singh
New Young Players: Mohit Sehrawat, Banty
Players Bought At The Auction
Mahender Singh- Rs.80 lakh, Vijay Kumar- Rs.21.25 lakh, Sanjay- Rs.10 lakh, Lal Mohar Yadav-Rs.10 lakh, Sandeep- Rs. 10 lakh, Raju Lal Choudhary- Rs.10 lakh, Vinod Kumar- Rs.10 lakh, Aman- Rs.6 lakh
UP Yoddha Team Players 2019
Elite Retained Players: Amit Narwal, Sachin Kumar
Retained Young Players: Nitesh Kumar, Aashish Nagar, Azad Singh, Arkam Shaikh
Players Bought At The Auction
Monu Goyat- Rs.93 lakh, Shrikant Jadhav- Rs.68 lakh, Rishank- Rs.61 lakh, Mohsen- Rs.21 lakh, Narender- Rs.20 lakh, Masud Karim- Rs.10 lakh, Surender Singh- Rs.10 lakh, Gulveer Singh- Rs.10 lakh, Gurdeep- Rs.10 lakh, Ankush-Rs.6.25 lakh
---