PDP vs TLB Dream 11 Prediction : Best Dream11 team for today's Pondicherry Predators Vs Telegu Bulls | Mysuru Game 13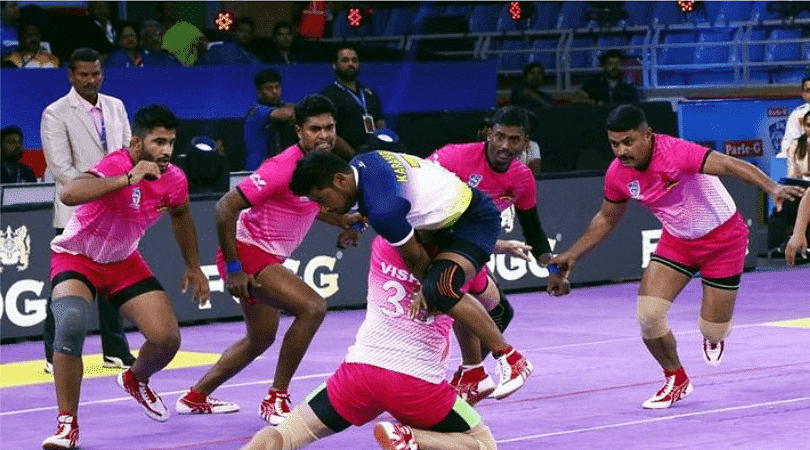 PDP vs TLB Best Dream 11 Side Prediction: With the season over for them, it's all about building the platform for next season for the Telegu Bulls 
Unable to even defeat the bottom placed side from Zone A, the Telegu Bulls have drawn curtains on their season. Deserved to become the first side to end their sojourn for the 2019 edition, the Bulls will now look to imbed some kind of success in the build up to next season and show that they still possess wordclass players who can build a platform of success in 2020.
As far as this season goes, it's been a torrid time in the tournament for TLB who have by some distance been the most lacklustre side in the league. An aberration in the back and even when worse when it comes to the attacking facet, the 43-35 defeat against the Haryana Heroes fully epitomised how agonising a watch they've been this time.
When the Pondicherry Predators take them on in the first of three matches on Tuesday, they'll be looking to become the first side to take full advantage of a unit who have next to nothing to offer. Having slumped to third position in their zone with the Bangalore Rhinos stringing together a successful spree of straight wins, the need for a win couldn't have become more crucial for PDP.
Probable Winner
With this is a must win encounter for the Pondicherry Predators, we expect them to elevate their performances and keep hovering around the Telegu Bulls throughout the match. The Predators can keep snapping at the Rhinos heels with a win here and it's imperative that they come out of this with a fruitful result.
This is an encounter which will ultimately be moulded by the more astute defective side of the day. Both have made for disappointing views in the raiding department and with the Predators having atleast a solid backline to craft out something solid, we expect them to put on a wall against the Bulls. It should be a close encounter but one the Predators manage to scrape by.
We are expecting the defenders to enjoy their day out and this will shape our side. We are going to go in with the full plethora of 2 defenders from PDP to come in and get in a slew of points for us.
Defenders for PDP vs TLB Dream 11
It's safe to say now that even the defenders have decided to give up on trying to salvage this season. A defence which was holding the side together has fallen apart in recent times to commence a double blow for the Bulls who as a complete unit have begun to destruct at the moment.
Their match against the Pondicherry Predators though might just be the encounter they need to regain their lost confidence. With just 266 points in the attacking department, the Predators at times have looked a lost cause upfront, something which could see Harvinder Singh get back among the tackling points. He will be our pick from TLB from this encounter.
Surprisingly enough, we have a side worse than PDP in the attacking facet and it's their opponent on the day. And in Sonu SSK and Rakesh, the Predators have two brick walls, defenders who'll not even give in the smallest of breathing space to the Bulls to come in and rap them. These two promise to be supreme picks and bring them into your side with any hesitation.
All-Rounders for PDP vs TLB Dream 11
For whatever the Predators have managed to contour in the attacking side, it's been Kumar who's been responsible for it. With Super 10s and a bunch of raiding points, he's been the best player for the Predators this season on the attacking front and against a defence which has weaknesses, we are going to pick him up.
With Karambir Thakur and Nageshwar losing out on points recently, Suman has come in to establish himself as a playing 7 player for the side. He's been good defensively and should get good points on the night.
Raiders for PDP vs TLB Dream 11
Abhinandan Kumar from the Bulls will be our first pick. Playing in an agonising side where he's gotten absolutely nothing in the name of support upfront, Abhinandan has always been able to turnaround things with his attacking capabilities. Whatever the Bulls will work up in terms of raiding points will come through him and he comes in our side despite the strong fort of the Predators defenders.
Despite having played 7 matches, the Predators have yet to decide on who their best raider it and it is a testament to how absent they have been in that side of the game. However at just 10 credits, Kaliraman is someone who is a sage pick given that he's gotten good points whenever he's been asked to come in and play be it as a substitute or main player.
Captain And Vice-Captain for PDP vs TLB Dream 11
Although the composition is equally balanced, PDP should eventually win this match. Their all-rounder Kumar will be our captain while Sonu SSK gets the vice-captain band on himself.
Probable Playing 7
Pondicherry Predators
Defenders: Rakesh, Kuldeep Punia and Sonu SSK
All Rounders: Karambir Thakur and R Suresh Kumar
Raiders: Arya and Kaliraman
Telegu Bulls
Defenders: Harvinder Singh and G Jeeva
All Rounders: Nageshwar Singh, J Gopal and Suman
Raiders: Abhinandan Kumar, PV Durga Rao
Squads
Pondicherry Predators: Parveen Kumar, Saddam Nasir Husen Attar, Abhishek R, Rakesh, Mohit, Ankit, Amit Kumar Arya, Nitin Choudary, Sandeep, Sonu SSK, Kuldeep, Sunil Prakesh Shivtarkar, M Ramachandran, MV Narendra, Sombir, Sunil Kumar, Karmbir, SR Rajesh
Telugu Bulls: Harvinder Singh, Nageshwar Singh, Abhishek HS, Vivek Prabhakar Bhoite, Pavan Puttu, Pramod, Praveen Kumar, Amrit Pal Singh, Sagar Avinash Kale, Love Kumar, Rahul Mawne, Vishal Nain, Vikash Choudary, Avnish, Anil K Patil, Abhinandan Kumar, Vinay H, Prakesh Ramappa
Match Details
Indo International Premier Kabaddi League Match 33, Pondicherry Predators Vs Telegu Bulls
Date And Time: 28th May, Tuesday- 8:00pm
Television: DD Sports
---