Champions Trophy Fantasy Tips: Fantasy Guide for Australia vs Bangladesh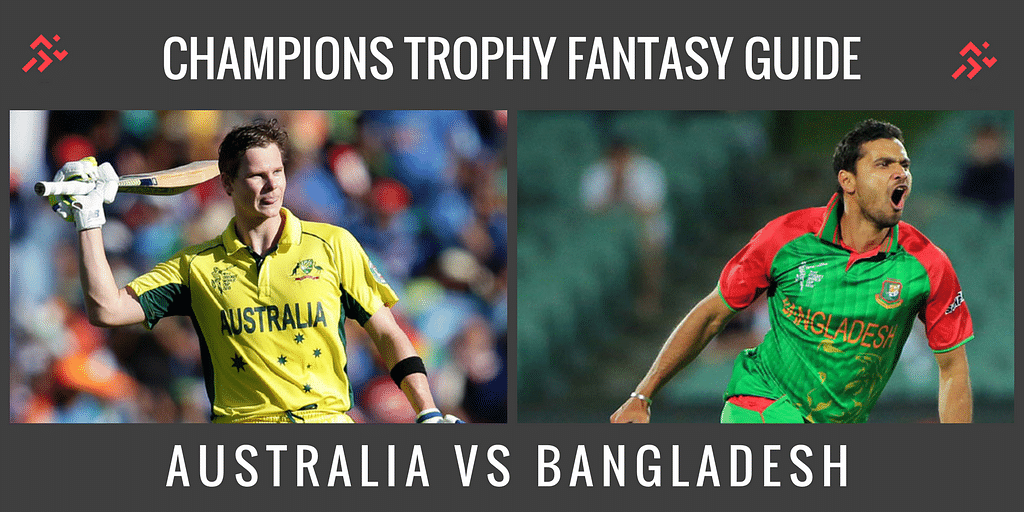 Rivalries exist because of off field history, proximity during the two nations/clubs and because of fierce sporting competition between two entities. But more often than not it is the first two factors that keep the rivalry afloat, as one entity is able to carve out a superior sporting structure to leave behind the other. But the rivalry lives on, fuelled by political tension, historical arguments and the sheer urge to cling on to something familiar.
India and Pakistan are not evenly matched on the cricket field. While batting had always been India's strength, they have improved manifold in the fielding and bowling department, so much so that the Pakistan challenge seems to be that of a spirited university side.
Also Read: Do's and Don'ts for the Champions Trophy Fantasy League
Leaking of runs, dropping catches for fun and lack of intent with the bat has rendered this Pakistan team to be labelled 'pathetic'. And a lot of this downfall has to be credited to the unorganised domestic setup that the PCB is running. Only when sport takes the front seat will we ever be able to see Pakistan as world beaters again.
India on the other hand have looked immensely confident and balanced in their three outings so far. Everything has clicked for them and barring some fielding errors last night, Virat Kohli would have been forced to rate their performance a 10 on 10. Hopefully things go upwards from here on and complacency doesn't set in.
Let's get to business now!
Fandromeda Fantasy Tips on the next page:

Fandromeda Fantasy League
Transfer out: Virat Kohli, Bhuvi
Transfer in: Musfiqur Rahim, Mitchell Starc
Now, I already have Steve Smith, David Warner, Travis Head, Shakib Al Hasan and Pat Cummins in my side for this game.
With almost all bases covered with respect to the Australian side, I don't think there is any need to bring in any other player in from the Australian side. If you really want to invest an Australian player, the only one worth investing is Mitchell Starc, as he could clean up the tail in a jiffy.
Tamim Iqbal scored a brilliant hundred against England in the last game, but against this Australian seam bowling attack, I wouldn't bank on Tamim replicating his heroics from the first game. If you want to get in a Bangaldeshi batsmen, I would recommend Mushfiqur Rahim. Rahim looked in brilliant touch in the last game, and comes in at a time when the ball isn't doing much. He should be able to help himself to a 50, if he plays sensibly.
Now, in a day-night game you need to take into account the fact that the ball would swing around more so during the second innings. So, if you want to draft in a new ball bowler, get in one that would bowl second.
Mustafizur Rehman's selection would seem like a no brainer here. He can swing the ball both ways and can help restrict the opposition during the death overs. But his form is a worry, as he hasn't looked the same bowler like the one that had burst onto the scene in the IPL last year. If you want to be a little cautious, you could opt out of getting him in.
Batting Star: Steve Smith(if Australia bat first)/David Warner(if Australia bat second)
Bowling Star: Mitchell Starc
Champions Trophy Fantasy League Tips on the next page:

Champions Trophy Fantasy League
Now, I already have Steve Smith, Travis Head, Pat Cummins and Mushfiqur Rahim in my side for this game.
Mitchell Starc would be my first pick for the game, as he could run through the Bangladesh batting line up with swing upfront and with pace at the back end of the innings. Get him in!
Now, if you want to get David Warner, you wouldn't be able to do so, as only 4 players from one team are allowed in the Champions Trophy Fantasy League. So, essentially it is a straight shootout between Warner and Starc. Starc is the more safer option, as he would definitely chip in with at least two wickets and thus I think I would go in with Starc.
Mustafizur could be a good pick for the game, but owing to his poor form, I would leave him out at this stage.
Powerplayer: Steve Smith
---