Champions Trophy Fantasy Tips: Fantasy Guide for India vs Pakistan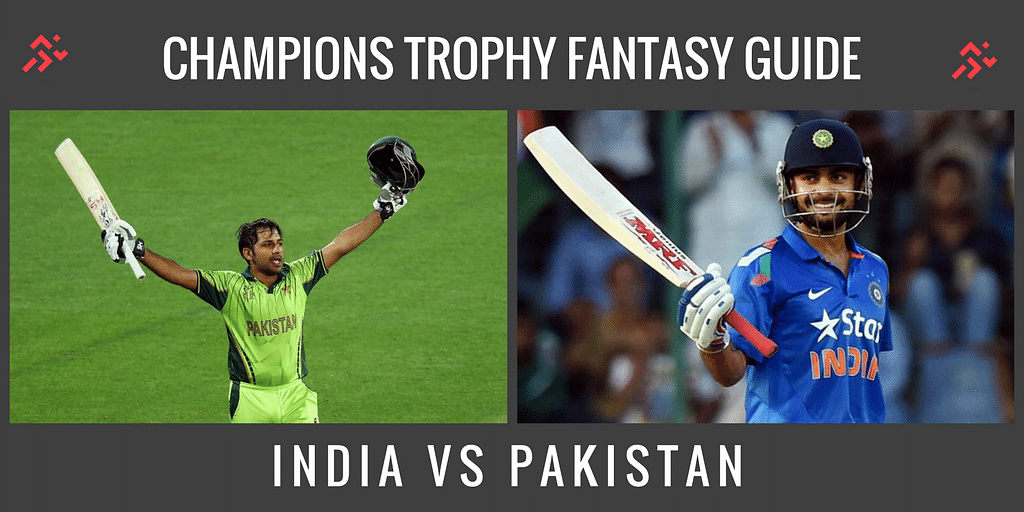 The mother of all clashes is here. When you watch sport, you live for moments like these, moments where you can embrace all your emotions to the fullest, moments that help you bond over your team's success with your loved ones, moments that make you cry, moments that make you jump in jubilation, moments that stick with you for a lifetime.
The India Pakistan clash comes very close to satiating all the lusts of a cricket fan. The build up to the game itself helps a fan traverse the complete spectrum of emotions and if the cricket is brilliant, the entire experience just intensifies manifold.
Also Read: Do's and Don'ts for the Champions Trophy Fantasy League
But while the fans love these high voltage, emotional clashes, they could prove to be extremely tantalising for Fantasy Managers, as emotions could get the better of them. So, it is extremely important as a Fantasy Manager to keep your emotions under check and go in with your selection purely on the basis of skill and strategy.
Last night South Africa warded off a stiff challenge from the Lankan army. Amla and Du Plessis helped the Proteas romp up to 300, to which the Lankan openers had a very potent response, as they quickly launched an attack, only to be brought down by a mediocre middle order response. South Africa managed to register their first win and the Lankans would have to do a lot of soul searching if they are to win anything in this edition of the Champions Trophy.
Let's get to business now!
Fandromeda Fantasy Tips on the next page:

Fandromeda Fantasy League
Transfer out: Hashim Amla, ABD, Kushal Mendis, Kagiso Rabada
Transfer in: Virat Kohli, Shikhar Dhawan, Bhuvi, Mohammad Amir
Now, I don't have any player from this game in my side.
Virat Kohli would be the first person that I'll bring in for this game, a player whose selection doesn't need any justification. He has been extremely effective against Pakistan, especially in the last two ICC Events, where he has gone onto win the game for India single handedly. Do not leave him out.
The Pakistan batting line up isn't a very sound one and hence I would stay away from bringing in any of their batsmen. Actually the only player even worth mentioning is Mohammad Amir, whose new ball spell could cause some troubles in the Indian camp. Get him in!
Now, when it comes to the Indian bowling attack, there is only one bowler who is certain to feature at the death and during the initial overs as well, and that is Bhuvi. He'll be able to extract any initial swing that is on offer and will be able to run away with a few cheap wickets during the death overs as well. Get him in!
Rohit Sharma/Shikhar Dhawan could be your last pick for the game. Rohit has been out of sorts for some time now and with Mohammad Amir having gotten the better of him during their last meeting, I wouldn't want to bring in him as of now. Shikhar Dhawan has featured in both the warm up games and has been amongst the runs. Also, he just tends to rise to the occasion during ICC Tournaments. You could take a chance with him tonight.
I won't be making any other changes to my side for this game.
Batting Star: Virat Kohli
Bowling Star: Bhuvaneshwar Kumar/Mohammad Amir(whoever bowls first)
Champions Trophy Fantasy League Fantasy Tips on the next page:

Champions Trophy Fantasy League
Transfer out: ABD, QDK, Kagiso Rabada
Transfer in: Virat Kohli, Shikhar Dhawan, Mohammad Amir(if Pakistan bowled first)
Now, I already have Bhuvi in my side for this game. I couldn't go through with my transfers for this league yesterday because of some technical difficulty and thus my proposed team and the team that I presently have are completely different. Thus, in this section I'll just be speaking about the players that you should consider bringing in for each game.
Virat Kohli undoubtedly is the hottest pick for this game, and as we have seen in the tournament so far, the big players have stood up. You can expect Kohli to do the same today when India go head to head with their fiercest rivals.
Shikhar Dhawan is an ICC Tournament freak. If you are wondering as to whom to draft in, Shikhar or Rohit, you should go in with Shikhar, reasons for which are already mentioned in the Fandromeda Fantasy League section.
With Bhuvi already in my side, the only other player worth fretting about is Mohammad Amir. The Indian batting line up is a very sound one and the Edgbaston pitch is expected to not offer any kind of seam movement to the batsmen. In such conditions, Amir's threat is minimised, but the champions bowler that he is, if there is anything on offer for the bowlers, he would be the first one to extract it.
With the toss factor not being a possibility here, get him in, just to be safe.
Captain: Virat Kohli
---