Champions Trophy Fantasy Tips: Fantasy Guide for Pakistan vs South Africa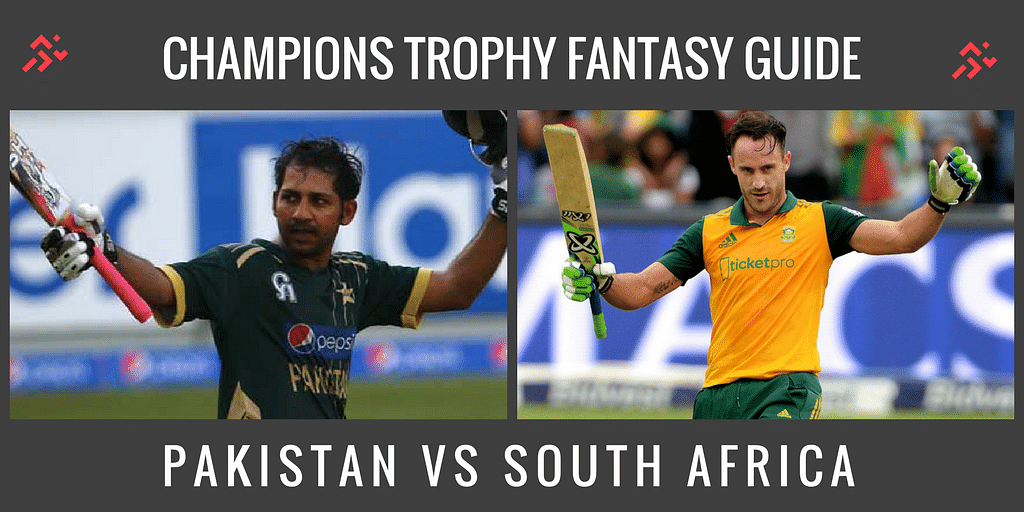 Murphy's Law played a cruel little game with New Zealand last night. With the Kiwis being robbed off a win against Australia in the first game, you could almost sense a loss coming their way in their second encounter. Because the world is a cruel and heartless place, where people who are down are pushed further south. And that is exactly what transpired in Cardiff today. The ever so dominant New Zealand succumbed to a rather tame victory in the end, unable to cope with the scoreboard pressure that the English bowlers had created.
Also Read: Do's and Don'ts for the Champions Trophy Fantasy League
England started off proceedings in typical fashion, scoring a few flashy boundaries before settling into that 'middle phase strike rotation' extravaganza. Root played brilliantly yet again, playing the sheet anchor role, and Stokes, Hales and Buttler just played around him, with Buttler finishing off the innings in style to take England beyond 300.
New Zealand had their task cut out but Williamson wanted to ensure that he took things right down to the wire. Guptill and Taylor offered him some support, but once Williamson got out, it just all went downhill for the Kiwis. They are just way too dependent on Williamson at the moment, and unless they dig out another hero, they can't become world beaters.
With this win England became the first side to qualify for the semi finals, and a win against Australia would guarantee them first spot in Group A. And along with that it would give them the satisfaction of possibly eliminating their fiercest rivals, ever.
Let's get to business now!
Fandromeda Fantasy Tips on the next page:

Fandromeda Fantasy League
Transfer out: Joe Root, Pat Cummins, Kane Williamson, Martin Guptill
Transfer in: Hashim Amla, ABD, Kagiso Rabada, Imran Tahir
Now, I already have Mohammad Amir and Quinton De Kock in my side for this game.
With Pakistan dishing out a shambolic overall performance against India, I am not going to waste any of my transfers on them.
From the South African side, the first player that I would get in for this game is Kagiso Rabada. With Pakistan's batting lineup probably being the most fragile out of the 8 teams on offer, Rabada's selection seems to be the most mouth watering one, as he could clean up the top, middle and lower order with ease. Get him in, he should be in for at least 3 wickets today.
Hashim Amla's consistency with the bat just forces you to get him in. The only issue that Amla ever had with his batting was that he used to sometimes fall over while shuffling across and playing the ball towards the leg side. And he has corrected that little fault of his as well, making him quite the invincible batsman. Against a seemingly tame Bangladesh bowling attack, you just need to get him in!
My third transfer for the day would be AB de Villiers. The number one ODI batsman in the world can never be counted out, no matter what the oppositon and what the playing conditions. He has strokes for every scenario and if you go in without him, he could make you regret big time. Now, if you want to be a little smart and save a transfer here, you can opt out of getting in ABD, if Pakistan bat first, as Pakistan are very unlikely to put up a huge score, and hence ABD would have too little to do in the second innings, thereby decreasing his 'impact potential'.
For the last transfer of the day, I would get in Imran Tahir. Seeing how horribly Pakistan played Jadeja in the previous game, I am tempted to get in Tahir ahead of Morris. The inexperienced Pakistan batting line up could have a tough time getting Tahir away and thus he should be able to carve out wickets for himself with his bamboozling leg spinners. Also, the fact that Pakistan don't have any left handers in the top 6, makes a very strong case for Tahir's inclusion.
Batting Star: ABD(if South Africa bat first)/Amla(if South Africa bat second)
Bowling Star: Kagiso Rabada
Champions Trophy Fantasy League Fantasy Tips on the next page:

Champions Trophy Fantasy League
Transfer out: Joe Root, Chris Woakes, Travis Head
Transfer in: Hashim Amla, Kagiso Rabada, Imran Tahir
Now, I already have Mohammad Amir in my side for this game.
The Pakistan side is not worthy enough of having much representation in my team and thus I leave all of them out.
Kagiso Rabada would be my first pick for the game, as his pace, swing and guile could be a little too much for the inexperienced Pakistan batting lineup!
Hashim Amla and ABD look to be the safest batsman picks for this game, but you could leave out ABD, if Pakistan bat first, as he might have very little to do then.
Imran Tahir was lethal against Sri Lanka and should continue to send terror through the Pakistan ranks with his leggies. Get him in!
Powerplayer: Kagiso Rabada
Happy Team Picking 🙂
---