Champions Trophy Fantasy Tips: Fantasy Guide for Pakistan vs Sri Lanka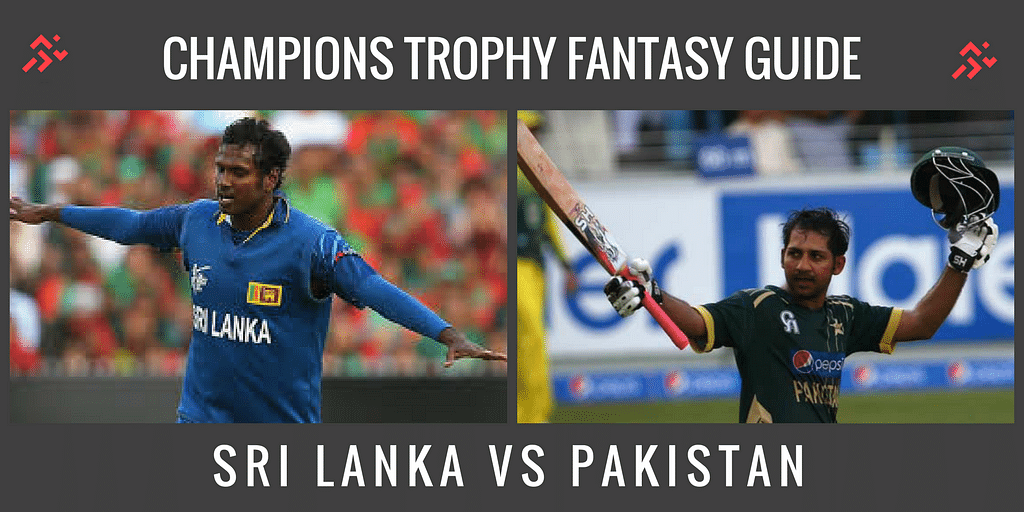 The big day has never been about skill. It has always been about conquering your anxiety, your inner demons, and when the team comes together and helps each other do that, you are able to dish out a flawless performance on the field. The Indian Team was able to do exactly that and give out a near perfect performance to send the Proteas home.
South Africa would be furious with themselves for having squandered another opportunity of making it big in an ICC event, faltering during crucial moments and succumbing to the big match pressure. A team that boasts of the best in the business will never be questioned on skill, they will only be questioned on their mindset and their ability to embrace the big occasion. South Africa need to do a little soul searching or else this knockout hoodoo will continue to haunt them for a long time.
Also Read: Do's and Don'ts for the Champions Trophy Fantasy League
India made a bold choice of dropping Umesh Yadav for this game but they will be buoyed by the way Bumrah and Bhuvi took up the fast bowling mantle. Ashwin slowed down the pace during the middle overs making the batsman go after him in order to get the runs flowing, a tactic that got Amla out. But was this the right combination to go with?
India bat too deep now, with Ashwin walking in at 9, and thus they could maybe do away with Jadhav and draft in Shami instead, but we'll have to wait and see if Kohli is ready to make that bold call on the semi final day.
Who would have thought that Pakistan would be facing Sri Lanka in a virtual quarterfinal on the last day of the league games? But isn't that the unpredictability of sport that we all crave for? They have sprung two huge surprises int he tournament and deserve to have a shot at the semi finals. Sri Lanka look a little more balanced, as they bat deep and have some experience in the middle order. Pakistan will have to bank on their bowling to pull them through.
Let's get to business now!
Fandromeda Fantasy Tips on the next page:

Fandromeda Fantasy League
Transfer out: Virat Kohli, Ben Stokes, Imran Tahir, Hashim Amla
Transfer in: Kusal Mendis, Gunaratne, Mohammad Amir, Angelo Mathews
Now, I don't have any player from this game in my side.
With 4 transfers in my kitty(3+1 free), I can bring in a maximum of 4 players into my side for this game.
I have been vouching for Kusal Mendis all this while and he would be the first player that I get into my side for this game. He provided the Sri Lankans with some much needed impetus during the middle overs of their chase against India, taking Jadeja off his radar and unsettling the enitre Indian bowling unit. Get him in, he could go big today as well.
Mohammad Amir has been bowling without much luck this tournament, but with his class and skill, you just can't count him out. He could go through the Sri Lankan top order today. Get the big players in for big games, and he is certainly one of them.
Angelo Mathews played a captain's knock in the last game, helping his side get over the line against the mighty Indians. He promoted himself to the number 5 spot and looked in sublime touch, scoring a few touch shots and even going big down the ground, He is Sri Lanka's mainstay with the bat in the middle overs and should be amongst the runs on a rather good batting wicket in Cardiff.
Cardiff has been guilty of dishing out some slow wickets this time round. And when the wicket is slow, you need to get in atleast one spinner into your side. Imad Wasim and Gunaratne are the ones that would be featuring in today's game, and thus I would be getting at least one of them in.
I am a little tilted towards Gunaratne, as he'll be batting at number 6 as well, and did come in handy against India. Get him in!
I have exhausted all my transfers and can't bring in any other player for this game.
Batting Star: Kusal Mendis
Bowling Star: Mohammad Amir
Champions Trophy Fantasy League Tips on the next page:

Champions Trophy Fantasy League
Transfer out: Virat Kohli, Shikhar Dhawan, ABD
Transfer in: Kusal Mendis, Angelo Mathews, Gunaratne
Now, I already have Mohammad Amir in my side for this game.
With 3 transfers in the bag, I can only bring in 3 players for this game.
With the Sri Lankan priced very low in the official fantasy league, you'll have no problems getting them in.
My transfers would be exactly the same as mentioned in the Fandromeda Fantasy League, that is I'll be getting in Gunaratne, Mathews and Kusal Mendis in my team for the last group game. I have given my reasons for getting these players in in the Fandromeda section.
Captain: Kusal Mendis
Happy Team picking
---