9 Months Before Earning 3.4x Salary Hike, Nitish Rana Acknowledged Gautam Gambhir's Advice Approved By Sachin Tendulkar Before IPL 2017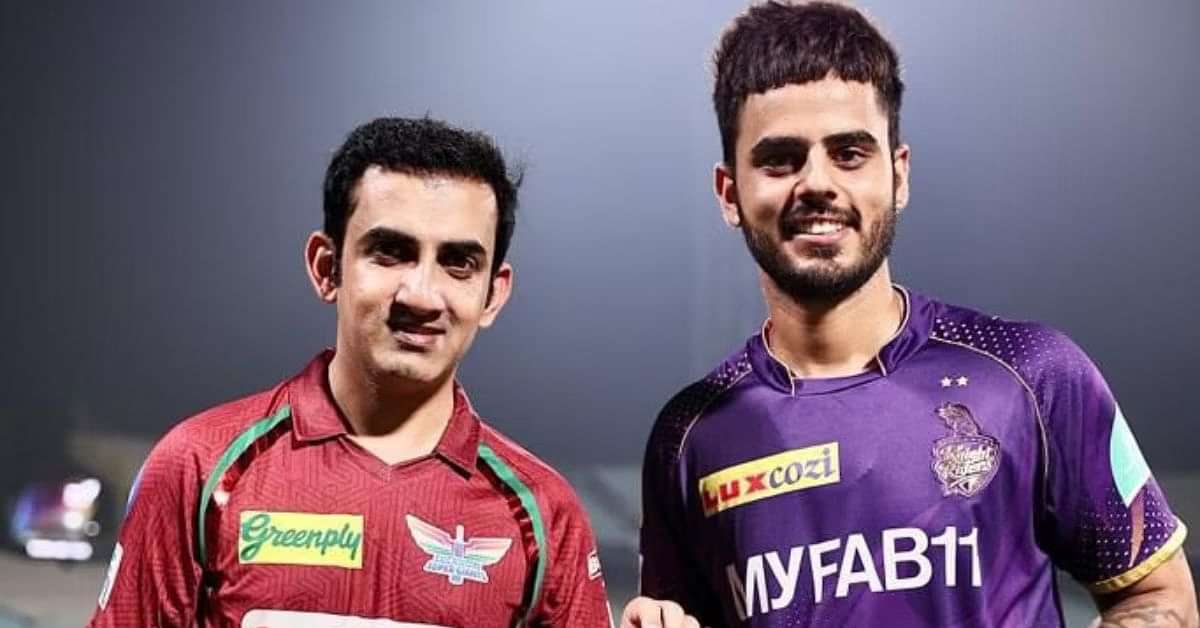 Having spent three seasons at Mumbai Indians, India batter Nitish Rana had earned a whopping 3.4x salary hike during Indian Premier League 2018 auction. Former batter Gautam Gambhir played a vital role in the same as a change in technique suggested by him had helped Rana on a vast scale. In an interview with Hindustan Times, Rana had revealed how Gambhir's advice had received validation from Master Blaster Sachin Tendulkar as well.
The relationship between Rana and Gambhir goes a long way. Even though they work in different capacities for different IPL franchises nowadays, a forever grateful Rana had gifted Gambhir his jersey during the 16th season of the tournament earlier this year.
In the form of a T20 in 2013, Rana had played the first match of his competitive career with Gambhir also in Delhi's Playing XI. His first-class debut in 2015, however, had come under the latter's captaincy. Delhi's best batter during Ranji Trophy 2015-16, Rana had scored 557 runs at an average of 50.63 including one century and three half-centuries.
Nitish Rana Acknowledged Gautam Gambhir's Advice Approved By Sachin Tendulkar Before IPL 2017
In what ended up becoming his last season for MI in 2017, Rana was assisted by Gambhir, in spite of him leading Kolkata Knight Riders at the time. In the preceding Vijay Hazare Trophy tournament, Rana had scored 276 runs at an average and strike rate of 69 and 107.39 respectively after accepting Gambhir's suggestion.
For the unversed, Gambhir had asked Rana to move to an upright posture while opening up his shoulders a bit. When Rana joined Mumbai's camp before the 10th season of the IPL, he discussed the same with Tendulkar and then-head coach Mahela Jayawardene. Both the legendary names corroborated Gambhir's recommendation which eventually worked wonders for left-handed Rana.
"As my form dipped and I got out early in a couple of one-dayers, [Gautam] Gambhir spoke to me regarding my technique. After coming over here, I spoke to Sachin [Tendulkar] sir and Mahela [Jayawardene] sir regarding the same and both said that Gambhir was right and from the first day, I started practicing that way," Rana had told Hindustan Times as quoted by India Today before IPL 2017.
In 13 IPL 2017 matches, Rana scored 333 runs at an average of 30.27 and a strike rate of 126.13 with the help of three half-centuries. The manner in which he batted in some of the crunch matches impressed everyone.
Nitesh Rana Had Earned 3.4x Hike In IPL 2018 Auction
Having retained the likes of Rohit Sharma, Jasprit Bumrah and Hardik Pandya during IPL 2018 mega auction in January that year, Indians had no option than to let go of Rana. Been playing for the franchise on an INR 10 lakh contract, he had set his base price at INR 20 lakh in the 2018 auction.
With Rajasthan Royals commencing the bidding process for Rana, they were soon joined by Knight Riders. Mumbai, who also expressed interest in a player they had groomed, had to give up after his bid crossed a certain price limit.
KKR eventually acquired his services for a price of INR 3.40 crore. Rana, who represented India in three white-ball matches a couple of years ago, is still with Kolkata earning a whopping INR 8 crore per season. It is noteworthy that the 29-year old player even led the franchise in IPL 2023 after regular captain Shreyas Iyer was ruled out of the season.
---