Biggest win by balls remaining in ODI: Biggest win in ODI by balls left full list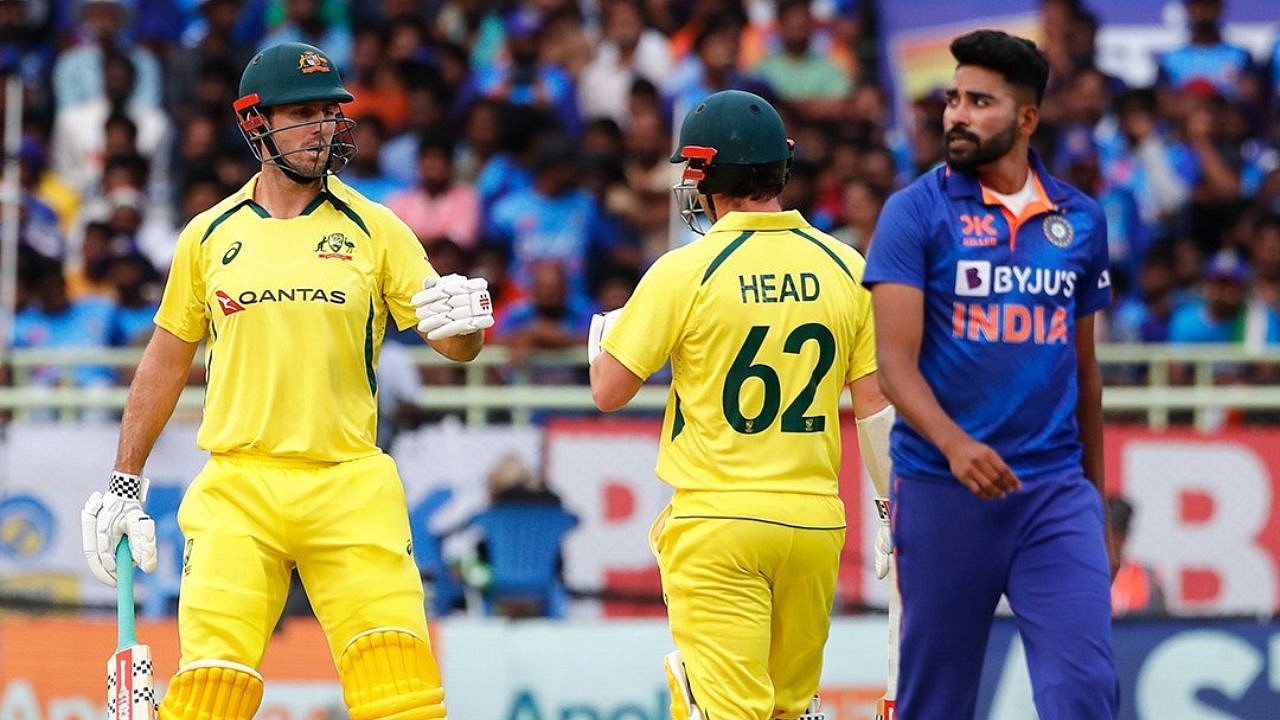 Australia have thumped India in the second of the ongoing three-match ODI series in Visakhapatnam. A match which could have lasted for 100 overs was wrapped up within 37 overs as the visitors registered a comprehensive 10-wicket victory today.
It is worth mentioning that Australia's last victory by such a margin in this format had also come on a tour of India. Overall, it is their sixth instance of winning an ODI match by 10 wickets. Interestingly, India have also lost a match by 10 wickets for the sixth time in this format.
An authoritative victory on the part of the Australians witnessed opening batters Travis Head (51*) and Mitchell Marsh (66*) putting together a 66-ball 121-run opening stand to seal a 118-run chase in the 11th over.
Subdued of the two batters, Head hit 10 fours at a strike rate of 170. Marsh, on the other hand, was able to score his second half-century in as many matches on the back of six fours and as many sixes at a strike rate of 183.33. In addition to the number of his boundary shots, what was worth-watching was the distance which Marsh hit in his sixes.
Australia, who secured a win with 234 balls remaining in their innings, put on display the 15th-largest victory in terms of balls remaining in the history of ODI cricket.
In what is the third-highest victory for the Aussies, it is India's biggest-ever defeat (by balls remaining). The previous two instances of Australia winning an ODI with more balls remaining had come against USA (253 balls) and West Indies (244 balls) in Southampton and Perth respectively. As far as matches played in India are concerned, this is the second-biggest defeat by balls remaining.
Biggest win by balls remaining in ODI
| | | | | | | |
| --- | --- | --- | --- | --- | --- | --- |
| S. No. | Balls | Target | Team | Opposition | Ground | Year |
| | | | | | | |
| 1 | 277 | 46 | England | Canada | Manchester | 1979 |
| 2 | 274 | 39 | Sri Lanka | Zimbabwe | Colombo | 2001 |
| 3 | 272 | 37 | Sri Lanka | Canada | Paarl | 2003 |
| 4 | 268 | 36 | Nepal | USA | Kirtipur | 2020 |
| 5 | 264 | 94 | New Zealand | Bangladesh | Queenstown | 2007 |
| 6 | 254 | 96 | Nepal | PNG | Kirtipur | 2023 |
| 7 | 253 | 66 | Australia | USA | Southampton | 2004 |
| 8 | 252 | 70 | New Zealand | Kenya | Chennai | 2011 |
| 9 | 250 | 118 | New Zealand | Sri Lanka | Christchurch | 2015 |
| 10 | 244 | 36 | Sri Lanka | Zimbabwe | Harare | 2004 |
---
Share this article