Having Started His Career As An Off-Spinner, Rohit Sharma Hates Being Called A 'Talented' Batter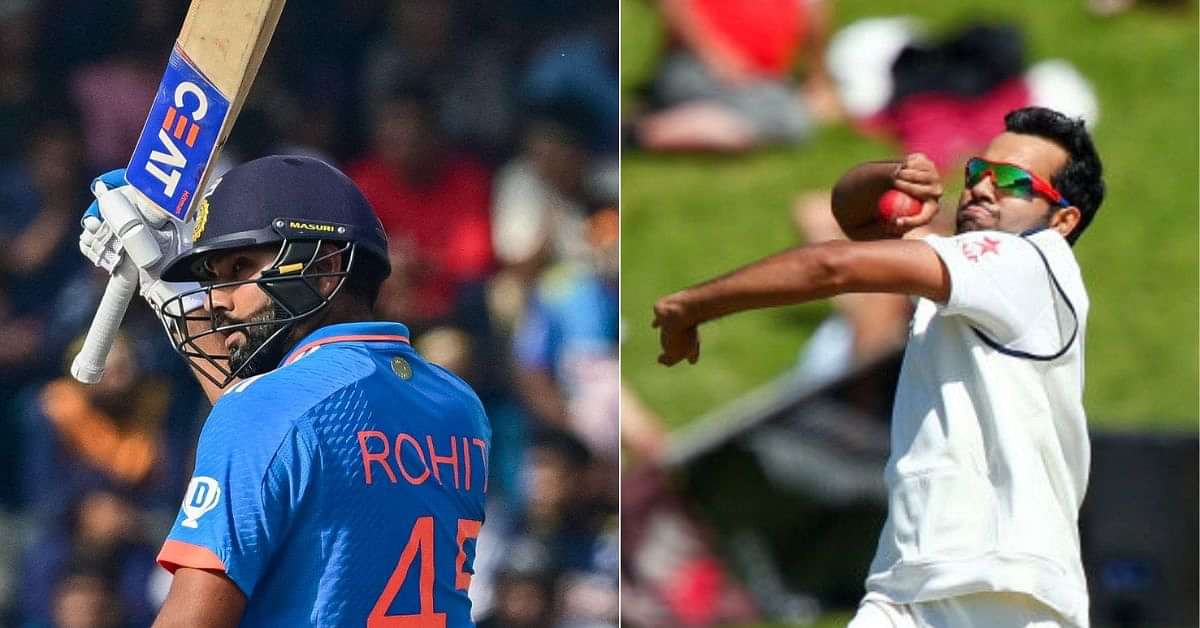 Considering the number of times Rohit Sharma and talent have been used in the same line over the years, one feels that the two terms are synonymous with each other. However, the Indian captain hates being called a "talented" batter and has valid reasons for the same.
Sharma, who has been a highly-rated prospect since his age-group days, has been bedeviled by the presence of exorbitant potential without fail. Since being accompanied by expectations is the blatant nature of terms such as "talent" and "potential", Sharma was always expected to do well at the highest level.
Failing to convert his potential into performance in the initial few years of his international career, Sharma used to face a lot of criticism at a time when former India captain Virat Kohli was highly impressed with him.
Rohit Sharma Hates Being Called A 'Talented' Batter
If the above mentioned criticism wasn't enough a reason to hate amplified compliments pertaining to his aptitude, there was another reason why Sharma was never personally a fan of being called a "talented" batter.
A consequence of being called "god-gifted" on a continual basis is how it snatches limelight from the hard work put in by an individual. Not being given enough credit for putting in the hard yards used to give Sharma the hump.
Interacting with Gaurav Kapoor on his talk show named Breakfast with Champions, Sharma had once disclosed that he wasn't even a batter during his childhood days. Since he started playing cricket as a spinner, calling him a god-gifted batter wasn't justified as he developed his batting skills pretty late.
"Arre bhaiya, maine apna career as an off-spinner start kiya tha [I started my career as an off-spinner]. Main kabhi batsman tha hi nahin [I was never a batter]. Mujhe mere coach ne bola koshish karo aur mujhe opener bana dia [My coach had asked me to try and subsequently made me an opener]," Sharma had said.
Rohit Sharma Had Started His Career As An Off-Spinner
It is quite common for a cricketer to practice one trait during childhood only to gain fame for a completely opposite one. Some cricketers, in fact, even played their first international match as a bowler only to transform into successful batters over the years and vice-versa. In modern-day cricket, the biggest example of the same is former Australia captain Steven Smith.
In an interview with Sportskeeda, Sharma's childhood coach, Dinesh Lad, had revealed how he spotted his bowling potential during the U-12 days.
"I first saw him in 1999, Borivali Sport and Culture Association had organised a tournament for various age-groups. Rohit Sharma was in the under-12 category, and his team – Velenkani School – was playing against my school in the final. It was a 10-over match and they scored 68 runs. We won the match easily, but I saw Rohit [Sharma] bowl two overs of off-spin and I was very impressed with his action."
However, it was Lad only who later asked Sharma to open the batting in Mumbai's iconic Harris and Giles Shield school cricket tournaments. Sharma, who is mostly famous for undergoing a significant transformation by converting into one of the best white-ball openers of all-time after having started in the middle-order, recently became only the sixth Indian to complete 10,000 ODI runs.
As far as bowling is concerned, the right-arm bowler has an Indian Premier League hat-trick to his name despite having not bowled in international cricket for quite a few years now.
---