Cristiano Ronaldo leaves stadium early after being substituted vs AC Milan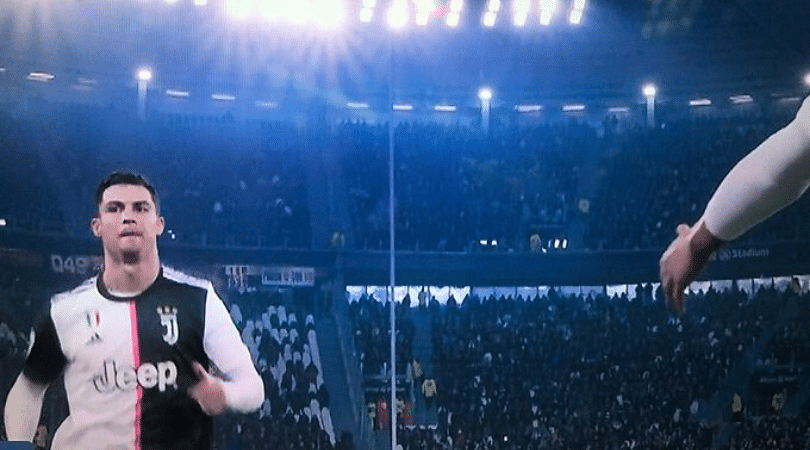 Cristiano Ronaldo leaves stadium early after being substituted vs AC Milan. This is the second instance in consecutive games where he hasn't played the full 90 minutes.
Cristiano Ronaldo prides himself on being in top physical condition despite being at the age that he is. However, off late, Ronaldo has been far from his prolific self. He hasn't scored as many goals for Juventus as he did back in Madrid. He has also been injured far more times than he would like.
Also read: Riyad Mahrez appeared to crib about Salah's goal while using a phone on the bench
Cristiano Ronaldo has now been subbed twice early in the second half by Maurizio Sarri with the second instance coming last night during the Juventus vs AC Milan match. Ronaldo has been struggling with a knee injury off late and was swapped with Paulo Dybala in the 55th minute.
However, the Portuguese seemed far from happy at the decision. He looked glum and appeared to have mouthed a few words towards his manager before heading straight to the dressing room. Reports have since emerged that Ronaldo didn't even bother staying at the stadium for the duration and left before the final whistle.
https://twitter.com/MessiCuIe/status/1193637152455823362
Loading embed tweet https://twitter.com/tancredipalmeri/status/1193643689588985856?ref_src=twsrc%5Etfw
However, some fans have pointed out that Ronaldo himself requested for a substitution.
Loading embed tweet https://twitter.com/m1897/status/1193642638618087428?ref_src=twsrc%5Etfw
Although, it doesn't explain why Ronaldo did what he did next.
Cristiano Ronaldo leaves stadium early after being substituted vs AC Milan
Sky Sport Italia – per Football Italia, have since confirmed that left the stadium before the match was even over. This raised many questions with no answers. In fact, Maurizio Sarri was not even aware that Ronaldo had left early.
Speaking after the match, Sarri said:
"Disrespectful to his teammates? Like I said, I don't know,"
 "If it's true that he left before the end it is a problem to be resolved with his teammates."
"I have no problem with Cristiano, he should be thanked because he made himself available despite not being in the best condition," said Sarri.
"In the last month he has had discomfort in his knee and this is a little problem for him."
"The important thing is that he made himself available. If he gets angry when he comes out this is part of the game," continued the Juventus coach.
"It's only natural a player is going to be irritated about leaving the pitch, especially when he worked so hard to be there.
"All players who are trying to give their best will have at least five minutes of being annoyed when they are substituted, but a coach would in general be much more worried if he didn't seem upset."
Juventus won the match thanks to Dybala's strike in the 77th minute. The win helped them maintain their top spot in the Serie A table with Inter close on their heels with just a point behind. Juventus are still the only unbeaten side in the league so far. AC Milan on the other hand slipped to 14th, just four points off the relegation zone.
Click here for more football news
---