Daley Blind collapses on pitch while playing match for Ajax; let out a huge cry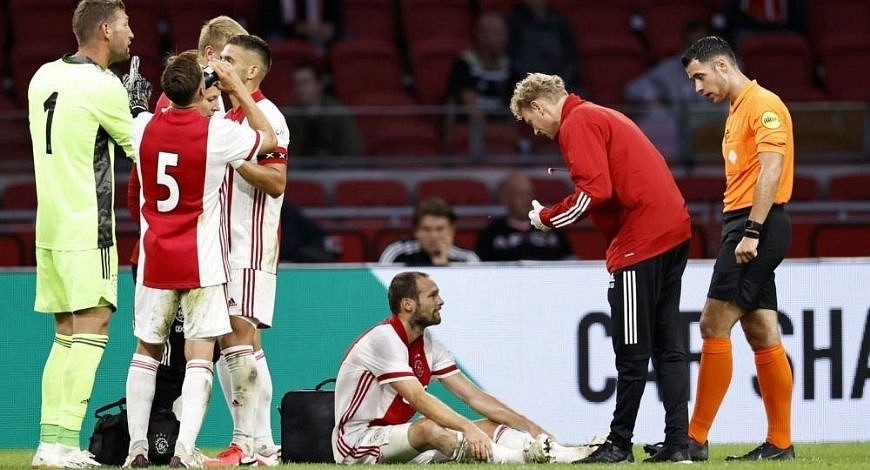 Daley Blind collapses on the floor during a pre-season game of Ajax, the player was reportedly diagnosed with a heart condition at the start of the year.
Former Manchester United star Daley Blind collapsed on the pitch during a pre-season game between his side Ajax and Hertha Berlin, the player during the match went down on the pitch out of nowhere.
At that moment his team had the possession of the ball and stopped the play. The Dutch International looked uncomfortable and in pain, signalling a wrong situation.
Daley Blind collapsed – Watch the video
Apparently, Blind is suffering from a heart condition which was diagnosed at the start of the year, after the club ran tests on him as he was not able to complete a game against Valencia in the Champions League.
As per BBC Sport, the former Manchester United man missed the next match before the diagnosis of heart muscle inflammation, which was announced on Saturday.
"Daley Blind's ICD (implantable cardioverter-defibrillator) went off. He got subbed off straight away and he is feeling okay now, he is feeling fine. We will do research about this now." said Ajax manager Erik Ten Hag.
After knowing his condition, he was fitted with a subcutaneous implantable cardioverter-defibrillator, a device that uses electrical pulses to regulate his heart rhythm.
Nevertheless, Blind is currently fine and later reports will reveal his actual state. Meanwhile, it is a relief that nothing worse happened.
---
Share this article