Dipa Karmakar sets her sights high, really high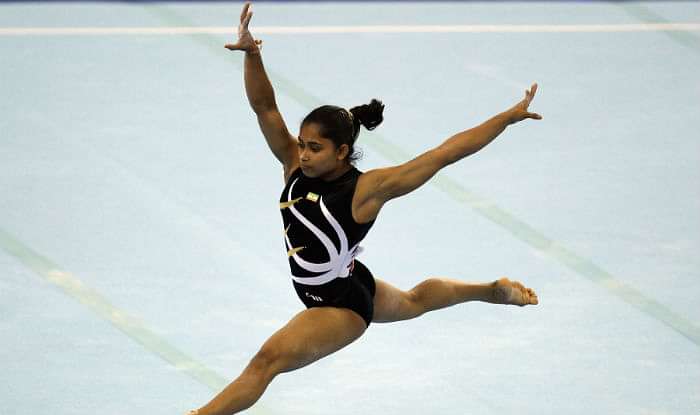 Dipa Karmakar has set her next goal and that is no ordinary feet. Dipa's goal is to beat the reigning Olympic gymnast champion Simone Biles of US in Tokyo Olympics 2020. She feels that only if she sets her aspirations high, she has a chance at one of the medals.
She was recently felicitated with a golden crown at a Durga Puja festival. At the event, she said "My next aim is to beat Simone Biles in Tokyo 2020, that's my target. I know very well that if I aspire to beat the champion, I would at least finish with a gold or silver."
She also acknowledged that the whole nation is supportive and appreciative of her, despite returning empty handed from Rio. She claims that, this affection has motivated her more to excel at Tokyo. "I'm getting this overwhelming support from billions of countrymen without winning a medal. This is not an added pressure but a motivation for Tokyo."
Her Coach's quotes
Meanwhile, Dipa's coach Bisweshwar Nandi has shared his thoughts on India's predicament in sports. He told the journalists "This is India. You have to first perform (before reaping rewards). You people also write about them only after they do something special."
This statement is very valid, as many of us wouldn't have heard of Dipa Karmakar or Produnova vault before this Olympics.
When asked if Dipa was short tempered, he had the following to say "I was warned by her father that she was a stubborn person with a hot temper. I experienced it first-hand too during her training regimen when I wanted her to stop after an extended session as I feared injury. I then channelised it into her gymnastics."
Recap of Dipa's performance in Rio
It must be remembered that Dipa missed out on a Bronze medal by a whisker. She made the entire nation proud by performing the Produnova vault, also called the 'Death Vault' despite being flat-footed. This is a testament to her hard work and dedication.
We are sure this Golden Girl will bring more laurels to India and be an inspiration for other young athletes.
---