Dominic Thiem confirms relationship with Kristina Mladenovic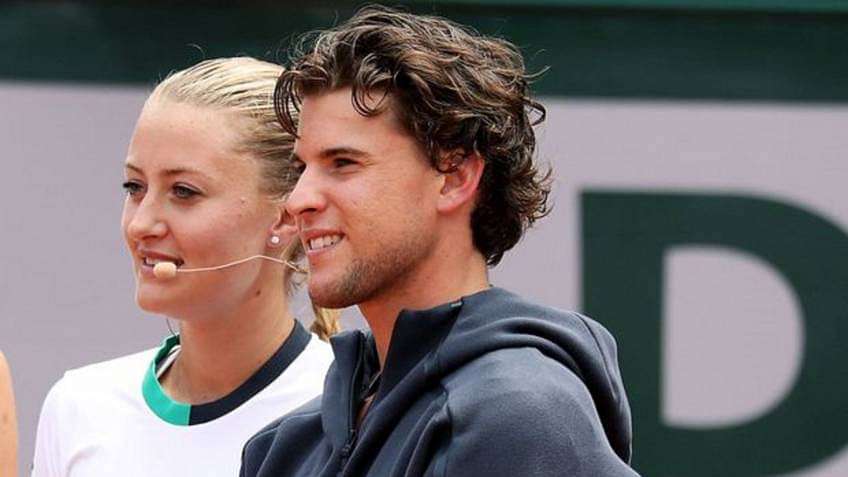 Dominic Thiem is amongst those who are considered to be the flag bearers for the next generation of superstars, those who would carry on the legacy of the big 4 and take the sport of Tennis to the next level.
Thiem's on court performances have been brilliant in the past year or so, and it looks like he is ready to challenge the top 4 and maybe topple them over for good. But both Nadal and Federer returning to top form this season has halted his progression to the summit.
And while things on court maybe going a little slow for Thiem's liking, things off court are in full swing.
There was a new entrant in Thiem's corner during the ongoing World Tour Finals in Kristina Mladenovic, and before the media could speculating things, Thiem has come out and declared that the duo are dating.
"I won't say anything about it but it's obvious we are in a relationship." Thiem told Die Presse.
Thiem's coach, Gunter Bresnik, told the media that he wasn't very concerned about Thiem's relationship, as his work ethic hadn't suffered one bit.
"It didn't change anything for Dominic in terms of work ethic. This relationship is an advantage because Kristina accepts and understands things like a tennis professional." said Bresnik.
Thiem will be up against Goffin on Friday for a place in the semi finals of the 'World Tour Finals'.
Thiem is expecting a stiff challenge from Goffin, who he feels has all the ammunition to oust Thiem.
"First of all, I'm very happy and pleased that I get the chance to play for the semifinals on Friday.
Not much calculating. The winner go through. We had some big, important matches in the past. Also in the deep rounds of slams. This one's going to be another one. We know each other very well. He played a very good match here, one very bad match.
I don't know what to expect. I'm hoping that it's going to be a tough match, and I'm trying everything to go through to the semis. He's taking the balls very early. He's giving me not much time.
Especially on this little bit faster surface, it's tough for me. Yeah, so I try to be the first to hurt him and not the other way around." Thiem said.
---