Early Inferences from ISL 2016: Brief interpretation of stats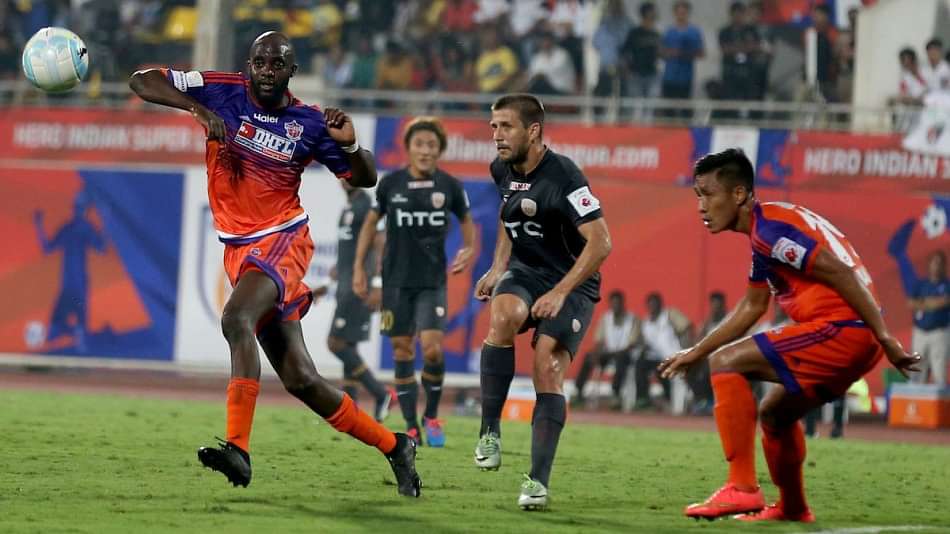 With all clubs having played a minimum of three games, it is time to draw a few initial inferences. This article provides a summary of performances of all the ISL clubs thus far. This article is mainly based on the official stats of ISL.
ISL Standings Table
[table]
No, Team, Matches, Won-Lost-Draw, Goal Difference, Points
1, Northeast United FC, 4, 3-0-1, 3, 9
2, Mumbai City FC, 3, 2-1-0, 2, 7
3, Atlético De Kolkata, 3, 1-2-0, 1, 5
4, Delhi Dynamos FC, 2, 1-1-0, 2, 4
5, Chennaiyin FC, 3, 1-1-1, 0, 4
6, FC Pune City, 3, 1-0-2, -1, 3
7, Kerala Blasters FC, 3, 0-1-2, -2, 1
8, FC Goa, 3, 0-0-3, -5, 0
[/table]
Please proceed to the next page for a brief summary of each club.
North East United FC
Being the most successful club until now, they have collected 9 points already out of a possible 12. They look a formidable unit this season. Emiliano Alfaro has scored 3 goals and has had 7 shots on target. Defensively the team has been excellent. The team has collected 3 clean sheets and has allowed just a single goal against them in the four games combined.
Best Player: Subrata Paul (16 saves as a Goalie)
Mumbai City FC
Mumbai City has the league's lowest passes per game. The average number of passes per game stands at 335 with a poor completion percentage of 70.  Their marquee player, Diego Forlan has cut a lonely figure. However, he has been effective in pulling the defenders towards him and creating space for other attackers.
Best Player: Lucian Goian (12 tackles)
Also Read: Virat Kohli's 5 challenges over the next 6 months
Athletico De Kolkata
They have been a predominantly second half team with not even a single goal being scored in the first half in the first three games. They have had the maximum average number of shots per game (12.7 shots per game). However, the finishing lags a bit as the number of shots required per goal is at a high 9.5.
Best Player: Javier Lara Grande (2 Goals and 7 shots on Target)
Delhi Dynamos
Delhi Dynamos has been impressive in this edition of ISL. However, they were left to rue after failing to get all 3 points against Kerala Blasters, the team currently with zero goals from 3 games. Delhi's stats look noteworthy with an average of 393 passes per game at a completion rate of 77%.
Best Player: Marcelo Leite Pereira (2 Goals and 5 shots on Target)
Please continue to next page for review of next set of teams.
 Chennayin FC
Chennayin has scored the maximum of 5 goals and has been very clinical. However, luck factor hasn't been going for them. The first win came in their third game against a team that is reeling at the bottom of the table. Currently, Chennayin is just outside the top 4. Raphael Augusto has been really impressive this season as well, with the highest pass completion rate (89.2%) in this ISL and has picked up an assist until now.
Best Player: Jeje Lalpekhlua (2 assists and 2 shots on target in 2 games)
FC Pune City
They have been a typical mid-table team with no consistency. With 2 losses and a win, the team needs to improve all its departments in order to get qualified for the next round. They require an average 13.5 shots for every goal in this season of ISL, which is very low.
Best Player: Mohamed Sissoko (12 tackles)
Kerala Blasters FC
This is the only team which is yet to open its scoring account. The Blasters have played 3 matches and have the lowest successful pass completion at the rate of 69%. Also, the shots per game at 6 stands at the lowest among all clubs.
Best Player: Mehtab Hussain (11 tackles)
FC Goa
FC Goa is at a precarious position in the table. The team has lost all the three games. The offense has been a little unlucky to be honest. With the highest shots on target/ game, they were still able to score a lone goal only in all their 3 games combined. So Goa will hope their fortunes change soon. However, defensively they have leaked the most goals in this tournament thus far and have to buck up.
Best Player: Rafael Coelho Luiz ( 1 goal and 4 shots on target)
---