Chewed Up Lewis Hamilton Admits Defeat to Mercedes F1 Teammate George Russell: "I Just Struggled…"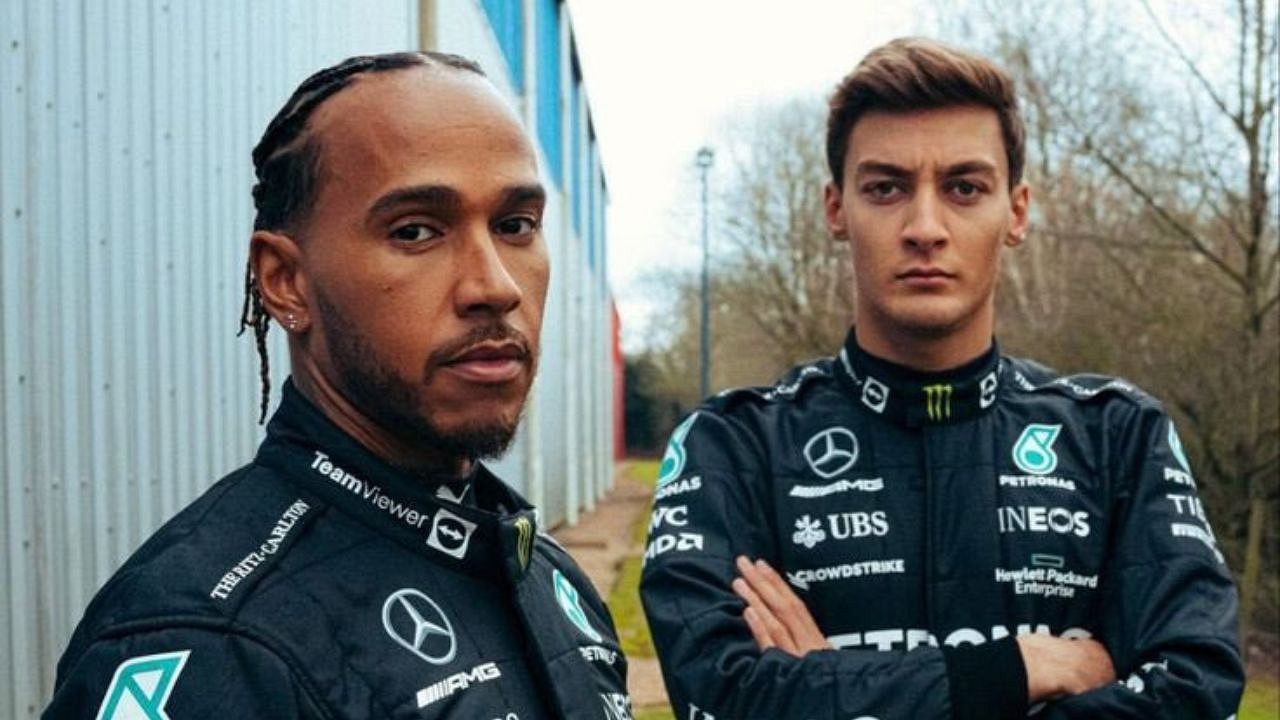 Lewis Hamilton has been put through the shredder the last two seasons, and this time around the positive facade is slowly breaking. However, no matter how bad the car is, in F1, your biggest competition is always your teammate. With George Russell starting the Saudi Arabian GP four places ahead of him, Hamilton's waning enthusiasm forces him to make a difficult confession.
After an atrocious start to the season, Lewis Hamilton has taken the realistic route. While the 2022 season still had him hoping for something better, the W-14 has been a sheer disappointment. Uncharacteristic of his nature, Hamilton has publicly called out his team, let Angela Cullen go, and now hung his head in defeat; all actions raising concerns about the champion's future.
Lewis Hamilton concedes to Mercedes struggles
Regardless of the condition of the car, Hamilton has once again found himself behind George Russell in Jeddah. While Russell shares the second row with Carlos Sainz, Hamilton will face the lights starting in P7. Further, the practice sessions also saw Hamilton way off the pace compared to Russell.
💬 "Tomorrow is a new day."

Let's go out there and give it all we've got. 💪 pic.twitter.com/npQ7T4PFva

— Mercedes-AMG PETRONAS F1 Team (@MercedesAMGF1) March 18, 2023
Analyzing his performance, Hamilton admitted, "I just struggled to extract the performance." 0.366 seconds behind the sister Mercedes, Hamilton was told he was losing time to his teammate in certain parts of the track- turns two, nine, and ten.
However, this doesn't do him any good. "The car is where it is." Comparing himself to Russell, Hamilton agreed that if it can make it to the second row, there is some performance to be extracted.
Also Read: Toto Wolff Readying Himself for Emotional Lewis Hamilton Exit From Mercedes
Nonetheless, he hasn't been able to do so. "I just don't feel connected to this car. No matter what I do, no matter what I change I can't get confidence in it."

George Russell sets Mercedes benchmark
While Hamilton leaves the track dejected, George Russell may have a skip in his step. Having provided a glimpse of hope, the 25-year-old was fourth fastest on the grid. Finding himself amid the top teams of Red Bull, Aston Martin, and Ferrari, Russell finds himself in the optimal position for a podium appearance on Sunday.
Despite the six-tenths separating him and pole-sitter Sergio Perez, Russell is optimistic. "I would have taken that. Really happy, really fun driving around this track."
While one side of the Mercedes garage is left wondering what's missing, the other is soaking in all the glory. Where Hamilton lacks chemistry with his W14, Russell oozes confidence in his car.
 

View this post on Instagram

 
"The car felt good… this is more than we could have hoped for given all the circumstances and ultimately, that is all we can do when we are at the track, so really pleased with that."
As the Silver Arrows figure out what's impeding Hamilton's results, the clock is ticking. With the 7 time champ hungry for his next title, Mercedes will have to quench his thirst before Hamilton moves out in search of greener pastures.
---
Share this article