Toto Wolff Readying Himself for Emotional Lewis Hamilton Exit From Mercedes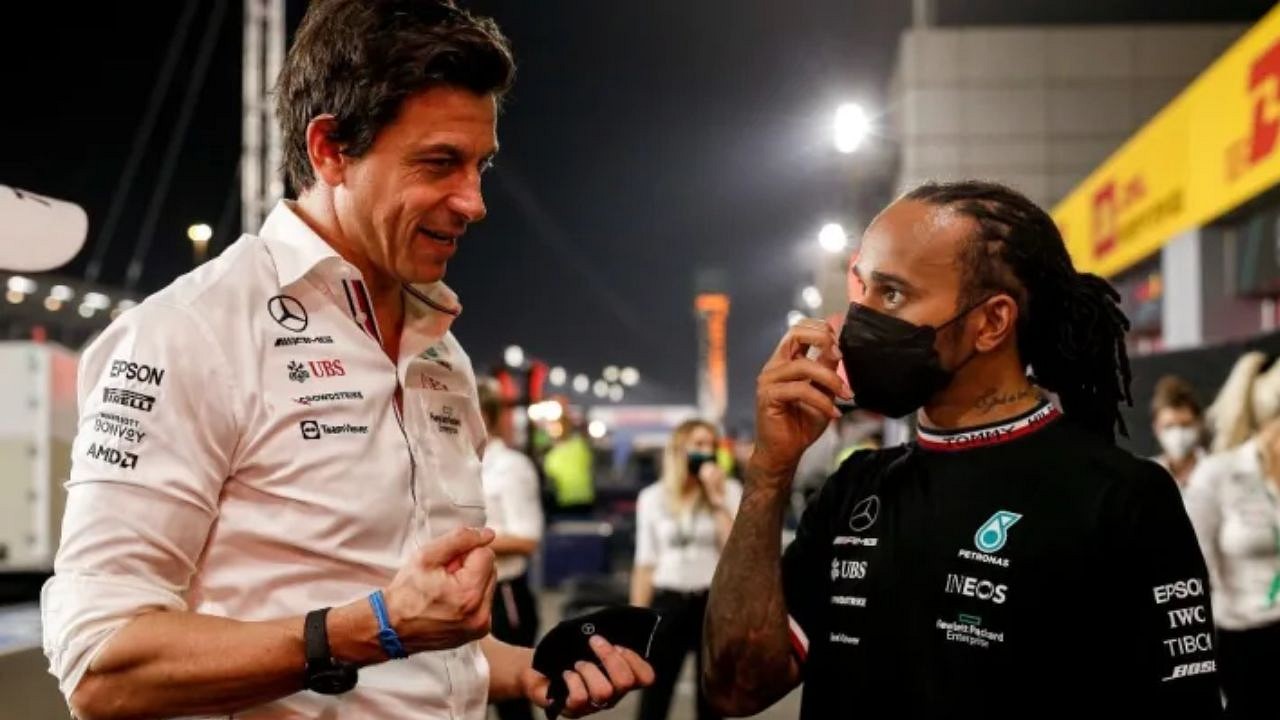 Toto Wolff has been an ever-present figure in the Mercedes garage as the Silver Arrows' team principal. For the majority of his stint as the team boss, his star driver has been none other than Lewis Hamilton, someone who has won six world championships with the team.
Now 38 years old, Hamilton has just one last record to break in F1. He is currently tied with Michael Schumacher as the driver with the most number of titles (7) but he desperately wants the eighth before he retires. Unfortunately, Mercedes hasn't had a race-winning car for over a year now, and the early signs this season aren't promising.
Hamilton's relatively old age means that he does not have a lot of time left in F1, so if Mercedes don't provide him with the right car, there's a chance he may look elsewhere. Wolff does not think Hamilton would want to leave them but also insisted that he would understand if the seven-time champion decides to go.
Also read: "If Things Don't Work Out Anymore…": Lewis Hamilton Pulled the Plug on Angela Cullen Relationship In the Search For Something New
Why Wolff isn't worried about Lewis Hamilton leaving
Speaking to Sky Sports during the Saudi Arabian GP weekend, Wolff said that Hamilton is at a stage in his career with he has forged a special relationship with the entire Mercedes team. The Stevenage-born driver joined them in 2013 and went on to create history with the outfit.
Although Mercedes as a team, is going through a 'difficult spell', Wolff insists that they don't doubt each other's hard work and commitment. "So nice it will be when we come out of this valley of tears and come back to solid performances," the Austrian said.
Toto Wolff is confident Lewis Hamilton will extend his contract with the team 🤝

The @MercedesAMGF1 Team Principal provides an update on the ongoing discussions ⬇️#SaudiArabianGP #F1 https://t.co/PSQ2u2h9Pg

— Formula 1 (@F1) March 17, 2023
On the other hand, Wolff also acknowledged the fact that as a driver, Hamilton needs to have a winning car if he still dreams of winning a world championship. He wants Hamilton to give them a year or two to develop a title winning car, and if they fail, he won't be upset if the Brit decides to leave.
Also read: Former Toto Wolff Aide Disagrees With His Dubious Red Bull Prediction
Hamilton refusing to admit thoughts of leaving Mercedes
Hamilton has been adamant that he is completely committed to succeeding with Mercedes. This comes despite the fact that he went public while criticizing his team for not listening to his feedback before making the W14 this season.
#SaudiArabianGP 🇸🇦: Lewis Hamilton on leaving Mercedes: "I still have 100% belief in this team, it is my family and I've been here a long time. I don't plan on going anywhere else, but, we all need a kick, we all need to get on."

— deni (@fiagirly) March 16, 2023
Regardless, Hamilton called Mercedes his family and reiterated his desire to staying in Brackley and making more history with the team that helped him win six world championships.
---
Share this article