F1 Twitter Reacts to Salty Jos Verstappen Left Unimpressed After Sergio Perez Pips Max Verstappen to Finish Line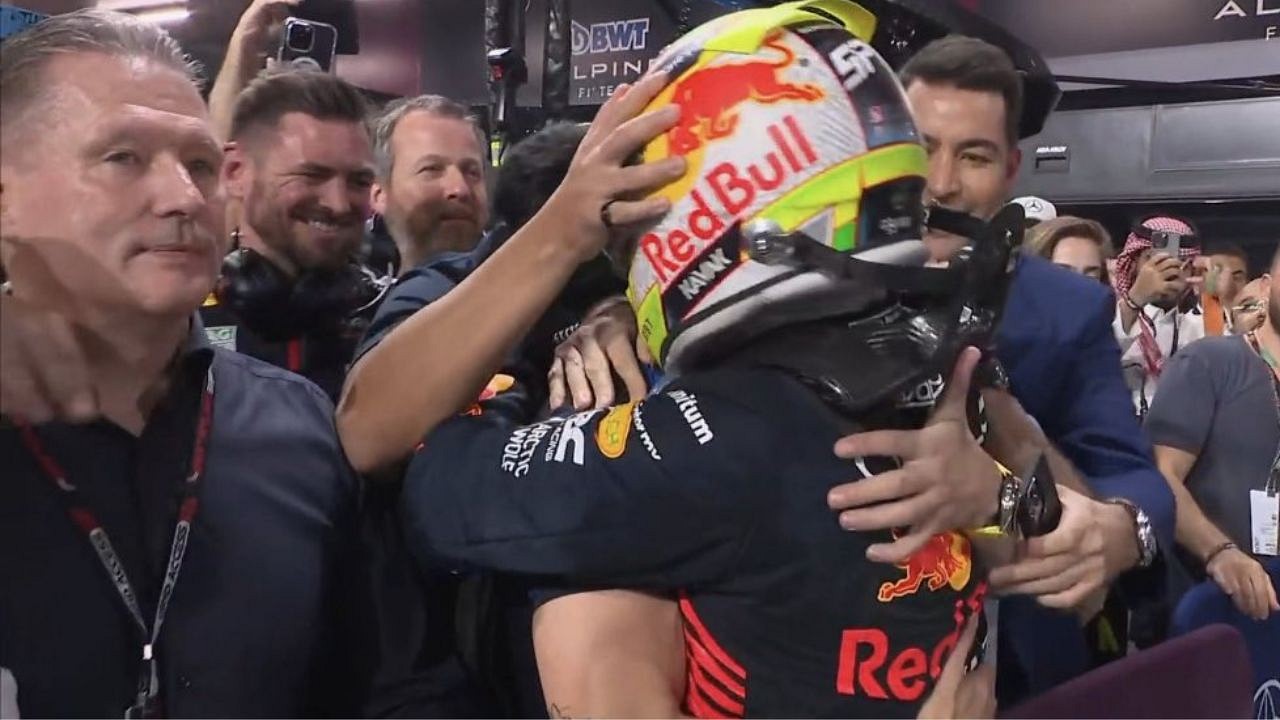 Jos Verstappen accompanied his World Champion Son to the 2023 Saudi Arabian GP. But he was clearly not happy seeing Sergio Perez be crowned the race winner on the Jeddah Street track.
Checo managed to claim his 5th F1 victory after keeping a pacy Max Verstappen behind to make it a Red Bull 1-2. However, it was Max who was the driver of the day. The Dutchman managed to go from 15th at the start of the race to finish 2nd and almost came close to challenging his teammate for the win.
Nobody could stop @SChecoPerez in Jeddah 💪#SaudiArabianGP #F1 pic.twitter.com/h0FUWND4Gz

— Formula 1 (@F1) March 19, 2023
Verstappen manages to keep the lead in Championship despite finishing 2nd
Jos Verstappen would be happy to see his son beat Sergio Perez in the Championship rankings. Max managed to squeeze the fastest time of the day during the last lap after setting a time of 1:31.910. This way, the 2-time World Champion manages to hold on to the lead in the championship over his teammate.
Verstappen: "What is the fastest lap?"

GP: "We are not concerned with that"

Verstappen: "But I am" pic.twitter.com/xSw1HhpQOO

— The Nandolorian (@ScrewderiaF1) March 19, 2023
His engineer clearly warned Max not to push for the bonus point. This was after the Dutchman complained mid-race that he heard a noise from the car at high speeds. And the Red Bull driver, having just suffered a Driveshaft failure in Qualifying, was asked to stay calm.
Even Checo was surprised when he came to know that his teammate had pipped him with the fastest lap at the end. However, it was Jos's reaction that generated a buzz.
Also Read: Mercedes Boss Writes Red Bull Conspiracy Amid Max Verstappen Failure at Saudi Arabian GP
Jos Verstappen was disappointed by Sergio Perez beating his son
Jos Verstappen was clearly disappointed with the result. The father is proud of his son Max Verstappen and has often set a high bar for him. Jos did not even break a smile when Checo celebrated with the Red Bull crew around him. He didn't even acknowledge the Mexican race driver's exemplary performance with a high-five or smile.
This 'salty' behavior by the former F1 driver prompted the internet to react. While some asked him just to pretend to be happy, others called him a sore loser.
Jos Verstappen getting caught up in the Sergio Perez celebrations 😅 pic.twitter.com/R8vXNNQ4Cw

— ESPN F1 (@ESPNF1) March 19, 2023
Fucking hell Jos, at least pretend to be happy for Checo 😂

— Dan – EngineMode11 (@EngineMode11) March 19, 2023
Eyoooo Jos Verstappen doesn't even pretend to be happy for Sergio Perez 😂 #SaudiArabianGP pic.twitter.com/eJ9sgRWSag

— ahmed baokbah 🇸🇦🏎✈️ (@ahmed_baokbah) March 19, 2023
Wow, Jos Verstappen… really? #F1 #SaudiArabianGP pic.twitter.com/r3qzcibqmB

— Steven Rabe (@StevenRabe) March 19, 2023
Jos looks like he wants to bunch Checo.. sore loser pic.twitter.com/10GKZfUiw8

— Unicorn🦄 (@hamburgerh0tdog) March 19, 2023
Jos Verstappen deserves absolutely nothing in this world.

Bad human being. pic.twitter.com/0R7AOYR03j

— Lewis (@mcmurray_23) March 19, 2023
Verstappen's cold hard reaction clearly shows he dislikes anyone, even Max's teammate beating his son. No wonder fans laughed out loud at his rather unimpressed emotion at the end of a much-deserved win for the team.
Also Read: "Team Lewis, That's My Guy": WATCH Will Smith Support Lewis Hamilton During Saudi Arabian GP
---
Share this article