"It's a Thing": Lovebirds Josh Allen and Daniel Ricciardo Take Their Bromance to A Whole New Level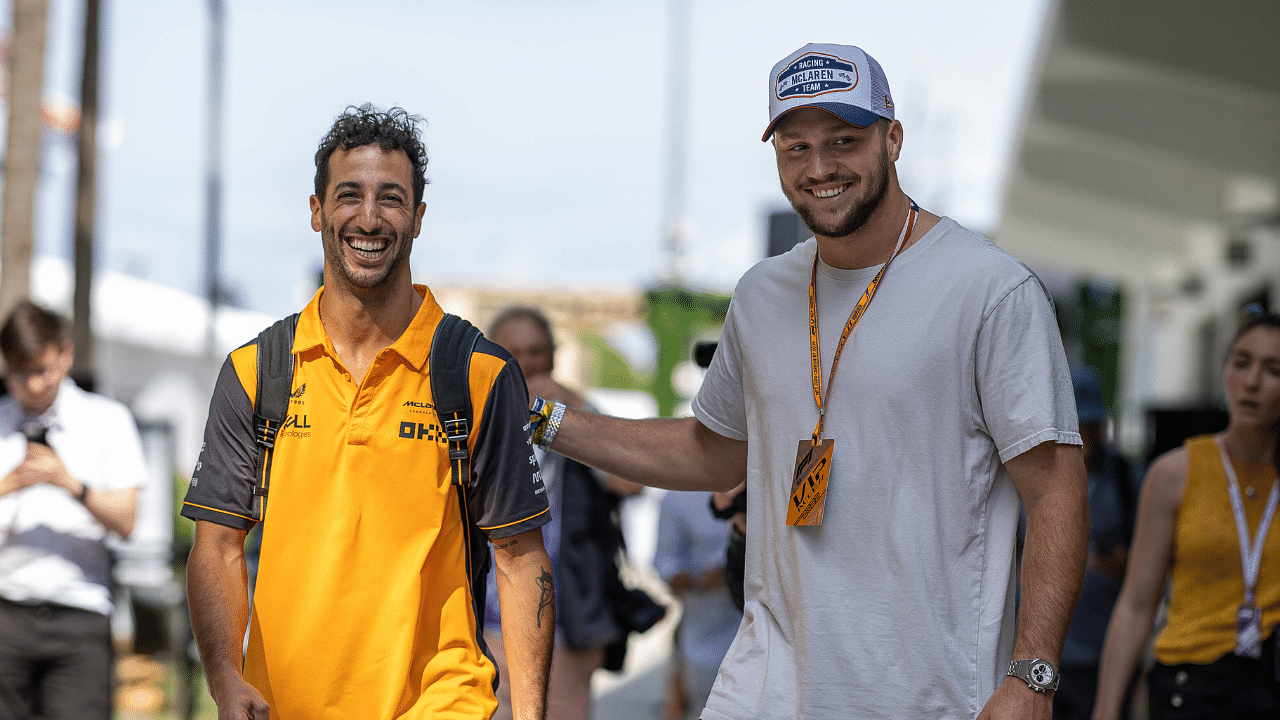 Daniel Ricciardo is one of the most charming personalities in the world of Formula 1. Therefore it is not a surprise that the Australian has a lot of celebrity friends. One of his best friends is Buffalo Bills QB Josh Allen.
The duo first met at the 2019 Monaco Grand Prix and immediately struck up a friendship. From there to pre-game practice with the Bills star, Ricciardo and Allen have come to share an unbreakable bond.
Loading embed tweet https://twitter.com/agetzenberg/status/1589289245394362369?ref_src=twsrc%5Etfw
The Honey Badger appeared on the podcast 'Pardon My Take' where he face-timed Josh Allen while on the show. He spoke in detail about their friendship, which has now touched new heights.
Daniel Ricciardo admits that Josh Allen is his man crush
Daniel Ricciardo said on the podcast, "I gotta get this one out there! We're both very comfortable saying, we're both each other's man crush! He added, "It's a thing"
The host immediately replied "It's hard not to love Josh Allen" and made it clear that Ricciardo was in fact speaking on behalf of all three of the people present in the podcast. The hosts and Daniel Ricciardo both agreed to the fact that watching Josh Allen running over people is simply majestic.
This is not the first time that Daniel Ricciardo has spoken about his friendship with Josh Allen. In an earlier interview with ESPN. Daniel Ricciardo had described his friendship with Allen as the one shown in the movie Step Brothers. "It's been like Step Brothers, somehow we just became best friends"
Ricciardo is enjoying his time off from driving to focus on his man crush
The hosts told Ricciardo, "You've gotta get to Buffalo". To which Ricciardo explained how he is enjoying his time off from racing. He said that the beauty of the 2023 season for him is that he has a whole bucket list of things to do. And he is slowly ticking them off.
Loading embed tweet https://twitter.com/agetzenberg/status/1549734232863408133?ref_src=twsrc%5Etfw
Ricciardo continued, "If I don't get to Buffalo this year! Because if I'm in the grid next year it could be five more years down the track. I don't wanna wait that long." It's quite evident that Ricciardo is looking for a way back into the real deal.
After a disappointing couple of seasons with McLaren, Ricciardo definitely needed this break. He had mentioned before than he would use this time to refresh himself and come back stronger.
---