Lando Norris Reveals He Is Learning Dutch to Keep Bromance Alive With Max Verstappen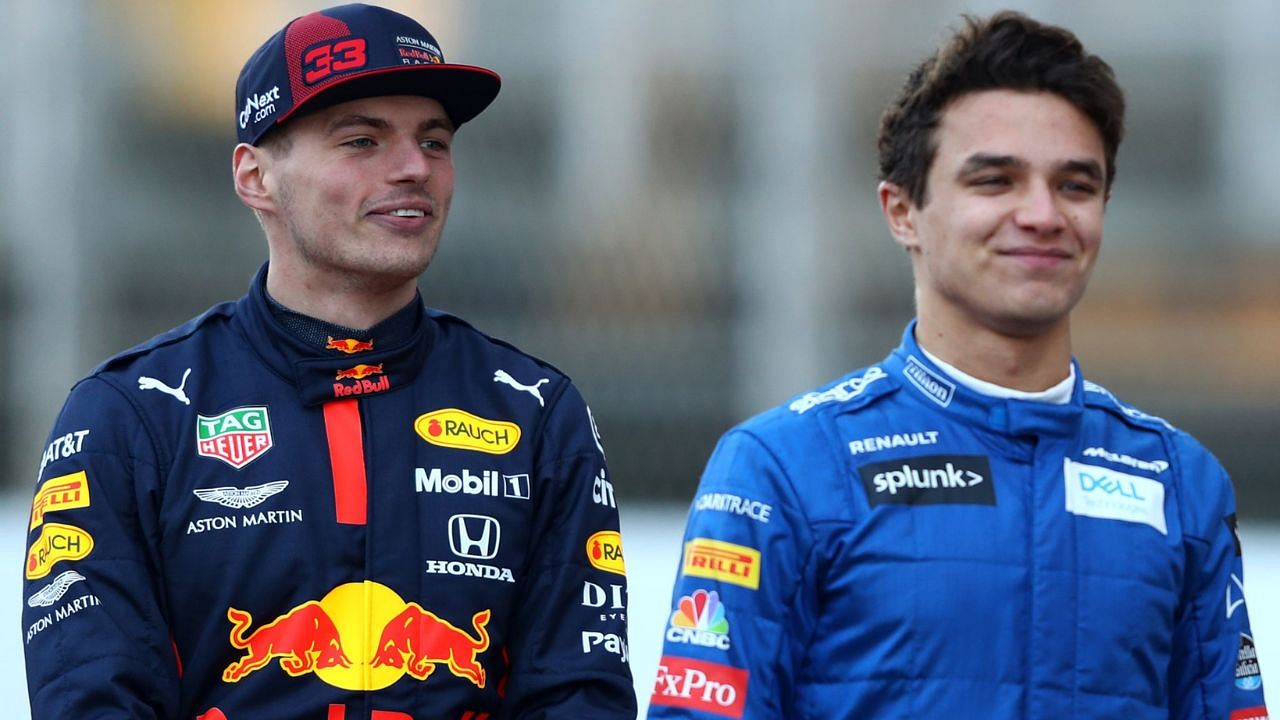 Lando Norris and Max Verstappen are two of the most popular drivers in F1 right now. On the track, they are competing at different ends with Verstappen looking to compete for his third successive world championship and Norris struggling to get his McLaren in the points.
Off the track, however, they spend a lot of time together and the Dutchman is one of Norris' closest friends from F1. When someone thinks about Norris being in a 'bromance', the first name that comes to the head is that of Carlos Sainz, but Verstappen too is a great friend of the Brit.
In fact, Norris and Verstappen are so close to each other that the former is ready to learn a whole new language, just so that they can talk more frequently. During one of his Twitch live streams, Norris spoke about how he is trying to learn Dutch so that he can speak to Verstappen.
Verstappen shares the same feelings about Norris. An F1 fan once asked him who he would pick (from the G1 grid) to spend an evening with at the pub, and Verstappen chose the McLaren driver as his ideal company.
Also read: When Fernando Alonso and Charles Leclerc Nearly Became Teammates at Ferrari
Norris is as talented as Verstappen, says 2-time winner
Norris is one of the most talented drivers in F1 and is often labeled as a world champion in the waiting. The 23-year-old has six podium finishes to his name to date but is yet to win a race. Verstappen meanwhile, has broken numerous records and is a two-time world champion at the relatively young age of 25.
Two-time world champion Mika Hakkinen, however, feels that Norris has done a tremendous job with the car he had his disposal. Of course, McLaren has not been nearly as strong as Ferrari in the last few years, but according to Hakkinen, Norris is right up there with Verstappen in terms of talent and racecraft.
Also read: Max Verstappen on Why Sergio Perez Not Winning Races Isn't 'The End of the World'
Max Verstappen to win his third world title?
Verstappen is arguably the most in-form driver in F1, and entered the 2023 season as the firm favorite to win the championship, yet again. His win in 2022 was a one-horse race, so fans were expecting for some other team or driver to step up, to make the title race interesting.
Instead, we saw an even more dominant Red Bull take to the track in Sakhir two weeks ago. Verstappen dominated the race from the start to the finish, and kickstarted his title defense in stellar fashion.
If the 2023 Bahrain GP was a spoiler as to how the rest of the season is going to pan out, Verstappen is in for a walk in the park, again.
---