Richest F1 Team Principal Toto Wolff Has a Multi-Million Garage Fit for the Billionaire Mercedes King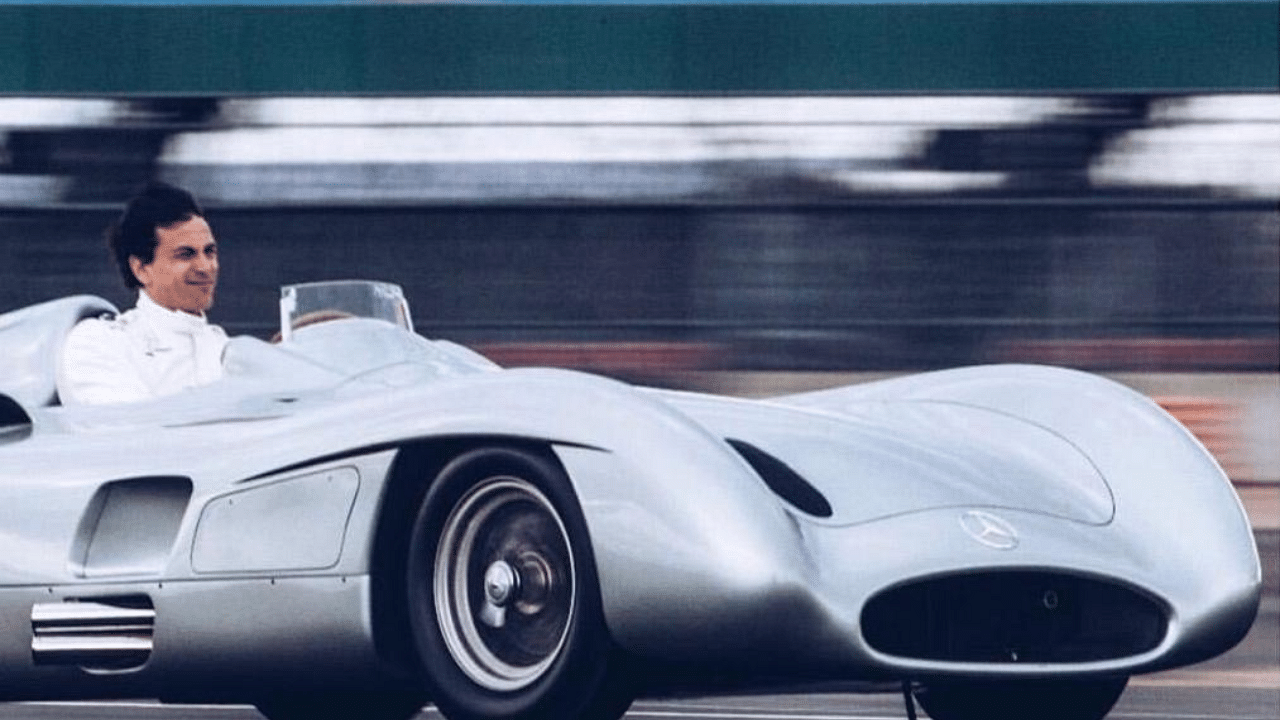 If there was a rags-to-riches story to admire in F1, it would be Toto Wolff's relentless hard work and intelligence that converted him from a small Austrian candle seller to becoming the CEO of the Mercedes AMG Petronas F1 team. The billionaire amassed a net worth of 1.25 billion in 2021 and continues to hold the throne for being the highest-paid team principal in F1.
And rightly so. Wolff has led his team to 8 constructor championships, making it the most dominant team in the turbo-hybrid era. Sitting on this throne comes with its benefits, as Wolff owns a garage filled with a car collection worth drooling over.
A peep into Toto Wolff's garage
It is important to note that the prices listed below are the current price tags of these cars. The actual amount paid could vary by a small margin. However, it is no doubt that these supercars aren't for the common man.
Mercedes Benz 300 SL Gullwing
Toto Wolff has often been spotted driving around Monaco in the classic Gullwing. With a mighty 3.0-liter inline six-cylinder engine, belting out a robust 215 horsepower at 5,800 rpm, this 2-door coupe takes just 8.8 seconds to go from 0 to 60 mph, maxing out at an impressive 130 mph. What's more impressive is that these remarkable figures are for a 'supercar' from the 1950s.
For those who can afford it, this automotive masterpiece comes with a staggering price tag of $1.4 Million, making it an extremely rare sight on the roads. With only a limited number produced, this iconic car is truly a collector's dream.
It's no surprise Wolff features this masterpiece in his collection of supercars. Another familiar face part of the elite club of Gullwing owners is Nico Rosberg, Mercedes F1 champion and Wolff's former colleague.
Bugatti Veyron
The Bugatti Veyron is the epitome of automotive engineering perfection, but its excellence comes at a high price. The starting price for a Veyron is a staggering $1.7 million, making it one of the most expensive supercars in the world. It boasts an incomparable 8.0-liter quad-turbocharged W16 engine, producing an astonishing 1,001 horsepower, allowing it to reach a top speed of 253 mph.
This supercar is not just a machine; it is a work of art. With its sleek, aerodynamic design and precision engineering, the Veyron is a true testament to human ingenuity, showcasing what can be achieved when limits are redefined.
Maserati GranTurismo
The Maserati GranTurismo is a true beauty, but its elegance comes at a high price. The starting price for a GranTurismo is around $150,000, making it one of the more expensive grand tourers on the market. However, this stunning car is well worth the investment, with its 4.7-liter V8 engine producing an impressive 454 horsepower and allowing it to reach 0-60 mph in just 4.7 seconds.
The GranTurismo's exterior is majestic, with its sleek lines and graceful curves creating a sense of fluid motion even when standing still. Luxurious leather seats and a state-of-the-art in-car system make the interior even more impressive. The Maserati GranTurismo is a true masterpiece of design and engineering, a car that will turn heads wherever it goes and provide the ultimate driving experience.
The Mercedes collection
Over time, Toto Wolff has collected Mercedes models like they're HotWheels. However, it remains unsure what models he still owns, these cars have been a part of the Wolff collection.
Also Read: "I'm Not Like Toto Wolff" – James Vowles Reveals Why He Left 8x Champions Mercedes to Lead Underdogs Williams
The Mercedes AMG G TR is a true off-road beast that combines luxury with performance. With a price tag of around $150,000, this SUV packs a punch with its 577 horsepower V8 engine.
A classic car that exudes timeless elegance, the Mercedes Benz 300, with its sleek design and powerful engine; this beauty has stood the test of time. The price for a Mercedes Benz 300 ranges from $20,000 to $60,000 depending on the year and model.
The Mercedes X-Class is a powerful and stylish pickup truck that starts at around $32,000. With a 2.3-liter turbocharged engine that produces 188 horsepower, this truck is perfect for both work and play.
The Mercedes Benz C-Class is a luxury sedan that is both stylish and practical. With a starting price of around $41,000, a 2.0-liter turbocharged engine powers this car that delivers 255 horsepower, making it perfect for both city driving and long road trips.
Wolff also has a Mercedes Benz G-Class in his garage- an iconic SUV that is instantly recognizable on the road. With a starting price of around $132,000, a 4.0-liter V8 engine that delivers an impressive 416 horsepower powers this car.
Garage clearance by Toto Wolff
Toto Wolff also recently bid adieu to his Ferrari super beasts. The LaFerrari Aperta was one of the two Prancing Horses to go. This car is a true rarity – one of just 210 ever made in honor of Ferrari's 70th Anniversary. Even more impressive? Toto Wolff ordered it straight from the factory.
The second Ferrari brought under the gavel was the 2003 Ferrari Enzo. This rare gem has a truly unique history. Originally delivered to Italy's most prominent car collector, Emilio Gnutti, in 2003, it eventually found its way into the hands of its current and only other owner – Mr.Wolff.
While few optional extras were available for this model, Toto opted for some customizations, including extra-large racing seats and stunning Rosso instrument dials.
But this car isn't just a pretty face – it's a thrill to drive too. Toto and his wife Susie, along with F1 legend Niki Lauda, took it for a spin through the Austrian Alps, adding less than 350km to the odometer.
Wolff also cleared his garage one of his Silver Arrows – the 2009 Mercedes Benz SL65 AMG Black Series. Another rare model in Wolff's collection, this beauty is a testament to Wolff's passion. After purchasing it from HWA AG, Toto's love affair with this car began during his time as a development driver for the SL 65 AMG Black Series at the Nürburgring Nordschleife in 2008.
It's no surprise that he added one of these limited-production cars to his own collection. This model is particularly special – one of only 350 'Black Series' ever made, and once the most powerful production Mercedes-Benz ever produced.
---