Rose Namajunas & Ash Barty Put In the Same Class as F1 Star Daniel Ricciardo's Italian Nonnas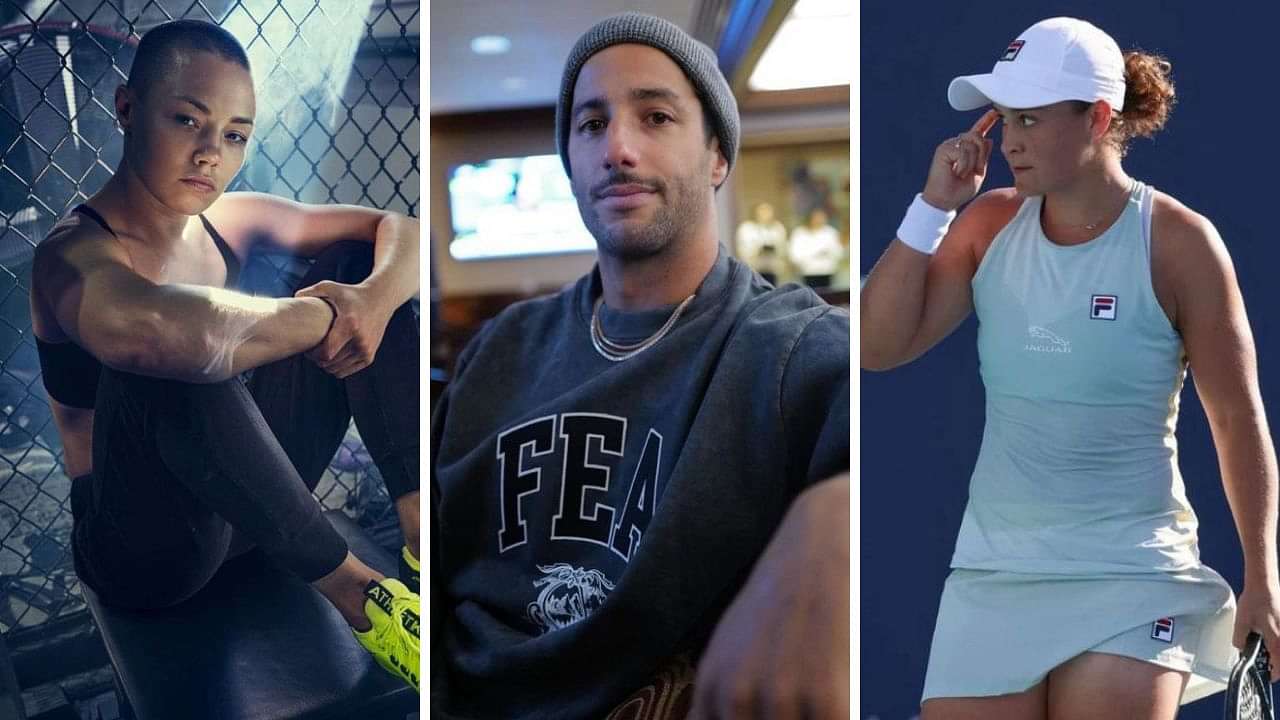 Daniel Ricciardo had a childhood heavily influenced by the women in his family. Italian grandmothers, or as he calls them, Nonnas, moving halfway across the world to Australia is an inspiring story. Further, Ricciardo truly is a mama's boy, with an undying love for his mother, Grace. However, there are two more women who make the man's eyes sparkle.
In a video celebrating Internation Women's day, Ricciardo adds two female athletes who have inspired him over his career in F1.
Daniel Ricciardo awestruck by Rose Namajunas & Ash Barty
In an emotional video, Ricciardo breaks down the difficulties faced by his Italian grandmothers. In what he describes as a "crazy" story of resilience, Ricciardo is left in awe of his two grandmothers. The obvious inclusion on the list of inspiring women is his mother. "You realize it when you're older… the support you get from someone like your mom, you can't comprehend how selfless they are."
Loading embed instagram https://www.instagram.com/reel/CfrxwkcghIW/?utm_source=ig_embed&utm_campaign=loading
The self-proclaimed sports nut then talks about UFC Champion Rose Namajunas. While speaking of Thug Rose, Ricciardo has a smile on her face. An MMA athlete who, having faced the brunt of life, has only been inspiring and shedding a positive light with her platform.
Inspired, Ricciardo explained, "her story is quite inspiring. Anyone who listens to her post-fight speeches or interviews; she's always got something pretty awesome to say."
Coming closer to home, Ricciardo adds Tennis No.1, Ash Barty. Having retired in her prime at the age of 25, the tennis star has received legend status. The Honey Badger hails her as a "phenomenal athlete."
Also Read: F1 Expert on Why Red Bull Will Prefer Nyck De Vries Over Daniel Ricciardo
In the throes of a career rut, Ricciardo looks at the courageous young woman. "For her to have the courage to have to retire at what seemingly is a very young age, at her peak, to put herself first; to now go on to the next part of her life and the next part of her journey is admirable."
Ricciardo on vacation
On an indefinite break from F1, the now Red Bull reserve driver looks at 2024 as the goal to making his return. For now, the fan favorite is just chilling. After two years of struggle at McLaren, Ricciardo needs to recharge and reset.
Loading embed instagram https://www.instagram.com/p/CoEc2qBrvA6/?utm_source=ig_embed&utm_campaign=loading
"It's going to be more that if I've got free time, then I'll go and ride dirt bikes with friends, go and ride across parts of America or something like that, just do more like adventure things a little bit more, let's say fun, a bit more kind of lighthearted."
On a mission to collect clarity, good experiences, and some stories, the spark of Ricciardo's racing dream lives on as the driver fuels up and finds joy back home at Red Bull.
---