Who is favourite for the Premier League golden boot this year?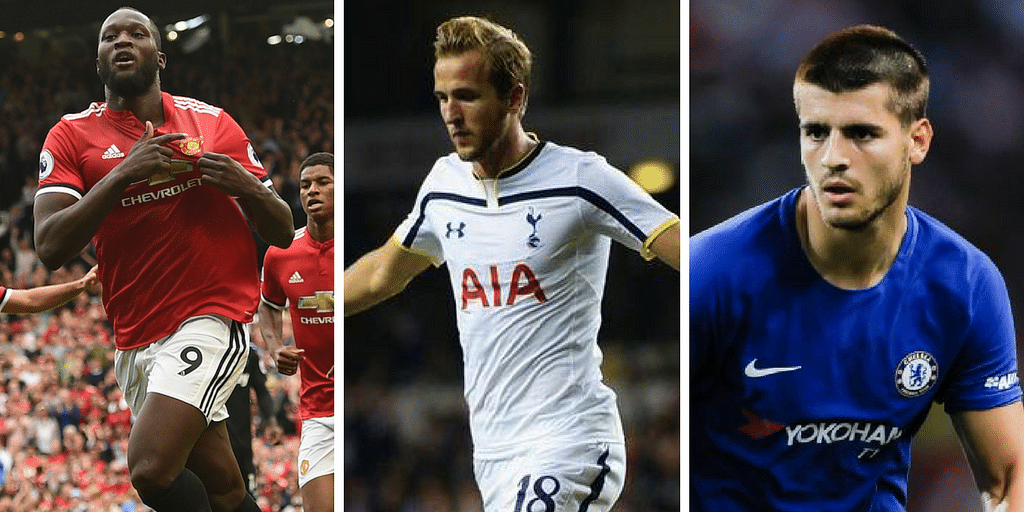 With the international break coming to a close, we get back to the Premier league this weekend. Before the players went away on international duty, we caught a glimpse of how this year's Premier league was shaping up.
Manchester United set the benchmark for all the other teams in the league, as Jose Mourinho's side got off to a perfect start to their campaign with three wins out of three. The news boys, Lukaku and Matic already look the part as United sent warning signs to the rest of the Premier league.
Champions Chelsea had a horror start to their campaign, suffering a loss to Burnely at home. But they bounced back with a superb victory against Tottenham, which they followed up with a home win against Everton.
Pep Guardiola's expensively assembled side have not yet looked very convincing this year. They beat Brighton and Bournemouth while they drew with Everton at home.
Jurgen Klopp's high energy team decimated Arsenal in the last Gameweek, but their leaky defense may be a cause for concern for their supporters.
But every team that has won the league needs a clinical striker who will plunder in the goals through out the year. The likes of Costa, Aguero, Van Persie and Vardy have been those players over the last few years.
While possessing the Golden boot winner may not necessarily guarantee you the league, it does give your team a fantastic shot at the title.
Let us look at the best bets for the Golden boot this year!
THE CONTENDERS
Harry Kane
Two time defending champion, Harry Kane has not yet scored in the league. His failure to score in August has become a joke amongst the footballing community, as Kane himself admitted that he finds it funny.
But he score for England on international duty and will raring to go this time around. With the likes of Alli and Eriksen feeding him, Kane will surely get plenty of chances this year as well.
Spurs will need their talisman to deliver again if they want to make another serious attempt at the league title.
Romelu Lukaku
Having already scored three times this season, Romelu Lukaku has started his United career like a house on fire. Had it not been for a penalty miss against Leicester City, Lukaku would have scored in all three of his opening matches.
The big money signing should not find it tough in this side, that has the likes of Pogba, Mkhitaryan and Rashford creating chances for him.
Jose will need his big Belgian to deliver if wants to lift the title this year.
Alexandre Lacazette
A goal within 90 seconds of your debut is something that most strikers would dream of. For Alexandre Lacazette, that is exactly how he announced himself to his new fans at the Emirates.
After a promising opening day result, Arsenal have lost back to back away games to Stoke and Liverpool. If Arsenal need to restart their campaign, they will need their record signing to find the back of the net more often.
If Arsenal need to have a successful season, their new number nine will need to deliver the goods on a consistent basis.
Sergio Aguero
One of the greatest goal scorers to have graced the Premier league, Sergio Aguero is having a difficult time as of late in Manchester City.
With Guardiola prefering Jesus over the Argentian, Aguero knows that he will have a tough time getting back in the side. But one can never count out a goal scorer with the pedigree of Sergio Aguero.
Having been a crucial part of City's last two title triumphs, Guardiola would be foolish to cast away the Argentian striker.
Alvaro Morata
After a disappointing debut against Arsenal in the Community Shield, Morata has bounced back and made a string start to his life at Stamford Bridge.
The Chelsea front man scored for Spain during the international break, as he will be looking to add to his two goals in the Premier league so far.
With Diego Costa's situation still unclear, Morata will need to deliver the goods if Conte's side needs to retain their Premier league trophy.
STATISTICAL ANALYSIS
Here we look at the performances of these players in their last league campaign.
Clearly, Kane leads the chart with the number of goals scored. But Lukaku and Lacazette are close behind him in terms of both goals and shot accuracy.
When you look how the three of them have started the season, you can see that Lukaku and then Morata are leading the charts in terms of goals scored. But Lacazette does a far better shot accuracy as compared to anyone else.
But goals scorers require their team mates to provide chances for them. Already this season, Spurs and United are the most creative sides, followed by Arsenal. So clearly, ammunition is not going to be an excuse for these forwards.
While this season is only young, we can say that Lukaku is currently in the drivers seat for the golden boot. After just missing out on last year's trophy, this year he is playing in a better team and will have more chances to score.
That being said Harry Kane's 'August curse' has apparently ended, which means that he will be in line to score very soon. With an extremely creative Spurs midfield behind him, you can bet Kane will be running Lukaku very close in the race to the golden boot.
While Morata has scored two goals already, he has never shown the consistency required to be a proven goal scorer. A major part of his game is also based on his creative side, which might reduce the number of goals that he will score.
OTHER CONTENDERS
There are other contenders that should be considered as well. Sadio Mane has started brilliantly for Liverpool, as has his team mate Firmino.
But Liverpool does not yet have a designated goal scorer, which is why they players will tend to share the goals this season.
Alexis Sanchez is another one that we have not counted as of yet. Injury and a lack of form is why Sanchez has not started this season well, but we could say that his team have not played well either.
Having said that, the Chilean is one of the best players in the league and has scored a bucket full of goals over the last three years. If he finds his best form, the Sanchez could zoom straight back into the picture.
Eden Hazard is another superb player who did not make the list. Injury problems have delayed his season, which is why he has not been considered yet.
THE SPORTSRUSH PICKS:
Romelu Lukaku or Harry Kane  will win the Golden Boot
Dark Horse : Alexandre Lacazette
---