Latest PUBG update adds bears to Vikendi: Full update 22.1 patch notes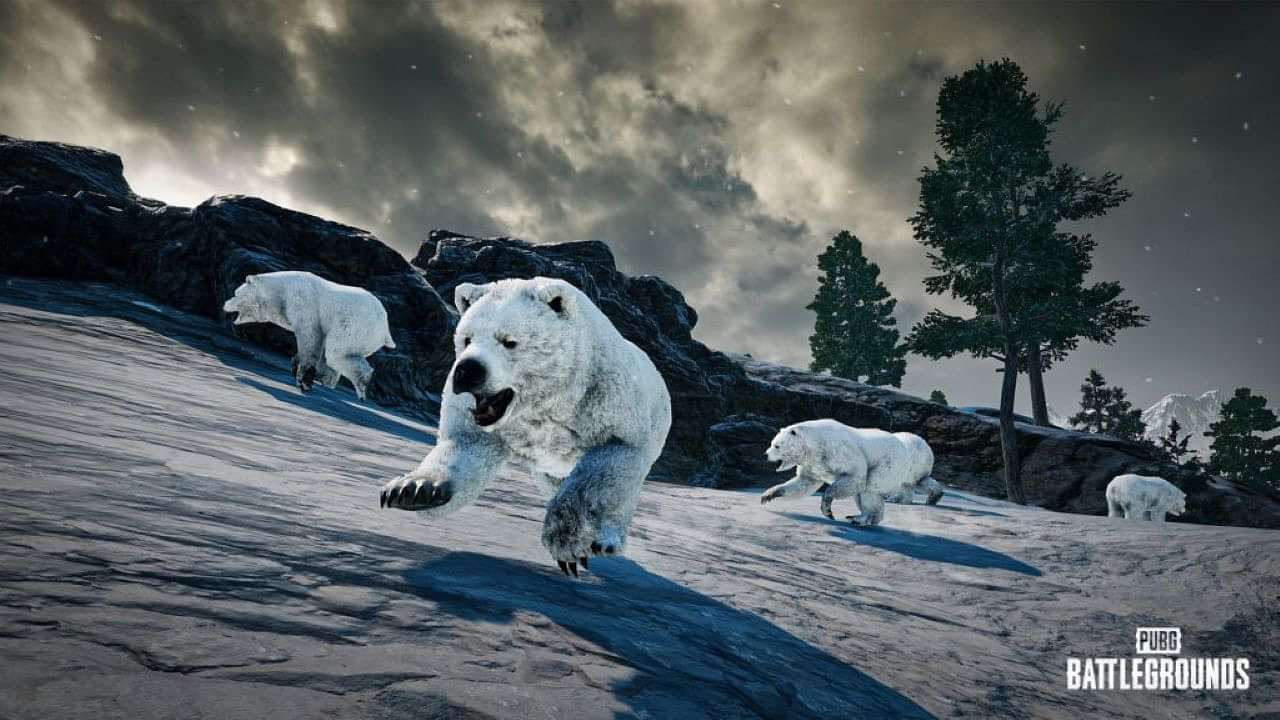 This week, PUBG was updated to version 22.1, and a bunch of changes are in store. Earlier, Vikendi was revised to include Blizzards and now it seems that bears have taken over the map. Additionally, the developers have a brand new thermal scope to the game alongside balance changes to guns and attachments. Here's everything new in the update that will roll out for PC and console soon.
Also read: Hogwarts Legacy PC users find PlayStation exclusive quest in game files, potential mod to unlock content coming soon
PUBG update 22.1 patch notes listed
Loading embed tweet https://twitter.com/PUBG_Support/status/1623309201593303040?ref_src=twsrc%5Etfw
NEW CREATURE IN VIKENDI: BEAR
The lumbering pack of malice has awoken from hibernation and is ready to blow up bloody winds on the Battlegrounds. Introducing a new creature available only in Vikendi: the BEAR. These Bears may look soft to the touch, but they'll never be your friendly neighborhood pets so make sure to flee or fight back if you wish to keep all your body parts intact!
Bears can be killed.
Bears will begin to attack if you are within a certain range.
Bear warning signs have been added throughout the map.
Bear kill/damage stats will not reflect on your Profile Overview, Stats, Match History, Mastery, and End of Match screen.
Available modes

Bears reside in Vikendi only.
Normal Matches, Custom Matches
THE RETURN OF MOONLIGHT
As the sun sets on the frost-laced lands, a beautiful aurora blooms within the serene darkness. The weather everyone's been waiting for – MOONLIGHT mode – has returned this update.
Moonlight weather will appear randomly in matches.
Available modes

Only available in Vikendi.
Normal Matches, Custom Matches
NEW SCOPE: THERMAL 4X SCOPE
Would you perhaps remember LABS: Thermal Scope Mode, where you had to fight in darkness using only infrared rays? Well, we've collected your opinions based on our previous experimental mode and decided to add the popular feature to the snowy grounds: detect snooping players with the new THERMAL 4X SCOPE! (Shouldn't it be your best friend in Moonlight weather?)
The Thermal Scope utilizes heat signatures to help you detect obscured enemies more easily.

This includes enemies hiding in smoke, darkness, brush, etc.

The Thermal Scope is a world spawn item.
Available modes

Only available in Vikendi.
Training Mode, Normal Matches, Custom Matches

(PC) Available on every map through Sandbox Mode.
ADDITIONAL UPDATES
Supply Drops have been added to Vikendi caves.
To make the recently added natural disasters a bit more realistic, smoke and flame from throwables such as Smoke Grenades, Molotov, etc. will no longer work properly within the Blizzard Zone.

Players who are caught on fire will also not receive damage within the Blizzard Zone.

However, you will still receive initial damage when your body is hit with the Molotov.

We've noticed the friendly Folded Shields seemed a bit too hidden in the snow. We're digging them out by increasing their spawn rate by approximately 172%.
Item spawn spots have been increased in Train Station, Villa, Castle, and Winery to further richen looting experience in various parts of Vikendi.
KARAKIN
Adjusted footstep and weapon sounds of the surface/underground so they sound more distinct from each other.
GAMEPLAY
Weapon Balance

We'll be balancing the Mk12 a bit this update. Our graphs on weapon loot rate, kill rate, etc. were showing us Mk12's overperformance over its other DMR fellows. Therefore, we've decided to go ahead with some healthy balance changes and made sure to adjust the Mk12 so that it'll still remain a helpful, hard-hitting weapon but not outshining other options too much.

Damage: 51 -> 50
Initial Bullet Speed: 930m/s -> 900m/s
Recoil recovery: Reduced by approximately 6%.
Recoil speed: Increased by approximately 2%.

Weapon spawn balance

We have adjusted the general spawn rates of 5.56mm and 7.62mm weapons (AR, DMR, LMG only) to have them share similar spawn rates, and to provide more primary weapon options to our players.

This spawn balance applies to every map and mode.

Vehicle adjustments

Zima has been slightly sized up.
Vehicle models with open roofs such as the UAZ, Mirado, and Pickup Truck have been removed as they made drivers/passengers a bit too vulnerable.
Dacia and UAZ will now spawn in Taego.
Trunks have been added to Pickup Trucks and UAZ.

An option to hide your in-game vest and belt has been added to settings.

Inventory shortcut (Show/hide Vest/Belt) UI only available on PC.
< Dev Comment >
We'd like to add a few extra words about the removal of UAZ, Mirado, and Pickup Truck's roof-less models. As we have released and balanced many of our existing vehicles, we've noticed specific vehicle models and types needed some tidying up. So we've decided to stick to a single model only for the UAZ, Mirado, and Pickup Truck and keep their roofs on for better cover.
KNOWN ISSUE
(Console) We are looking into the issue where the sounds of vehicles and certain weapons do not play on the Xbox platform. Sound optimizations are ongoing and will be reflected in Update 22.1 and 22.2.
RANKED – SEASON 22
A new challenging Season of Ranked – Season 22 has arrived this update.
The leaderboard will reset after the Live Server maintenance.
Check out your final Tier from the previous season through your Career page.
PUBG SEASON 21 REWARDS
Below are the rewards you'll be receiving based on your final Tier from the previous Ranked season.
| TIER | SEASON 21 REWARDS |
| --- | --- |
| Bronze | Bronze PUBG ID Emblem |
| Silver | Silver PUBG ID Emblem |
| Gold | Gold PUBG ID EmblemRanked Parachute Skin |
| Platinum | Animated Platinum PUBG ID Emblem, Ranked Parachute Skin, Platinum Medal |
| Diamond | Animated Diamond PUBG ID Emblem, Ranked Parachute Skin, Platinum, Diamond Medal |
| Master | Animated Master PUBG ID Emblem, Animated Master Nameplate, Ranked Parachute Skin, Platinum, Diamond, Master Medal |
| Top 500 | Bonus rewards for Top 500 players: Animated Top 500 PUBG ID Emblem, Animated Top 500 Nameplate |
The Parachute skin and Medals are permanent rewards.
The rest of the obtainable rewards are available for use during a single Ranked season.
Rewards can be found in your Inventory once Season 22 starts.
Once Season 22 is over and the server undergoes maintenance, every reward but the Parachute and Medal will be withdrawn from your Edit Profile page.
CUSTOM MATCH
Intense Battle Royale mode has been added to Custom Matches. Enjoy that quick Chicken Dinner even more with friends!

Min: 2 players, max: 16 players
FPP/TPP are both available.
Maps are selectable among Erangel/Miramar/Taego/Deston, but the specific play areas within each map will be selected randomly.

The new Moonlight weather/Bear/Thermal 4x Scope have been added to Vikendi's Custom Match settings.
Haven has been added to Custom Match.
UX/UI
The preview for equipping item slots in Customize Lobby have been added.
PERFORMANCE
Optimized several in-game UI such as the health bar, blood effects when hit, Inventory, etc. to improve frame rates.
Fixed several hitches (in-game footsteps, PUBG ID loadings, equipping weapon skins, etc.) to improve frame rates.
The logic for interaction canceling in vehicles has been improved for certain in-game situations.

This especially applies to low-end devices.
Also read: GTA Online weekly update for February 9, 2023: New car, Diamonds, and Valentine's unlocks
---