VCT Pacific 2023 Schedule, Dates, Teams, Prize Pool and How to Watch Online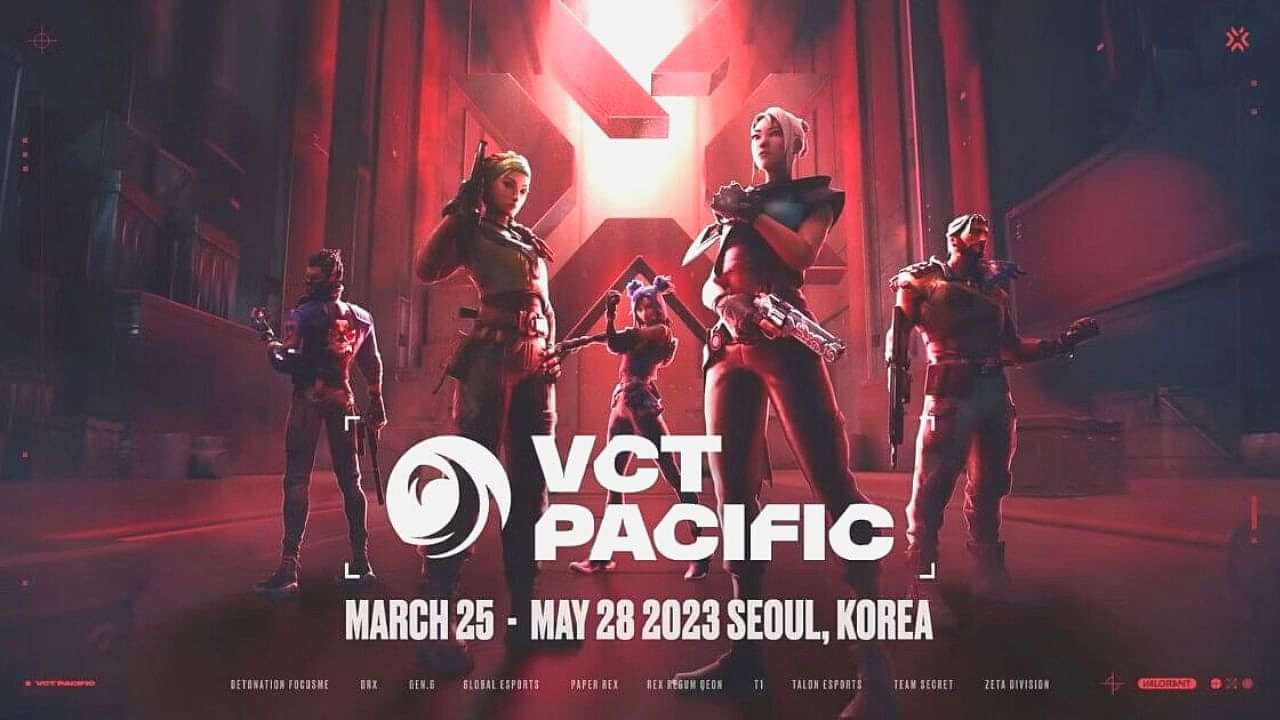 After the end of VCT LOCK IN, VCT has moved to the next stage. Now, 30 franchised teams from the three regions will compete for the slots available for VCT Masters Tokyo. The VCT Pacific 2023 schedule has now come out, and the matches will start from March 25, 2023.
Teams from the Asia Pacific region: Malaysia, South Korea, Japan, Thailand, Philippines and South Asia, will compete in the LAN event that is going to take place in Seoul, South Korea.
Also read: xQc has Seemingly Acquired The Turtle Troop Valorant Team
VCT Pacific 2023 Schedule and Format
Teams from the APAC region will compete against each other in a single round-robin format. The matches will be played from Saturday till Monday every week. The finals week, which will start in May, will be played from Friday to Tuesday.
Week 1 Matches
March 25 – ZETA DIVISION vs. DRX 2 PM PT, 5 PM ET, 10 PM GMT
T1 vs. Global Esports 5 PM PT, 8 PM ET, 1 AM GMT
March 26 – Paper Rex vs. Detonation FocusMe 2 PM PT, 5 PM ET, 10 PM GMT
Team Secret vs. Talon 5 PM PT, 8 PM ET, 1 AM GMT
March 27 – RRQ vs. Gen.G 2 2 PM PT, 5 PM ET, 10 PM GMT
(Match schedule will be updated each week)
The VCT Pacific circuit is divided into three stages till players reach VCT Championship 2023 in August. Here is the schedule:
Regular Season runs from March 25-May 16
Playoffs to take place from May 19-May 28
Last Chance Qualifier will take place in July

VCT Pacific Prize Pool
The total prize pool of the event is marked at $250,000 USD. However, the distribution bracket has not been disclosed. Besides bagging a huge chunk from the prize pool, the top three teams will get a slot in VCT Masters Tokyo and VCT Champions. In addition to this, the team who is placed fourth will get a chance to compete in the Last Chance Qualifiers.
How to watch VCT Pacific 2023 League
All the matches will be broadcasted live in nine languages. The matches will be live streamed on Facebook, Twitch and YouTube from March 25, 2023. Here are all the languages and links for the live streams:
English
Korean
Japanese
Tagalog
Bahasa Indonesia
Thai
Vietnamese
Mandarin
Hindi
Also read: Latest Hogwarts Legacy PC update improves raytracing performance
---