Here is why India DID NOT beat the Italy U-17 team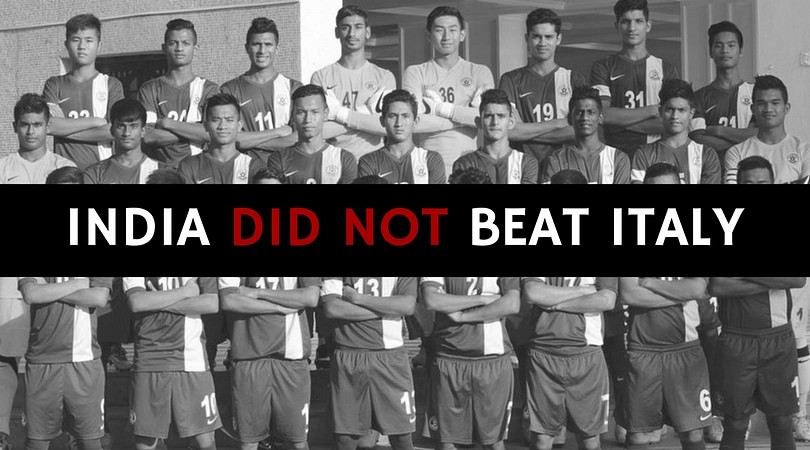 Yesterday, news broke out that the India U-17 team beat the Italy U-17 team. It was a matter of huge pride, as celebrities and fans alike took to Twitter to congratulate the team. But guess what, India DID NOT beat the Italy U-17 team !
The team that India faced yesterday was not the Italy U-17 team. It was in fact the Italy Lega Pro U-17 representatives who lost to the Indian team.
The Pro U-17 representatives comprised of players from the Lega Pro 2 and Lega Pro 3, the third and fourth tiers of Italian football.
Notably, there was no mention of the match on the official handle of the Italy national team. But the All Indian Football Federation took the other route, as they openly praised the Indian team on this 'historic moment'.
Clearly, the Italian media was shocked and surprised at the way in which India and the AIFF contorted facts and glorified this result.
This is the official squad that faced India yesterday.
Federico Brancolini – Modena, Edoardo Corvi – Parma, Francesco Micheli – Albinoleffe, Simone Della Morte – Lucchese, Davide Missaglia – Cremonese, Marco Ruggero – Padova, Antonio Vitale – Modena, Nicolo Maffini – Carrarese, Alessio Gianneschi – Robur Siena, Antonio Marrone – Juve Stabia, Matteo Bertollo – Bassano Virtus, Michael Fibiano – Juve Stabia, Alberto Maroni – Mantova, Alessandro Ramello – Alessandria, Alessandro Galeandro – Albinoleffe, Davide Rosso – Padova, Davide Rodolfi – Albinoleffe, Alessandro Davitti – Modena.
If this turns out to be true, then it will be hugely embarrassing for the AIFF and India as a whole. It is really shameful for our official football body to resort to such attempts to create a sense of false pride.
---
Share this article