India-South Korea to square off in Kabaddi World Cup opener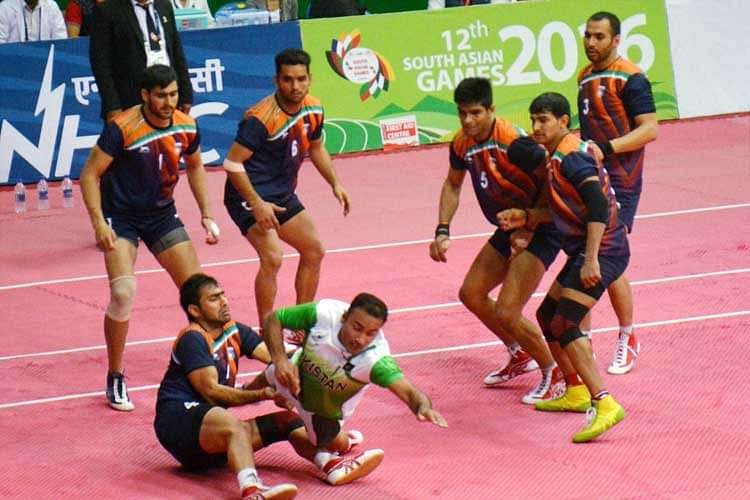 India is all set to be gripped by the Kabaddi fever as the Kabaddi World Cup draws near. Seven-time champions India will take on South Korea in the opening match on 7th October. The tournament will be held in Ahmedabad from 7 to 22 October.
There are going to be 12 teams taking part in the Kabaddi world cup. The participating nations include USA, England, Australia, Iran, Poland, Thailand, Bangladesh, South Korea, Japan, Argentina and Kenya, apart from hosts India.
The teams have been divide in two groups of six each. Group A consists of India, Bangladesh, South Korea, Australia, England and Argentina. Group B will see Iran, Thailand, Japan, USA, Poland and Kenya battling it out.
The top two teams from each group will advance to the semi-finals which will be held on 21 October. The finale is set for the following evening.
The schedule was announced by Sports Minister Vijay Goel on Wednesday. The minister also unveiled the logo of the tournament – the famous "Asiatic Lion".
Goel also took time out to congratulate the Indian Paralympians who have won medals in the ongoing Rio Paralympic Games. As of now, India has secured four medals- two gold and a silver and bronze each.
Also Read: Twitter reacts to Devendra jhajharia's gold medal and world record
"In Rio Olympics our preparation was very good but we didn't have luck on our side. But in the Paralympics we are doing very well. It's a matter of pride that we have four medals in Paralympics. When the Paralympians will return we will felicitate them," said the minister.
Meanwhile International Kabaddi Federation (IKF) president Janardan Singh Gehlot stated that their aim now is to take the sport to the Olympics. "We already took kabaddi to Asiad but now we want to take it to the Olympics. We want people to play kabaddi all across the world," he said.
Interestingly, India have the kabaddi gold, all seven times the sport has been featured at the Asian Games. In the latest edition in 2014, India beat Iran 27-25 in the Final.
Also Read: Interesting facts abot Devendra Jhajharia
Full schedule:
7th October: India vs South Korea, USA vs Iran
8th October: England vs Bangladesh, Poland vs Kenya, India vs Australia
9th October: South Korea vs Argentina, USA vs Japan, Thailand vs Iran
10th October: England vs Australia, Thailand vs Poland
11th October: Iran vs Kenya, India vs Bangladesh
12th October: Poland vs Japan, Australia vs Argentina
13th October: Thailand vs Kenya, Bangladesh vs South Korea
14th October: England vs Argentina, USA vs Poland
15th October: South Korea vs Australia, Iran vs Japan, India vs Argentina
16th October: Thailand vs USA, England vs South Korea, Japan vs Kenya
17th October: Poland vs Iran, Australia vs Bangladesh
18th October: USA vs Kenya, India vs England
19th October: Bangladesh vs Argentina, Thailand vs Japan
21st October: Semi-finals
22nd October: Final
---