The Indian Sporting Greats sing the National Anthem, Together!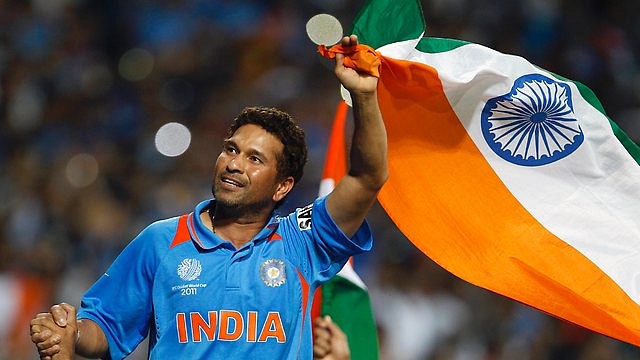 On the proud day of the 68th Republic Day of India, we take a look back at the Heart-Warming video of the country's cricketing icon Sachin Tendulkar, tennis sensation Sania Mirza, legendary batsman Sunil Gavaskar, Olympian Sushil Kumar, ace shooter Gagan Narang, footballer Bhaichung Bhutia, tennis star Mahesh Bhupathi and former hockey captain Dhanraj Pillay, singing the National Anthem of India. The video was originally released last year before the 67th Republic Day and is titled "The Sports Heroes".
This video was produced by former cricketer Nilesh Kulkarni along with Rasika Kulkarni. The video is written and directed by Abhijit Panse. The aim of the video is to inspire the younger generation to take up Sports in their careers. Sachin Tendulkar was the one who launched the video last year. He even became a bit nostalgic when he shared his memories of the 'playing' days. He felt the pride in telling how the whole team used to sing the National Anthem before a match.
Sachin said, "When you sing the 'Jana Gana Mana', your head is always high, but when you sing it in the centre of the ground, then…seena chauda ho jata hai (chest swells with pride). It further goes to a different level altogether, when you are playing against Pakistan in 2003 World Cup (in Centurion), standing inside the stadium, in the middle of the group, with 60,000 people singing 'Jana Gana Mana'."
The Sports Heroes
The gist of the video is how initially school kids are playing sports with makeshift equipment. And how they ultimately bring pride to the country in Sports. It also talks about the importance of Sports & extra-curricular activities in one's life.
'Jana Gana Mana' was first adopted by the Constituent Assembly as the national anthem on 24 January 1950. The National Anthem unarguably brings about the feel of patriotism in every Indian.
Sunil Gavaskar starts off the recitation who is soon joined by Dhanraj Pillay, Gagan Narang, Baichung Bhutia, Sushil Kumar and Mahesh Bhupathi. Sania Mirza and Sachin Tendulkar end the recitation on a subtle note.
Sports undoubtedly is one of the best mediums to break the barriers of culture, class and gender. The SportsRush also encourages people to take up Sports as their profession and bring pride to the Nation. We wish you a very Happy Republic Day.
---