Purav Raja and Divij Sharan are chasing Wimbledon Glory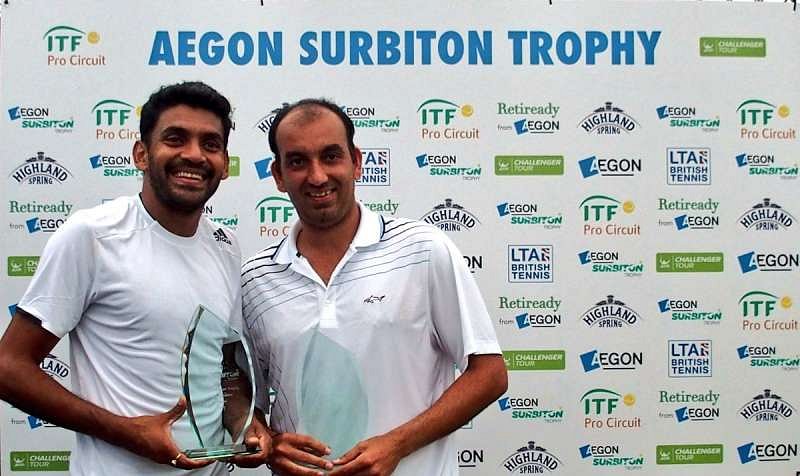 Indians have been milking the doubles section of the Tennis world, producing stalwarts like Leander Paes, Mahesh Bhupathi, Sania Mirza and Rohan Bopanna; and we might have a new duo who could carry the legacy forward.
Purav Raja and Divij Sharan don't limit their dreams, they want to achieve it all, and they have taken the first towards it.
The duo won their first round match at Wimbledon, digging deep to chalk out a 3 set win against Kyle Edmund and Joao Sousa (7-6 (7/2), 3-6, 6-4, 7-6 (8/6)).
The Indian pairing has now set its goals high, as they want to go all the way and lift the Wimbledon title.
"Leander, Rohan, Mahesh, Sania, we look up to all of them. In the doubles world unless we win a Slam we aren't competing with those guys," Raja told a bunch of AFP reporters
"We have a lot to live up to and we have a long way to go until we are in their category.
"I would take a Grand Slam anywhere, but Wimbledon is big. England is a second home for Indians.
"We have a lot of crowd support and we feel at home here. Wimbledon is big in India and holds that extra special feeling for us." he added.
The duo made it to the last 16 in Roland Garros and also won the Bordeaux Title title this year, making it their strongest year on tour.
"Wimbledon is a mecca for tennis. Everyone knows Wimbledon. It's great coming back here. It's obviously big.
"Grass is our favourite surface. We're just really happy to be here and playing the way we are." Sharan said.
Speaking about their tense first-round encounter, Sharan said that they had been preparing for these tough moments, and that they would have to embrace more such moments in their bid to win the title.
"We've been preparing a lot to play under pressure and I think our system holds firm under pressure. We proved that once again," Raja said
"We've lost a couple of heart-breakers here before. It's good to come through.
"We believe in our system and ourselves. So hopefully we can play our best tennis as the tournament goes further." Raja added
Raja and Sharan aren't household names in India, but they feel it is better this way, as they are free from any distractions.
"At the same time, we aren't superstars in India. We don't really expect to be.
"We want the racquet to do the talking, rather than the hype and media. If our results are good enough I'm sure everything will come along."We don't play tennis for respect. We play for ourselves and to do the best for our country," Raja said.
"If anything comes along that's great. We feel we deserve what we get." Raja concluded.
Sharan and Raja are now up against seventh seeds Raven Klaasen and Rajeev Ram and would be vying for a place in the round of 16.
---