India's 4 Greatest test victories of all time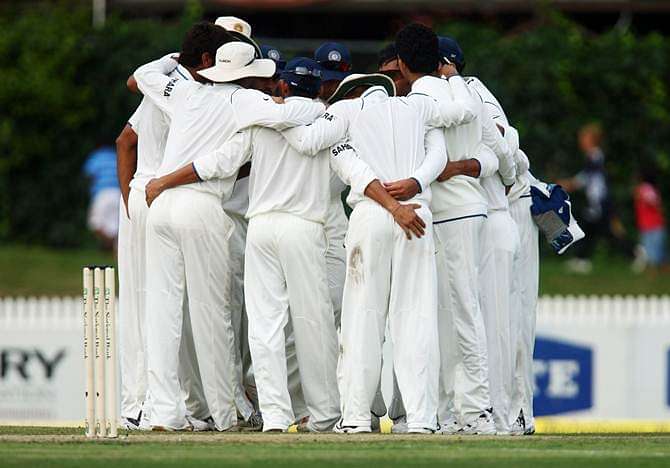 As the Virat Kohli led team battles it out on the 2nd day of the Kanpur test today, the Indian team has become only the 4th team in the history of the game to play 500 international test matches along with England (976), Australia (791) and the West Indies (517). It has been a journey of ups and downs. It took India 20 years to win a test match and now India is one of the best of the world. Celebrating this historic moment, here at The SportsRush, we look at India's 4 greatest test victories of all time!
England (1952)
Twenty years after playing its first test match against England in 1932, India won its first ever test match against the same opponent at Madras (Chennai). The match was part of a 5 match test series which ended as a 1-1 draw. England chose to bat after winning the toss but heroic performance by MH Mankad (38.5-15-55-8) made sure that the total was restricted to 266. India made 457 in reply with Roy (111) and Umrigar (130) being the major contributors. Mankad and Ghulam Ahmed took 4 wickets each in the second innings to make sure India won by an innings and 8 runs. It turned out to be one of the 4 greatest victories of all time.
England (1971)
This time, India were touring England. They escaped with a draw in the first Test at Lord's. The second match was also a draw and the decider was to be played at The Oval.
Although England took a 71 runs lead in the first innings but had a disastrous second innings of 101. Chandra grabbed the headlines with figures of 6/38 & a run-out of opener John Jameson. India was helped by some sensational catching by Eknath Solkar, whose dive at forward short leg to dismiss Alan Knott is still remembered. GR Viswanath and Farokh Engineer batted batted brilliantly to chase down a target of 173 with 4 wickets to spare on the final day.
Australia (2001)
This match is to feature on our Big Moments series as well and why not. Not every day comes back from follow-on to win a test. At the start of the 4th day, India was trailing by 20 runs with 6 wickets to spare in their second innings. No one could have expected it but the pair remained unbeaten throughout the day and returned with a lead of 315. They had batted the entire day without losing a wicket and taking India to a strong position. Laxman had scored a humongous 281 and Dravid finally fell for 180 on the last day.
On the last day, Australia were set a daunting target of 384 to win in 75 overs. Till three-fifths of the match, a draw seemed certain. However, the Turbanator struck with an unexpected fury scalped Steve Waugh and Ricky Ponting. Sachin Tendulkar also chipped in with two big wickets. The most important among them of Adam Gilchrist, who still holds the dubious distinction of being the only Aussie to score a king's pair in a test match. As wickets fell, the inevitable seemed just around the corner.
It was a matter of time before the Aussies were bundled out for 212 on the cusp of Day 5. Also, India had become only the third team to win a test after having made to follow-on.
Pakistan (2004)
First test India and Pakistan in the 2004 series was played at Multan Cricket Stadium. This match witnessed one of the best innings ever in test cricket. Sehwag came to be known as the 'Multan ka Sultan'. India after winning the toss tortured the Pakistan bowling attack with a score of 675-5 (dec). The triple hundred by Sehwag 309(375) overshadowed Sachin's 194*(348). Sachin was 6 short of a double hundred when surprise declaration call came in. Pakistan managed 407 in the first innings and were asked to follow on. Kumble ran through the Pakistan batting in the second innings and they could only manage 216 runs.Consequently, India won by a huge margin of an innings and 52 runs. This is definitely one of India's 4 greatest test victories of all time.
---