IPL 2018 Fantasy Guide: Fantasy Tips for RCB vs RR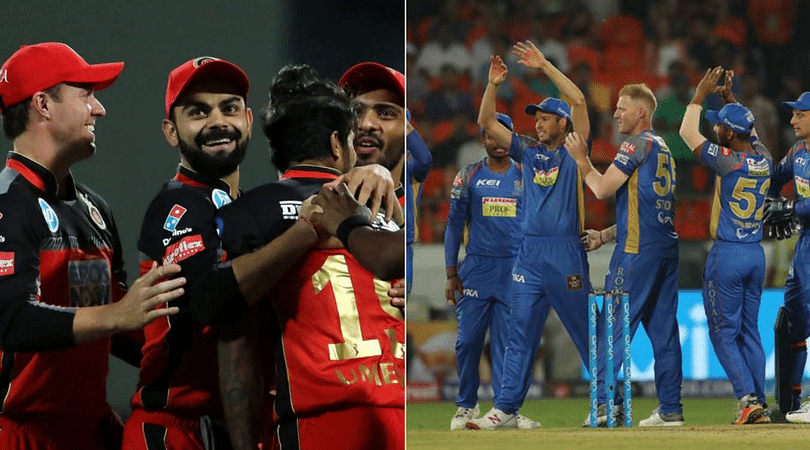 It's the battle of the 'Royals' today, as RCB taken on RR in that gladiator hall at the Chinnaswamy.
A sea of red is sure to engulf all players involved and while the RCB unit would breathe fire with the help of it, the RR side could bleed under pressure.
The RCB think tank and their captain have spoken about making the Chinnaswamy their fortress this time round after a dismal season at home in 2017.
They have lived up to what they promised in the first game and we'll have to see how they try and tame the Rajasthan unit this time round.
Let's get to business now!
IPL Fantasy League(Fantasy Tips for RCB vs RR)
Transfer out: Rashid Khan, Rahul Tewatia/Shikhar Dhawan
Transfer in: Ben Stokes, Shreyas Gopal/Rahul Tripathi
Now, I already have Virat Kohli and Kulwant Khejroliya in my side for this game.
Ben Stokes and Ab de Villiers will be the first two players that I talk about for this fixture.
AB de Villiers has been in top form for RCB this season, having two scores of 40+ under his belt, but the only threat to him not being able to give you bucketloads of points as before is his batting position.
Last season, with Kohli opening, AB was deployed in that number 3 role, giving him the opportunity to express himself for a longer duration on the cricket field.
Also, the RCB openers at that point were Mandeep Singh/Chris Gayle/KL Rahul who weren't quite dependable as the current opening combination of RCB(i.e QDK and BMac).
Hence, there is sound rationale for leaving ABD out if RCB bat second, as he might not be able to create the sort of impact for your fantasy team as you expect him to.
But, if RCB bat first, you get him in every day of the week.
Ben Stokes hasn't been able to impress in the first two games, neither with the bat nor with the ball, In fact he has been called on to ball just 2 overs in two games,(the second one though was a 6 over rain curtailed game).
The upside though about Stokes is that RR are looking to use him higher up the batting order this time round, rather than save him for the death overs. And at the Chinnaswamy he could tee off big time.
Also, the RR spinners could get tonked to all parts of the ground and hence Stokes should get to bowl at least 3 overs, with one of them confirmed to be bowled during the death. Get him in!
With ABD, you can get him in if you have 60+ transfers left, else hope against hope and leave him out.
D'arcy Short, Brendon McCullum and QDK are other good buys from this game. Short has been unlucky so far and while he has been timing the ball really well, I'll have to wait for him to make some significant impact before getting him into my consideration set.
Between QDK and McCullum it is very tough to say as to who could tee off, and thus to be safe also go in with QDK, as he has dual scoring abilities(he's a wicketkeeper).
Umesh Yadav has cranked up some serious pace in the first two games, but you would have to be bold to get him in when RCB play at the Chinnaswamy. I would leave him out for the time being.
I keep them both out because of the paucity of transfers.
For the uncapped player, I get in Shreyas Gopal, as my team combination allows me that one transfer only. I had the choice of getting in either him or K.Gowtham and because Shreyas has bowled more overs until now and is a wrist spinner, he gets the nod.
Also, if you transfer Shikhar Dhawan out, you could get in Rahul Tripathi in as you uncapped player, but do so only if RR bat first.
If RCB bat first and you have to get ABD in, get him in at the expense of Andre Russell.
Match Powerplayer: AB de Villiers(if RCB bat first)/Ben Stokes(if RR bat first)
2nd innings Powerplayer: Virat Kohli(if RCB bat second)/Ben Stokes(if RR bat second)
Fandromeda(Fantasy Tips for RCB vs RR)
Now, I already have Virat Kohli in my team for this game.
As Fandromeda provides me with more leeway with respect to transfers, I would be getting in both AB de Villiers and Ben Stokes into my side for this game, reasons for which are already included in the IPL Fantasy League section.
If you want to get in one of them, go in with whoever bats first.
Batting Powerplayer: Virat Kohli(if RCB bat second)/AB de Villiers(if RCB bat first0
Bowling Powerplayer: Ben Stokes
The Fandromeda website wasn't functioning while the article was written, hence the team screenshot is missing. It will be updated by noon on 15th April.
---