IPL Fantasy Guide: Fantasy tips for Kings XI Punjab vs Sunrisers Hyderabad and Mumbai Indians vs Delhi Daredevils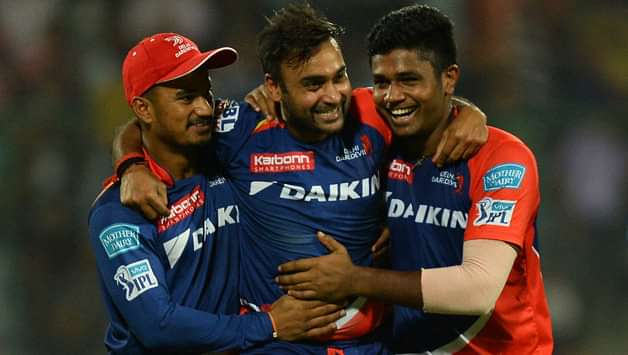 If the next generation of kids in India fears holding a ball in hand, you can blame Kohli and ABD for it. But if you want to show these young kids, how bowling can also be a fun thing to do, show them the Gujarat Lions innings.
Virat and ABD were simply putting on a show for the crowd and when they are in such a mood, all you can do is leave everything else, forget that you are in a competitive game with them, and just provide them with further resources to entertain (like McCullum serving Kohli with Kaushik in the 19th over).
While the RCB bowling unit was feeling left out of all the action, McCullum and co ensured that they too had their fair share of fun. Jordan picked up 4 and Chahal too helped himself with 3 wickets. Everything worked for RCB today and they might have just wanted to save some of their good form for the games to come, rather than using it all in one game, but hey, you can only ask for so much.
In the evening game RPSG had to face an on song KKR spin attack on a turning Eden Gardens track, which made it very hard for their batsmen to find any sort of rhythm in their batting. Dhoni just didn't look his usual self and while his slow scoring rate troubled his team mates and his fans, his ugly spat with Irfan Pathan(who got run out), made everyone cringe a little bit more and it just showed the amount of frustration that Dhoni has been carrying all through the tournament.
This is unfamiliar territory for him. His teams have always found a way of making it to the knockout stages of tournaments, his teams have always been in contention for the title but this time round, nothing has been working for him
Yusuf's brilliant striking meant that RPSG succumbed to another loss and KKR escaped the mid table rut to sit pretty at the top of the table.
Let's get to business then!
Kings XI Punjab vs Sunrisers Hyderabad
Transfer out: Chris Gayle, Ankit Rajpoot
Transfer in: David Warner, KC Cariappa
Every game for Kings XI is a must win and even then they might miss out on net run rate. Murali Vijay and their death bowling are the only things that have still kept them alive in the tournament. They have been overly dependent on the 'M&M' show to provide their batting with some much needed impetus, but both Maxi and Miller seem to have forgotten their batting prowess and hence the plight of the Kings XI management.
SRH were flying high, they were soaring high but Delhi Daredevils intervened and cut short their flight to the playoffs.
Warner and their bowling unit are pivotal to their plans of reaching the playoffs and even if either of them don't click, it becomes very difficult for the others to make up for that loss. The Daredevils were easily able to counter the skills of the SRH bowling unit and that made them look hapless. Warner wouldn't want that to repeat today.
Now, I already have Bhuvaneshwar Kumar and Sandeep Sharma in my team for this game
With Gayle playing in RCBs encounter yesterday, I gave into the temptation fo bringing him in and had to sacrifice Warner for that. The Green jersey, the Bangalore wicket, the average Gujarat bowling attack; everything was tailor made for Gayle to go big, but it didn't payoff.
Warner just has to negate Sandeep Sharma's initial swing in order to go big today. Axar Patel's sliders will play into his hands and Mohit Sharma isn't that effective upfront. Also, considering Warner's form and that the fact that he has some catching up to do on Kohli, I expect him to go big today. Get him in!
I am not opting for Mustafizur after his no show in the last game. His 'point providing' potential falls drastically when SRH bowl second because of Warner's tactics of holding him back and because of the batsman not really going after him. If SRH bowl first he could be amongst the wickets but with just 12 transfers, I am ready to take that risk. If you don't have him in your team and SRH bowl second, leave him out for sure but if SRH bowl first, get him in if you have more than 16 transfers.
Murali Vijay has been in brilliant form for the Kings XI but he'll be up against Bhuvi and Nehra upfront and will then have to deal with Sran's bodyline bowling. It seems likely that he will fall early today and with Punjab playing their next game on Wednesday, I can afford leaving him out.
Marcus Stoinis has a good enough record to have caught every fantasy managers attention. But the fact that he has been pushed low down the order and doesn't bowl a lot at the death, rules him out. You can't always expect him to chip in with 2 wickets, when bowling in the middle overs, especially with no real pace or trickery. And when batting at 5, don't expect him to go big, especially against a potent bowling line up.
For the uncapped player, I get in KC Cariappa. He has been brilliant in the middle overs and against a fragile middle order; you could expect a couple of wicket from him.
Batting captain: David Warner
Bowling captain: Bhuvaneshwar Kumar(if SRH bowl first)/ Sandeep Sharma(if KXIP bowl first)
Mumbai Indians vs Delhi Daredevils
Transfer out: David Warner, Bhuvaneshwar Kumar, KC Cariappa
Transfer in: QDK, Amit Mishra, Krunal Pandya(uncapped)
The two capital cities lock horns in Vizag today and both of them have them are realistically in the playoff race, which makes this Sunday evening encounter a blockbuster event.
Mumbai have been forced to move out of the comfort of the Wankhede, and the Y.S Rajashekhra Reddy hasn't received them with any kind of warmth. They have lost both their games on their newly acquired 'home ground' and Rohit Sharma would be desperately hoping for a change of fortunes.
A fresh pitch would be used for today's game and thus we can only hope that this one provides us with a high scoring encounter.
The Delhi Daredevils are coming off a win but they are yet to figure out their best 11, something which could be a huge problem in a knockout game. If Zak plays today, I don't see the point of having NCN in the team. He should make way for Braithwaite, if the surface is fresh and hard but if it looks sluggish, Tahir should come in.
Now, I already have Rohit Sharma in my team for this game.
With Delhi playing twice in three days, it makes sense to bring in two of their players for this game.
The first player that I opt for is Quinton De Kock. The first criteria that QDK fitted into was that I am sure he'll be playing both these games. He has been in good form in the last 3 games but hasn't really kicked on. With Mumbai likely to go without Southee for this game, he won't have to negate the initial swing and thus could cash in on the powerplay overs. Also, against a weak Pune bowling line up (for his next game), I expect him to score at least a 50 and hence I get him in.
Amit Mishra has been brilliant for them in the middle overs and though he hasn't really picked up wickets in a heap in his last few games, he has been there in and there about. Two games, two fidgety middle orders; perfect recipe for some Mishra success.
I do not opt for any Mumbai Indians player because of them not playing their next match any time soon. Also, all my overseas players play their game tomorrow(Russell, Watson and ABD) and hence I couldn't get any of Guptill or McCleneghan into my side.
For the uncapped player, I go with Krunal Pandya as I had to opt for a bowlers/allrounder. My first choice would have been Karun Nair but I can't get him in because of my team combination and thus Pandya seems to be the next best option. His all round abilities make me opt for him.
Batting captain: Quinton De Kock( if DD bat second)/ Rohit Sharma(if MI bat second)
Bowling captain: Amit Mishra
 Happy team picking!
---