Japan Super Series: Srikanth Goes Down After a Valiant Fight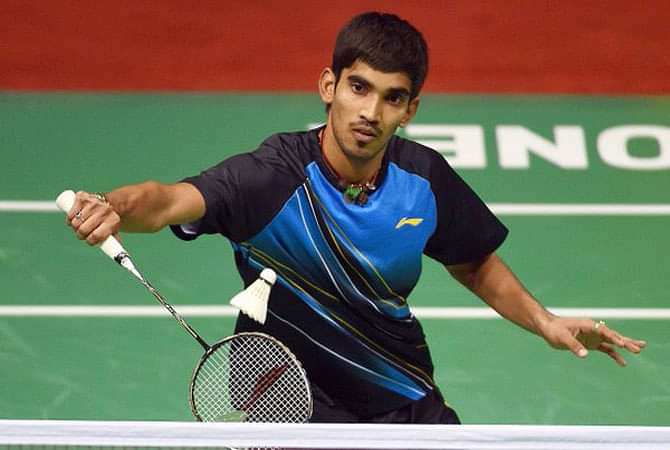 The superb run of K Srikanth came to a halt as he lost against experienced German Marc Zweibler in a grueling three game men's single quarterfinals. This loss put an end to the Indian challenge at the Japan Super Series badminton tournament in Tokyo on Friday.
The rookie 8th seed player gave a splendid fight playing his first tournament after the Rio Olympics. He suffered a narrow 21-18 14-21 19-21 loss to World No. 15 Marc in a 58-minute battle at Tokyo.
Srikanth came into the match having a psychological advantage with a 2-1 head-to-head record skewed in his favour, having beaten Marc the last time at China Open but there too there was very little to differentiate as the game headed for a nail biting finish.
The first game saw initially a neck to neck battle followed by Marc driving ahead with a score of 10-15 in the middle of the game. Srikanth had to push himself hard right in the middle of the opening game to stay relevant in the game. After the score line read 12-16 the Srikanth changed gears and won eight straight points to surpass the German. Marc ended the game fighting saving two game points before Srikanth grabbed the first game to be 1-0 up.
The second game saw a much closer fight with Marc breaking off at 6-6 and keeping his nose ahead despite some spirited fight from Srikanth to level the score at 1-1.
In the decider, it was another grueling battle but Srikanth managed to keep himself ahead for most part after opening up a 6-2 lead. However, Marc produced a rearguard action to not only catch up with the Indian at 16-16 but turn the tables at 18-16.
Marc managed to grab two match points at 20-18. Srikanth saved one but the German sealed it at the next opportunity.
---