Lalita Babar joins Maratha Morcha to raise voice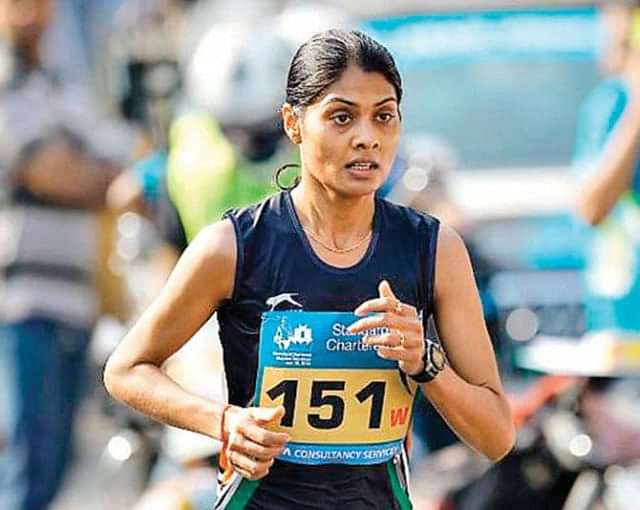 Olympian Lalita Babar who participated in long distance running events in Rio participated in the Maratha Kranti Muk Morcha. The event held in Pune on Sunday to protest against the Kopardi gang rape and murder.
Professional Life
She was born in a small village in the Satara district, Maharashtra. Lalita predominantly competes in the 3000 metres steeplechase. She is the current Indian national record holder and is also the reigning Asian Champion in the same event. Babar had finished 10th in steeplechase in Rio Olympics. She is the first women athlete from India to qualify in Olympic final in 33 years. She has been actively participating in events and raising her voice against atrocities on women.
Also Read: Belgium open Sathiyan Gnanasekaran takes giant strides
Protest
The Maratha community came on the streets to raise their voice against rising violence against women . They registered their protest by organizing a silent march which was attended by Lalita. While talking to the media, Lalita Babar who also belongs to Maratha community said "I came here as a normal girl who believes that such a crime should never happen again. As an international athlete, I've gotten out of that rural environment, though my parents still work in the farm. But that killing meant girls in villages across the country will think twice before stepping out of the house. I find it unbelievable that women should be made to feel so unsafe."
Thousands of people participated in the protest held in Pune which continued for three hours seeing protesters marching from Deccan Gymkhana to Council Hall. Six girls who participated in the protest submitted a memorandum and charter of demands to Pune District Collector Saurabh Rao.
"
After the brutal rape and murder of a girl in Kopardi, there is anger in the community, and with the huge silent marches being organised sans political leaders state-wide, the government must take cognizance of the demands of the community," the memorandum said.
The community has been raising their concern for quite some time now by holding protest marches in different districts to press for their demand which include punishing the culprits of Kopardi rape and murder case, quota in education and government jobs, Amendment in SC, ST (Prevention of Atrocities Act) to stop its misuse, loan waiver to farmers to curb suicides, and guaranteed rate for agricultural produce.
---