List of worst injuries in Premier League and details of recovery time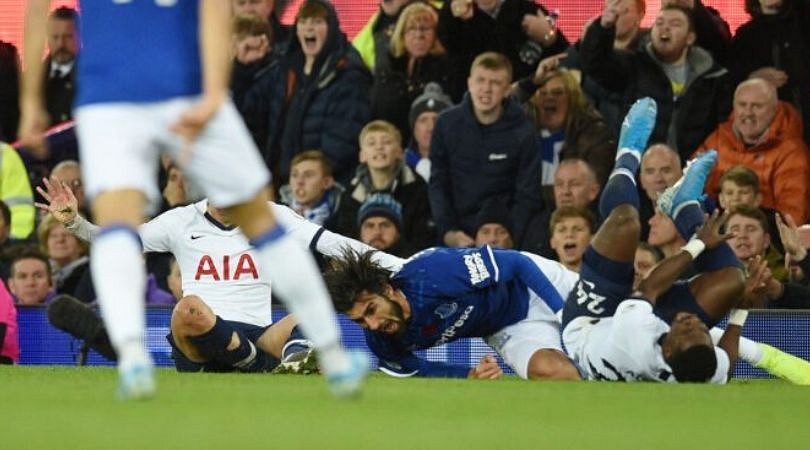 List of worst injuries in the Premier League and details of recovery time, as English football saw horror last night when Andre Gomes got injured.
In the Everton Vs Tottenham, Andre Gomes suffered a horrific injury, which will probably keep him out for rest of the season. it was quite uncomfortable to see him struggling.
Skysports even removed the part where Gomes collided with Sergi Aurier, as it was a disturbing sight to watch. The Portuguese International was in massive pain and all the players around him were in distraught.
Heung-Min Son, by whom Gomes fell was in a state of trauma and broke in tears while watching his counterpart suffering. The player was consoled by few players and Aurier was seen making prayers for Gomes in the meantime.
Whereas, fans sitting at the near stands were horrified while seeing their player on the pitch. Later, the midfielder was taken away from the pitch on a stretcher and was given oxygen mask.
Indeed, it is one of the worst sights to watch in the history Premier League, with this we recount some of the worst injuries in the Premier League.
Also read: Premier League explains reason why Heung-Min Son was sent off against Everton after Andre Gomes' horrible injury
1. Gary Mabbutt – almost lost his eye (1993) Recovery time: Three months
Mabbutt shockingly suffered a fractured skull and eye socket after an accidental elbow from John Fashanu, later requiring the insertion of a metal plate into his cheek and two hours of surgery to save his eye.
Even after a quarter of a year on the sidelines, Mabbutt – who considered legal action against  Fashanu – needed to wear a protective mask when he returned to Premier League action.
2. David Busst – double leg fracture (1996) Recovery time: Never played again
David Busst's injury is often regarded as the worst injury to ever happen in the Premier League. Busst's collision with Denis Irwin was so extreme that his cracked fibula bone pierced the skin.
Peter Schmeichel was so horrified that he vomited on the pitch and Busst remains thankful that he avoided a leg amputation. A pretty horrific thing to happen to any person.
3. Luc Nilis – double leg fracture (2000) Recovery time: Never played again
In just his third game for Aston Villa, the highly-rated forward, who Ronaldo named as one of his greatest ever strike partners – suffered a career-ending double fracture after colliding with Richard Wright.
There was a rumour that Nilis would need an amputation after the injury became infected and, although that wasn't the case, he was forced to hang up his boots shortly after.
4. Alf-Inge Haaland – horrific knee injury (2001) Recovery time: A few days (technically)
Arguably the most infamous injury to happen in the Premier League, and the only case in the list where the offender deliberately wanted to hurt the player, and who can it be except Roy Keane.
A famous act of revenge by a player, although Haaland played for Norway and Manchester City in the proceeding weeks. But the tackle was attributed for one of the reasons Haaland was forced to retire early in 2003 and it was even suggested that he would sue the Manchester United midfielder.
5. Djibril Cisse – broken tibia and fibula (2004) Recovery time: Seven months
The Frenchman suffered a broken tibia and fibula against Blackburn Rovers after catching his studs in the turf but made a miraculous recovery to return less than seven months later.
However, this was not the end to Cisse's problems as two years later Cisse suffered an almost identical injury in a friendly match between France and China.
6. Pedro Mendes – knocked out and suffered seizure (2006) Recovery time: Discharged the next day
Mendes was knocked out cold by Ben Thatcher's elbow, sending him hurtling into advertising hoardings and prompting medical officials to rush him to hospital.
The Portsmouth man was released from the hospital the next day, but had suffered a seizure in the ambulance and Thatcher was justly banned for six games.
7. Petr Cech – depressed skull fracture (2006) Recovery time: Three months
Probably the reason why Petr Cech wore the leather helmet whenever he marched on the pitch. Chelsea goalkeeper almost died after a controversial collision with Reading's Stephen Hunt.
Pieces of bone went deeply into Cech's head, there were initial suspicions of a blood clot on the brain and two metal plates were hastily fitted.
8. Eduardo – broken leg and dislocated ankle (2008) Recovery time: One year
Just like Andre Gomes' injury, Skysports refused to show footage of this horrific leg break at Birmingham City, which was caused by the duly red-carded Martin Taylor, who Arsene Wenger suggested should be banned for life.
Eduardo's leg is believed to have penetrated his sock and there are even suggestions that he could have lost his foot if the tackle was any harder. The injury was so massive that Eduardo was given an oxygen mask while being taken off.
9. Aaron Ramsey – double leg break (2010) Recovery time: Eight months
Everybody on the pitch was left distraught when the extent of Ramsey's 2010 leg break became clear, while a remorseful Ryan Shawcross also left the pitch after being dismissed for the tackle.
It was the second horrific injury at Arsenal in the space of two years and everyone was delighted to see the Welshman back and better than ever less than a year later.
10.  Hatem Ben Arfa – double leg break (2010) Recovery time: Eight months
Just four games into his time in the Premier League, Ben Arfa was carried off the pitch on a stretcher and needed oxygen after a challenge from Nigel de Jong.
The Frenchman underwent surgery at the Manchester Royal Infirmary in the proceedings days and his left leg was just as powerful by the time he pulled on the Newcastle jersey again.
11. Ryan Mason – fractured skull (2017) Recovery time: Never played again

Head injuries are never meant to take lightly. In another incident in the Premier League. Ryan Mason suffered a grave head injury after a horrible clash with Gary Cahill in 2017 while contesting a corner.
Despite fighting hard to make a comeback, the risks were deemed too high by a number of world-class neurologists and neurosurgeons who feared for the Englishman's health.
---
Share this article